Best Running Gear For Begginers
This page contains affiliate links. As an Amazon Associate I earn from qualifying purchases.
As we become fond of running, there is this developing urge of buying specific running gear. These will make running fun, cool and comfortable at the same time. There is a calling for us to level up our running experience. It isn't enough only to invest in a pair of comfortable and branded footwear. You should always run in comfort and confidence.
It's best to practice 'work hard, then reward', because satisfaction will be immeasurable. Buy yourself any treat of cool running gear the next payday. There are varieties of running gear to choose from for yourself. All you need is a running outfit that is lightweight and comfortable, and running gear which comes as an awesome accessory as well.
Quick Look at Our Top Picks for Best Running Gear For Beginners
IMAGE
PRODUCT
DETAILS

Waterproof

Accurate

Cable charging framework

View on Amazon →

Warms hand effectively

Flexiblem

Comfortable and lightweight

View on Amazon →

BEST FOR TRAIL RUNNING/span>

Seamless design for less chaffing

Lightweight

Solid Arch Support

View on Amazon →

Flexible, can be used in any terrain condition

Lightweight, comfortable and durable

Affordable

View on Amazon →

Made of high grade compression fabric

Very comfortable

Durability assured

View on Amazon →
Best Rated Running Gear Reviewed
Here are the top 10 running gear frequently bought online by runners around the globe. The popularity and stars they garnered on amazon supported the hierarchy
Polar M430 Adults' Unisex GPS Running Watch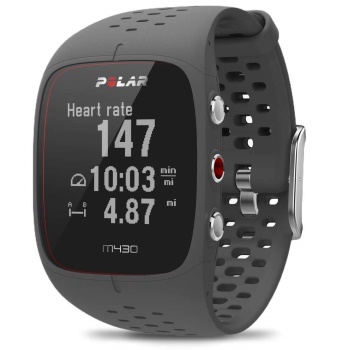 This running watch monitors your progress, analyses, plans and syncs your workouts with the help of Polar Flow app. It is a complete fitness and training program available on desktop and mobile.
The improved Polar M430 Adults' Unisex GPS Running Watch measures heart rate in bpm from the wrist has six LED solution Technology, an Integrated GPS technology with A-GPS data predicting positions of the GPS for higher accuracy rate. It has a built-in accelerometer that can be connected to a treadmill for indoor activity. Water-resistant and tracks activity and sleep 24/7. Equipped with vibrating alerts and smart notifications making it runner friendly.
Offers advanced training features, including Polar Fitness Test, personalised Running Programme and Running Index via Bluetooth using the mobile or desktop app. It syncs data to the Polar Flow app when connected via Bluetooth. It supports cable charging
Pros:
Waterproof
Accurate
Easy to use. With HCM- High precision mode of In-point GPS accuracy
Cable charging framework.
Sync – versatile use either desktop or mobile. Increased vibration for notifications.
BPM with banding choice for achieving data of heart rates using 6 LED HR optical sensor.
Cons:
More expensive than the average running watch, but due to quality and length of utilization, it's worth it.
Poor bluetooth. Hard time syncing through bluetooth to desktop or mobile.
Feetures - High Performance Cushion - No Show Tab - Athletic Running Socks for Men and Women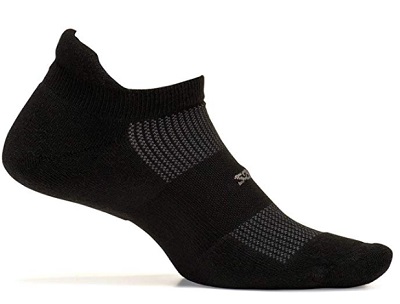 Feetures – High Performance Cushion – No Show Tab – Athletic Running Socks for Men and Women are anatomically crafted using Feeture's patent-pending Sock-Lock Technology to provide extended support where it's needed most. It gives you a comfortable and enhanced fit as you start your running activities. It is a nice addition to your list of running gear to buy. It comes with comfort and durable style and you can always run with confidence.
These socks are made of 95% Polyamide and 5% Elastane. With High-density padding on the heel and toe, providing a perfect fit. Targeted support of the foot on the commonly claimed points. Technically speaking, the most advanced sock available in market today
Pros:
Seamless design for less chaffing
Lightweight
Machine Washable
Solid Arch Support
Good compression qualities
Cons:
some runners feel they do not need arch support
Very thin padding
The North Face Better than Naked Shorts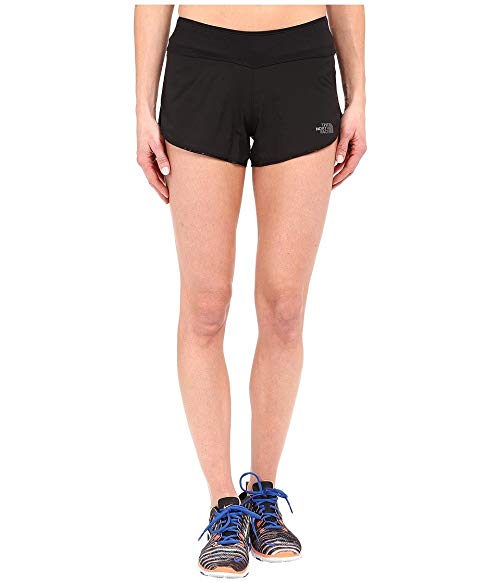 North Face running shorts are a brand of quality, comfort and durability. The company assures high performance of their products that will enrich your running experience the next time you face the road and start to hop on.
North Face tailored the shorts in keeping with the shape and form of a runner's need. It has FlashDry Technology that also allows consistent functional materials, not suffocating while wicking away moisture. Materials in these shorts are durable in long terms. In addition, it is lightweight and super comfortable.
It is also equipped with diamond stop fabric with permanent water-repellent impregnation properties. Jacquard-quality polyester knit ensured with FlashDry technology for long lasting comfort. Some Linings were made of recycled polyester. And take note of the seamless design at important points
Pros:
FLASHDRY Technology and DRYFACE Technology
Natural air flow in the system
Cmfortable and lightweight
It can last up to years of use, very functional mesh patch items
Can carry multiple personal items
Cons:
Pockets are small for larger version of phones
They peel, which may be a result of using such a thin fabric
Adidas Adizero running cap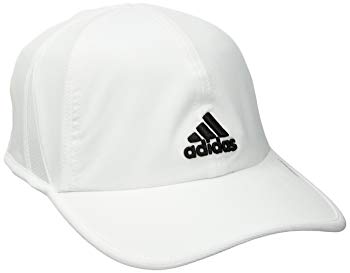 Adidas Adizero running cap comes in a very light and comfortable material. With its special Climacool Mesh that promotes airflow in the system and great moisture-wicking property, no runner will hate stagnant air in their head. It also comes adjustable right at the back with the hooks.
Durability and quality are promising since the cap is a product of Adidas, though it may be a bit expensive but it's a good investment in your comfort and protection.
The cap comes lightweight with 6-panel performance cap. UPF 50 built into the fabric to guard against the sun's most harmful Ultra Violet rays. In addition to this, designed with Intensely Reflective hook-and-loop back closure offers maximum visibility and adjustable fit.
Pros:
Moisture wicking
There is non glare under the visor
Available in different colors
Adjustable, fits many sizes of the crown
Cons:
A bit expensive. But quality and durability plus comfort is assured
Nike Men's Power Running Tights
Nike Men's Power Running Tights running tights has the property of both intensive protection and comfort. It comes with a DRI-FIT Technology and Compression fit fabrics tailored for a long run. Aside from this, it also ensures comfort and compression fit, where muscles are more protected from injuries and less fatigued even after a long run. This compression fit creates a big amount of support that allows best results to be taken and to maximize body performance.
Because of the DRI-FIT Technology, you will feel dry during your run. In addition, the tights also wicks away moisture and sweat.
Pros:
They wick moisture, especially sweat, very well
Made of high grade compression fabric
Very comfortable,
Durability assured
Cons:
Too expensive.
Too long for many people to wear for a run
Nike Women's Victory Compression Bra
Nike Women's Victory Compression Bra is a specialized running sports bra, equipped with Compression fit for snug support and best fit. It also comes with the DRI-FIT Technology that wicks away the sweat and moisture in the surface of your skin, keeping you dry throughout your run.
Nike constantly knows the needs of athletic and outgoing women, so they crafted Nike Women's Victory Compression Bra with the race back design for enhanced range of motion. This sports bra helps you move naturally, without the fear of sagging or pulled up garters. It provides maximum comfort and protection to your bust areas. It keeps the unnecessary movements in the chest, locking it up in place, but not suffocating your chest.
Comes comfortably lightweight with 88% Polyester plus 12% Spandex. All materials are imported. It is just perfect for medium-level exercises suck as a mile run or a stroll. Meticulously designed with low-profile bonded seams on straps and sides for a streamlined look Racerback design for extended range of motion.
Pros:
DRY-FIT technology that keeps the dry feeling
Compression fit creates support and protection for the bust
Race back design perfect for athletes who races
Optimum range of movement achieved, not constrained.
Cons:
Paddings may be misplaced after laundry
Emanates foul odor when overused
Highloong Compression Lightweight sports running gloves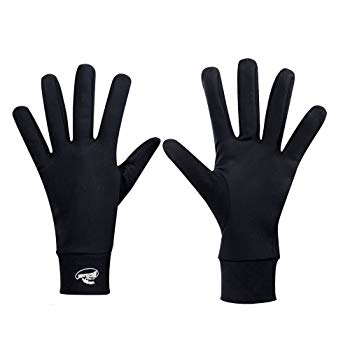 Highloong Compression Lightweight sports running gloves are stylish and comfortable running gloves fit for running during spring, fall and early winter. It is made out of extra fine fleece that generates perfect amount of warmth for your hands. This Running glove was crafted lightweight and for extreme comfort, soft and gentle inner materials were used to maximize comfort; still the product maintains thin layers.
The all new Highloong Running Gloves are very lightweight and flexible. They have the properties of a 4-way stretch fabric that maintain your hands and wrists movable and warm without overheating them. Take note that these gloves are not very suitable for extremely cold weather.
Highloong Five-finger flexibility allows comfortable movements of the hand to carry out specific number of tasks as if you're doing them bare hand. They are Compression fit for a better fit.
Pros:
Lightweight thin
Flexible
Cheap
Warms hand effectively
Comfortable
Cons:
Doesn't wick away moisture and sweat, leaving a sweaty and sometimes irritated skin
Not suitable for extremely cold weather
Nike Men's Dry Miler Running Top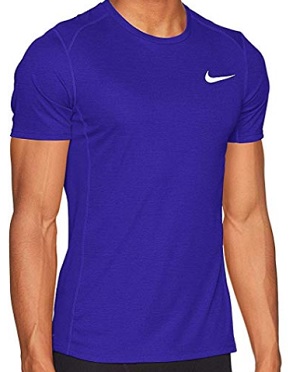 Nike Men's Dry Miler Running Top is the lightest of all running tops. It is well equipped with DRI-FIT technology that wicks away sweat and moisture.
This product is effective even for long runs. It is crafted in a way where the seams are folded forward to lessen the friction with the skin and to promote movement of the shirt smoothly and with limited chafing while you run.
It comes in comfortable fit but not necessarily figure hugging, allowing air to pass through the system in and out for ventilation. Crew neck design is also equipped for non-restrictive environments
Pros:
With DRY-FIT that keeps the moisture away
Comfortable seamless feels
Cons:
Expensive because of brand quality and durability
Sensitive to laundry soaps.
CAMEL CROWN Mens Softshell Jacket Fleece Lined Waterproof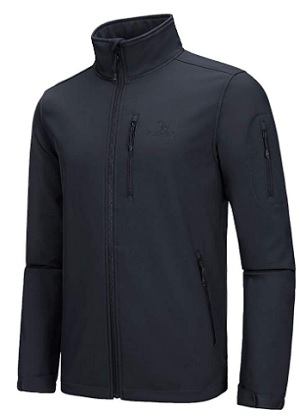 Camel Men's lightweight Running Sun Protection running Jacket is one of the top selling running jackets during winter to cover you up in the cold weather. It is a a comfortably lightweight and stylish jacket. The gentle fabric creates a skin friendly bond. The transparent and thin layer wicks away moisture and sweat & dries very fast — it is perfect for those who wish to expand and lengthen their coverage from the negative effects of the sun as well.
Also, it supports a meticulously selected high-grade technology water repellent and windbreaker fabrics. It comes waterproof, windbreaker and UV Sun Protection. All materials are Imported which are mainly 90% Nylon and 10% spandex. This is an Awesome Hooded jacket that has long sleeves with a front zip closure. It comes in attractive and airy colors. In addition, it is a portable jacket that is convenient to be put into a small package for travel.
Pros:
Flexible, can be used in any terrain condition
Lightweight, comfortable and durable
Can carry personal belongings
Allows wicking away of moisture and sweat
Cons:
Cannot be worn during heavy rains.
The stagnant air inside the jacket.
Though it is an advantage for chilly runs, it may cause dehydration when worn during sunny days.
Benefits of wearing running gear
Wearing appropriate running gear for your run gives you numbers of benefits.  Advantages are as follows:
Comfort: Proper running gear provides a run of extended comfort. These Running Garments and accessories were crafted for your extra comfortable running experience. Most of which fits your body well as if it is your second skin.
In addition, running gear also reduces the irritation of the skin, and prevents the formation of blisters. It also has the property that allows airflow to sustain your system.
Protection: Running gear serves as your body's protection from rocks, tall grasses, intense heat, water and air. Some running gear is water and air resistant for smoother and more efficient running.
Lots of footwear provides shock resistance to protect the feet from injuries. Running gear also creates a barrier for the skin not to lose too much water than your intake. This protects your skin from dehydration.
Compression: Most of the running garments have compression fabric material. A compression fabric in running gear maintains body temperature during chilly seasons. This is possible by applying small amounts of pressure that is safe and tolerable. This little pressure is enough to promote healthy blood circulation during your run.
Compression fabric can also prevent cramping and fatigue of your muscles during your run. In this way running gear can aid your tired muscles and help them relax.
It Monitors Your Health: Running accessories such as smart running watches monitors your daily milestones. Now the latest smart running watches are available that can give your accurate heart rate data and your running speed using GPS.
These will keep you in touch of your fitness milestone and goals each day you have your run. Workout tips and advice are also available on mobile and desktop applications.
It Boosts Your Strength And Stamina: Running gear like footwear are designed by the science of sports to provide extra comfort. Each pair increases your momentum in every step. Notice your increased running speed with the same effort as compared to your ordinary footwear.
Besides, running gear also maximize your stamina.  With the help of compression fabric, you can go beyond the limits of your ordinary footwear without the strain and cramps of the leg muscles.
Increased confidence: Different styles of different colors, fabric and materials are also a trend today. Make your running a bit motivational and fun by buying a set of running gear in accordance to your fashion. You can have variety of styles that fits your current mood. When you're running in confidence, the more you're into your fitness plan in a fun and motivational way.
What to consider when buying your running gear?
You should always focus on the quality and the service of the product you choose. In this sense, you can assure that what you get is what you need in a fair barter.
In case you ran into the nearest sports shop, here are some tips on what to choose for your best choice of running gear:
For Running Shoes: It is best to choose the right size for your foot. Your heels should have no room for movements. Also, make sure that your toes should not push another toe or overlap another. It should also have a ventilated upper, cushioning and grip. The shoe should not suffocate your feet.
For Running Socks: It should have stretching limits. Furthermore, your running socks should also have seamless interiors to promote greatest comfort. The running socks should have the ability to dry moisture, like sweat, and avoid unwanted blister formation.
For Running Shorts: Pick the one that is the most comfortable and lightweight. Aside from this, there are also ones that have ability to wick away moisture, like sweat. Also, pick the ones with drawstring on your elastic waist. Make sure that it should not be too tight or too loose.
For Running Tights: When choosing running tights, make sure that the design has the feature of reducing the chances of injury. It should be a snug fit and super comfortable for the legs.
For Running T-shirts: Consider the one that has the property of drying moisture. A good T-shirt should have a property that allows greater air flow in the system. In addition, it should be lightweight and tight but not suffocating the body.
For Sports Bra: You should choose the ones that have the best fit. Also, it should have a property that encourages those with limited movement of the bust.
For Running Gloves and Hats: Good running gloves and hats should give you the best fit. The gloves should be lightweight and comfortable and with windbreaker and waterproof protection. In the same way, choose ones that come with temperature maintenance and ventilation.
For Running Jackets and Gillets: Wind stopping, rain resistance are important features to consider. This is important especially when running during cold seasons. Moreover, it should also have a property that can wick away moisture, like sweat.
For Running Headphones: A perfect running headphone should produce excellent quality of sounds, from treble to bass. Aside from this, consider ones that have a perfect fit and over-the-ear hooks for stability assurance.
For Running Backpacks: A good running backpack should come with adjustable straps that can prevent unnecessary movements. Another thing to consider is that, it should promote great ventilation to avoid back getting too sweaty. Also, consider a design that comes with a handy side pocket for your items.
For Running Watches: The best running watches that you can choose are the ones that come with built-in heart rate sensors. In addition to this, they should also provide you accurate data that could help your workout regimen.
Final Thoughts
Getting the best among the best running gear is incredibly amazing. But it is still up to you what fits your choice, taste and standards. Choose the best choice of running gear that will define your character. Let the style be your mood.
Remember that style and looks shall be your second priority. Quality and durability should take the lead. Get yourself the most satisfying running gear as a present the next time you visit the store nearby or you hit the online shop app. Either economic or into branded products, make it a hobby to continue committing to physical activities and promote healthy lifestyle in a fun, enjoying and awesome way. Happy shopping, runners!