Best Compression Socks for Running
Compression socks are no longer an option but are now a necessity.
People may think that these are only optional and you only need them when you have an injury. However, it's actually an incredibly useful gear to have when it comes to sports.
Apart from being able to help with injuries, they also improve circulation and performance.
Therefore, these are not just for medical purposes. They actually have gained quite a lot of attention in the athletic and sports world.
Quick Look at Our Top Picks:
How Compression Socks Work
If you are regularly in motion,  the muscles in your legs will contract. This squeezes the veins and pushes the blood back up towards the heart.
If you have long bouts of inactivity, gravity will take its toll and prevent the blood from being pushed back up towards your heart.
If you have compression socks on, it will help narrow and straighten the vein walls by hugging the leg and foot muscles.
They keep the valves within the veins aligned and allow it to open and direct blood flow toward the heart. To experience its benefits, make sure to get the right size.
Must-Knows for Wearing Compression Socks
If you wear them the wrong way, compression socks can aggravate whatever pain or suffering you are going through. Therefore, below are some tips on how to wear compression socks properly:
Put them on before getting out of bed as your legs are less likely to be swollen.
Always make sure that your socks are straight and wrinkle-free. Creases can get uncomfortable and can even aggravate leg and foot problems.
Don't use lotions before putting them on. Instead, make sure your legs are completely dry.
Take measurements for your new pair of compression socks as soon as you wake up to get it right. This tends to be the most accurate measurement as any possible swelling is at a bare minimum.
If you have skin allergies, choose socks that are free from latex.
Benefits of Wearing Compression Socks
There are many benefits that a runner or an athlete can get by wearing compression socks.
Muscle Recovery– If you are suffering from muscle aches, swelling, foot pain or shin splints, wearing these will speed up your recovery.
Injury Prevention – If you know that you are going to involve yourself in strenuous activities, you may want to wear compression socks. This will consequently help prevent injuries that may come from endurance sports.
Improves and Increases Circulation – If you want to maintain and improve your leg and foot health, use compression socks. It keeps the veins in your legs and feet healthy by allowing optimal circulation.
Types of Compression Socks
There are two types of compression socks. One of them is best suitable for athletes and runners. The other type of sock requires consultation from a doctor:
Graduation Compression – This is the most common and versatile type of compression sock. Many athletes and runners recommend wearing these. They prevent and treat all types of vein disorders, swelling and general discomfort from large amounts of inactivity. They can even be used by expecting mothers and come in a wide range of styles.
Thrombo-Embolic Deterrent (TED) Hose – This is an Anti-metabolism or uniform compression sock that provides uniform levels of pressure throughout. These types of socks are not suitable for athletes or runners. Instead, it is specially designed for those who are bedridden.
Our Top 5 Compression Socks for Running
Some of the best compression socks that are quite popular in the market are more than just looking good or feeling nice. There's more to it. We list a compilation of high-quality products that you won't regret buying.
MudGear Premium Compression Socks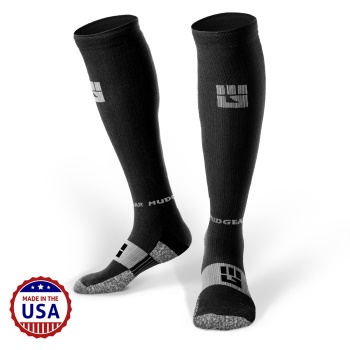 These premium compression socks are for outdoor sports and are great to help you improve performance, irrespective of whether you're an athlete.
You can use it as an everyday casual wear. That's how versatile these socks are.
It is amazing when it comes to running. This is because it prevents blisters even in long distances. It fits for both men and women.
Pros:
Best for performance
Graduated compression
Excellent for all kinds of high-impact activities
Helps with recovery
Cons:
Some found holes and tears with normal use
A few reviewers reported poor durability
There were some who found its compression to be less than that of other socks
Physix Gear Stamina Compression Socks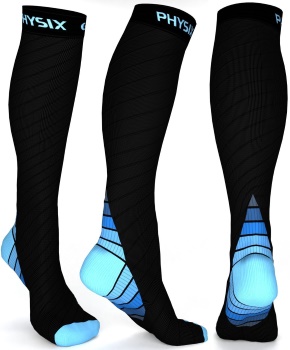 These stamina compression socks have the best overall quality. They also enhance performance when you engage in high-impact activities such as running, cycling and cross-fit. Furthermore, these are a great investment as they help reduce fatigue and bring down the swelling in the leg.
It also provides relief in conditions like plantar fasciitis, shin splints, and other leg illnesses. Moreover, they are great for running long distances. They prevent blisters and provide the right compression that helps avoid injuries.
Pros:
Made of a highly-breathable and durable fabric
Reduces fatigue and leg swelling
Relieves plantar fasciitis, shin splints and other lower leg illnesses
Exceptional design
Cons:
Expensive
Some reported they lose compression while using it
It may be too thin and lightweight for some
CEP Men's Progressive+ Compression Running Socks
This pair of compression running socks is great for runners experiencing shin splints or muscle soreness. It is made of 60% polyamide, 25% percent elastane and 15% polypropylene. There is also high technology compression fibers that provide excellent stability and support.
This makes it very comfortable and durable. Additionally, it has a unique compression technology that increases circulation, improves endurance and performance.
Pros:
Progressive compression that increases circulation
Comfortable form-fitting
Delays muscle soreness and leg swelling
Unique front-ribbing that lowers temperature in warm weather
Prevents plantar fasciitis
Cons:
A few had trouble with the sizes
Some have trouble with its stay-put cuffs
Several users reported they started to fall apart while using
Zensah Tech+ Compression Running Socks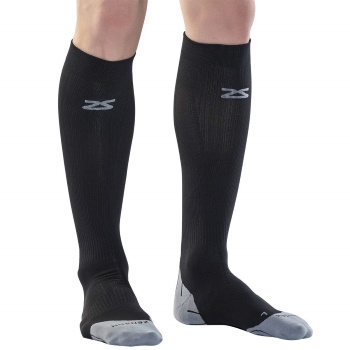 This pair of socks gives you top quality support and comfort with its polyamide and elastane blend of fibers. It maximizes athletes' performance with its unique graduated compression. Additionally, it provides excellent support for your calves, shins, and ankles.
It also has an ultra zone ribbing that provides added support on the ankle and arch for stability.
Pros:
High stitch count makes it soft against your feet
Ultra Zone ribbing provides added support on ankle and arch
Has a seamless toe that prevents blisters and chafing
Mesh design fabric that gives specialized support for calf area
Cons:
Some have trouble putting them on
A few users reported holes after multiple uses
2XU Men's Compression Performance Running Socks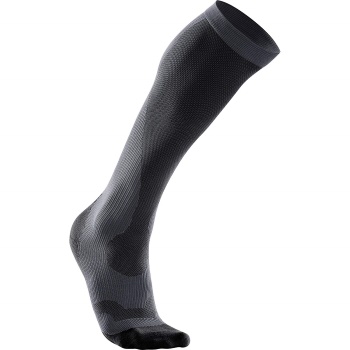 These powerful compression socks are made of 100% imported lightweight fibers that more durable than other socks. It increases performance and is great for running. Some of its unique features include breathability zones on the shin.
It also has a light-weight breathability panel that will keep good-ventilation, keeping moisture away. The heel and toe areas are also lightly padded for better comfort and blood circulation.
Pros:
Padded foot bed for better support
Lighter and more comfortable than most socks
Has a breathability panel to provide adequate ventilation
Graduated compression improves warm ups and speeds up recovery
Seamless design for enhanced comfort
Cons:
Expensive
There were reported tears and holes after multiple washes
Some reported that it stretches out after multiple uses
Vitalsox VT1211 Compression Socks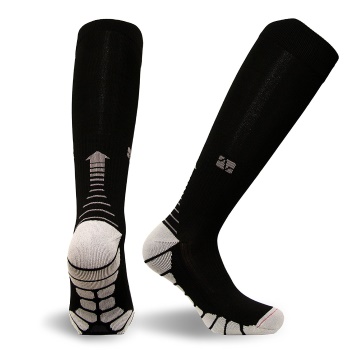 These compression socks are for runners, fitness enthusiasts, expecting mothers, and people with leg and feet injuries.
The socks have paddings that are very light and provide comfort. It also prevents one from getting common foot and ankle problems.
This is especially for those that can get such injuries from long-distance running. Also, it is made from Drystat material that reduces the risk of blisters and prevents bacterial growth.
Pros:
Light padding at the foot bed for additional comfort
Made of Drystat material that keeps moisture and bacteria away
Has graduated compression wherein the strongest portion is in the mid-foot and ankle regions
Fiber infused with silver
Cons:
A few people experienced indentations caused by the company logo
Some reported losing compression after a couple of runs
Doesn't provide the same cushion as normal socks do
CEP Women's Progressive+ Compression Running Socks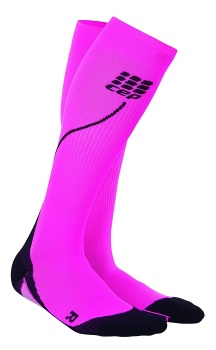 This form-fitting compression sock has a 20-30 mmHg graduated compression and it concentrates on the calf area supporting blood circulation.
It is great for athletes, runners and those that have leg and foot injuries. Many people consider it to be one of the top compression socks for women because of all the benefits that it has.
Pros:
Provides a functional and comfortable fit for enhanced comfort
Unique compression technology helps with blood circulation
Has a halo band just below the knee that keeps it in place
Unique front ribbing that allows air to cool and regulates temperature
Cons:
Some have trouble getting it on and off
Quality issues
SB Sox Compression Socks for Men & Women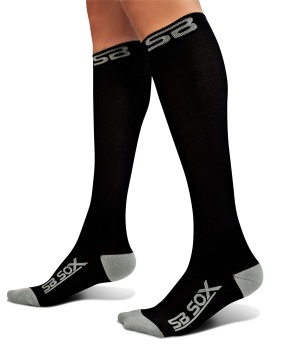 These graduated compression socks are not just great for runners but also for athletes, and professional workers who are always on the go. This is the best alternative for those on a tight budget because it offers the same features and functionalities as expensive ones.
Some of its features are its cushioned heel and toe support. This provides additional support. Furthermore, its anti-odor and anti-static fabric prevents bacteria and fungus build-up.
Pros:
Moisture-wicking and breathable
Anti-odor and anti-static fabric
Cushioned heel and toe support
Form-fitting
Improves blood circulation
Cons:
A few reported that the toe seams are not that smooth
Some reported that compression levels are not right
May cause discomfort for some
Deilin Compression Socks for Men & Women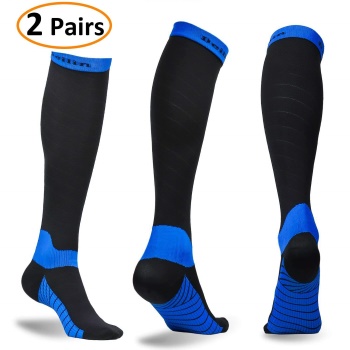 These compression socks for men and women are not just great for expecting mothers but also for runners, athletes, nurses, doctors. It is from an anti-odor and anti-static fabric that helps prevent the growth of bacteria and fungus to keep your feet dry and clean.
Also, it deodorizes the feet and wicks away moisture and sweat. Like most compression socks, it also has a graduated compression around 20-30 mmHg levels. This is the ideal compression for all sorts of high-impact activities.
Pros:
Made from light-weight premium nylon and spandex blend for durability
Anti-odor and anti-static
Ideal compression that provides maximum boost for blood circulation
Lifetime support
Cons:
Some reported that compression levels are not right
People reported that the quality is poor
May not be advisable for severe leg and feet injuries
Odijoo Compression Socks for Men & Women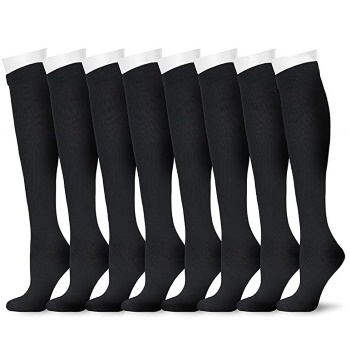 These great compression socks are a combination of style and function. It is very fashionable. At the same time, there are a lot of features that provide comfort and support. Its material is made from light-weight materials.
It has a graduated compression of 15-20 mmHg which provides moderate compression. Furthermore, it is great for runners, as well as those who are into jogging, golfing, riding, and hiking.
Pros:
Flexible
Deodorizes the feet
Anti-stripping and anti-friction
Boosts stamina and circulation
Cons:
This item not be advisable for those suffering with severe spider and varicose veins
Some reported it to be a bit too tight
May be thinner for some
Final Thoughts
In conclusion, high-impact activities and being on your feet for long hours can cause injuries in the legs and the feet. For this reason, it is of vital importance to wear the right kind of gear. This is where the compression socks become a necessity. They must be a part of your apparel.
While choosing the right compression socks, it is best to consider your needs. Also, make sure that they are from high-quality materials. This will ensure they last longer. Lastly, if you are suffering from serious leg and foot injuries, consult your physician. They will be able to provide you with more information when it comes to learning about the best compression socks that are right for you.