Best Jogging Stroller For Runners
This page contains affiliate links. As an Amazon Associate I earn from qualifying purchases.
Jogging strollers have come a long way in recent years. But which is the best jogging stroller for running?
Continue below as we discuss the newest and jogging stroller for running on the market today.
Quick Look at Our Top Picks for Best Jogging Stroller For Runners
IMAGE
PRODUCT
DETAILS

Best Jogging Stroller Carseat Combo

Best Jogging Stroller Carseat Combo

Easy to assemble and easy to use

Plenty of storage space

Canopy keeps baby out of the sun

View on Amazon →

BEST JOGGING STROLLER TRAVEL SYSTEM

BEST JOGGING STROLLER TRAVEL SYSTEM

Super lightweight and easy

Sun shade with excellent coverage

Affordable pricing

View on Amazon →

Material is durable, padded and easy to clean

Easy to press and release the brake

Easily adjustable harness system, so that the seat can grow with the baby

View on Amazon →

Best Affordable Jogging Stroller For Runners

Best Affordable Jogging Stroller For Runners

Affordable

Adjustable to a full range of seats and sizes

Easily assembled and dissembled

View on Amazon →

BEST JOGGING STROLLER FOR TODDLER

BEST JOGGING STROLLER FOR TODDLER

Folds to a compact size and doesn't take up too much space

It's narrow and easily fit's indoors

Rides smoothly and offers an adjustable front wheel for those who prefer less pushback

View on Amazon →
10 Best Rated Jogging Strollers
Researching strollers can be a long and time-consuming process. Being that time generally isn't a luxury new and expecting parents can afford, we've taken it upon ourselves to do that hard work for you.
Graco Fastaction Fold Jogger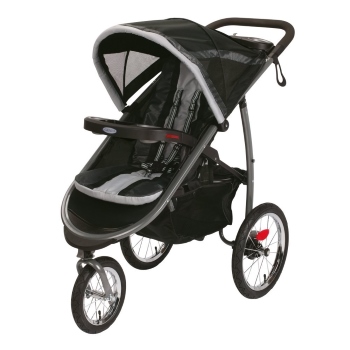 This is an infant jogging stroller with a locking swivel wheel that allows easy transition between walking and running. It is a lightweight portable stroller that has quick, one-handed fold and easily connects to an infant car seat. Moreover, this stroller also has deep compartments for holding keys, phones and wallets, with 2 additional cup holders – for water bottle as well as baby bottle.
Pros:
Easy to assemble and easy to use (maneuver)
Plenty of storage space
Canopy keeps baby out of the sun
Cons:
Heavy and tall, making it difficult for smaller people
A few people say it struggles to steer straight
Locking technology on front wheel can malfunction
Joovy Zoom 360 Jogging Stroller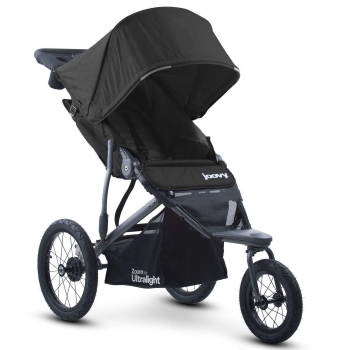 A jogging stroller with a swivel front wheel that locks straight, and an aluminum frame suitable for shock absorption. The stroller is an easy fold and made with easy to clean material (clean with just soap and water), ideal for life with a small infant. The jogger allows the baby to have plenty of visibility (through a protective peek-a-boo window) and a supportive seat as they join you on your morning run.
Pros:
Super lightweight and easy to steer even with one hand
Sun shade with excellent coverage (but has a peek-a-boo window so baby can look around)
Affordable pricing (in comparison to other brands.
Cons:
Handlebar height is nonadjustable – making running slightly awkward for shorter individuals
Wheels can shake when running too fast
Not enough storage space
BOB Revolution Flex Jogging Stroller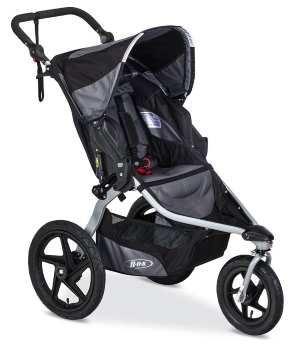 This jogging stroller has a locking swivel-front wheel, and a mountain bike style suspension system making jogging easy. It is easily adjustable, padded and comes with a large canopy to ensure the coolness of the baby. Moreover, the stroller can fit babies from birth to 75 pounds, and comes with an adjustable handlebar to make steering easy for people of every height.
Pros:
Material is durable, padded and easy to clean.
Easy to press and release the brake (tap of the foot)
Easily adjustable harness system, so that the seat can grow with the baby.
Cons:
Additional features come at a costly price (above the already expensive purchase of the stroller)
Tires are thing and go flat easily
Sun shade tends to pop back up despite being put down
Baby Trend Expedition Jogger Stroller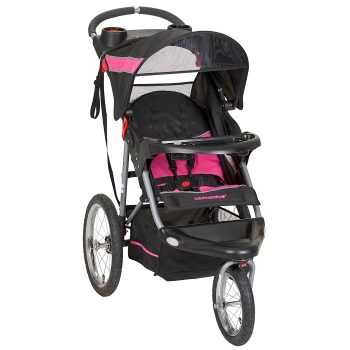 This stroller comes with large bicycle tires, allowing the jogger to roll over any and all surfaces. It has a front swivel wheel for easy maneuvering, that locks for effortless jogging. Also, the stroller comes with a parent tray with two cup holders, as well as a front tray for the baby. It is comfortably padded with a large canopy, and has a footrest for the baby's comfort.
Pros:
Affordable
Adjustable to a full range of seats and sizes
Easily assembled and dissembled
Cons:
Can only hold till 50 pounds and overall just smaller than expected
Tires deflate quickly
Front wheel wobbles when running too fast
Thule Urban Glide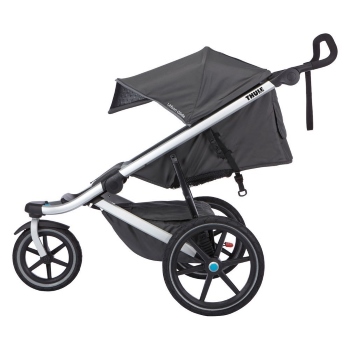 This is jogger has a swivel front wheel that locks in place for easy transitioning into jogging and a rear suspension for a smooth ride. The handle bars are adjustable and waterproof with a padding that can be removed for easy cleaning. Moreover, the stroller has a seat that reclines to be almost flat and has a large canopy that protects the baby from the sun during your runs with an added magnetic peek-a-boo window. This stroller is light weight and has a one handed fold for easy storing.
Pros:
Folds to a compact size and doesn't take up too much space
It's narrow and easily fit's indoors
Rides smoothly and offers an adjustable front wheel for those who prefer less pushback
Cons:
A few people say it is quite heavy
Tires go flat easily
Doesn't fit as expected – runs small
City Mini Jogging Stroller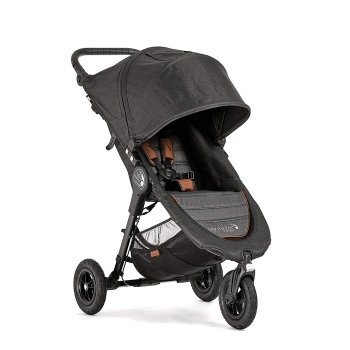 This jogger has three all-terrain wheels (no flats) with front wheel suspension and a hand operated brake. The seat is able to lay (almost) flat and has a vented seat top with a UV proof canopy and peek-a-boo window. Moreover, the seat is padded and comfortable and its cover can be removed be washed in a cold washing machine cycle. The stroller has an adjustable handle bar and is appropriate for use by people of all heights.
Pros:
Extremley durable
Suitable for bigger kids aswel, wide seat, and adjustable straps
Easily maneuverable – even with one hand
Cons:
Lack of storage space
Heavier than expected
Seat reclines too much – can't sit child completely upright
Baby Jogger City Tour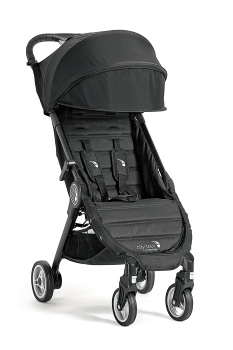 Compact stroller, with one hand fold that automatically locks to make transporting easier. The stroller will easily fit into a backpack style carry bag, making storage compact, tight and easy. The baby seat reclines near flat and has a 5-piece harness to ensure baby's safety. Includes UV 50+ sun canopy and canopy extension, with convenient peek-a-boo window for the baby. A basket is also located beneath the stroller to allow for easy storage.
Pros:
Folds small enough to ensure easy travel (fits in airplane overhead compartment)
Comes with carrying bag (that can be stored in basket beneath)
Sturdy and durable wheels
Cons:
Shallow seat that's unsuitable for larger children/babies
Brakes malfunction
Back doesn't rise to 90 degrees (child can slip from seat if not strapped in)
J for Jeep Jogging Stroller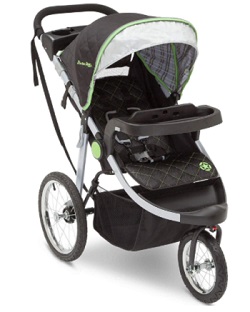 This jogging stroller comes with a five-point harness, and padded shoulders and seat to ensure child's safety and comfort. It also comes with parent-friendly features, such as a padded handle bar, extra-large storage basket and a parent tray for smartphone placement.  Moreover, the stroller folds to a compact size and locks closed to make traveling easy. Finally, the stroller comes with an extendable canopy (with a sun visor) and a play tray for children, that is easily removable to make loading and unloading easy.
Pros:
Easy to clean material
Easy to assemble
Sturdy and Mobile
Cons:
Heavy
Canopy doesn't go down very far
Wheel jams when picking up speed
Chicco Jogging Stroller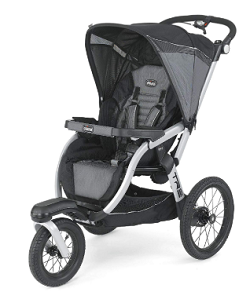 The Chicco Jogging Stroller comes with a removable arm bar and child seat to allow for the transition to a carrier frame for children in their first 6 months. The stroller has a hand activated brake and a deceleration brake to allow better speed control. Also, the handle bar is adjustable to multiple different heights. The stroller has a self – standing, one hand fold for easy travel and an extra-large canopy for baby's comfort. Finally, the stroller has a one hand, adjustable seat, with five different reclining positions.
Pros:
Easy to steer and guide
All terrain wheels and shock suspension (great for bumpy rides)
Transition to carrier frame means one stroller for child's whole life
Cons:
Brakes don't lock completely
Doesn't fold small
No snack tray for child
Graco Fast Action Fold Jogger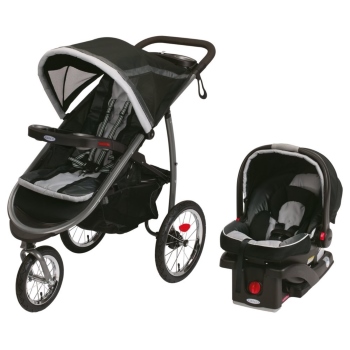 This Graco stroller comes with an additional rear facing infant seat that can be connected to the main frame for infants. It has a locking front swivel wheel for an easy transition into running and air-filled rubber tires that ensure a smooth ride. Furthermore, this stroller has a quick one hand fold, to lessen the burden for on-the-go mothers, and a comfortable padded and reclining seat for their babies. Finally, the extra-long canopy and the added storage place allows for easy and enjoyable outdoor runs.
Pros:
Easy to push and maneuver
Easy to assemble and disassemble
Durable and stable (even on bumpy roads)
Cons:
Larger than the average stroller
Wheels break easily
Locking swivel wheel is sensitive and can result in tipping
Benefits of Postpartum Exercising
Getting back into exercising after childbirth can be a painful and time-consuming process. But it is an important part of getting back to yourself and to your body, along with added benefits like:
Helping strengthen and tone abdominal muscles
Can be useful in preventing postpartum depression
When to Start Postpartum Exercise
Deciding when to start exercising after childbirth largely depends on how active you were while pregnant. Those who were active during pregnancy, are generally able to start exercising earlier than those who weren't. However, all women are able and advised to begin with pelvic exercises as soon as they can following birth. Pelvic exercises help with urine control and regaining the strength of abdominal muscles.
Getting Back into Running After Childbirth
Jumping back into the 10 mile runs from before the baby can be a disappointing wake-up call. So, here are a few tips on how to ease your new body back into its old habits.
Start Out Gradually – Starting out slow is an important part of getting your stamina back to what it once was. Start out with walking, and slowly begin to integrate short bursts of running in order to build stamina. Once you feel comfortable, you can tackle those long trails the way you used too.
Run on Flat Surfaces – Flat surfaces are a great way to get a run in without adding too much-added stress to your joints and pelvic floor – which no doubt need some healing time.
Choose Lightly – When you're first starting out, avoid pushing strollers and carrying other heavy loads. However, if you have no choice but to bring the baby with you, invest in a lightweight, easy to push the running stroller (for less added stress).
Run Rested – Even though new mothers are constantly tired, and the urge to get some energy through a run is tempting, only run after being rested. When you're tired, you're weaker and more vulnerable to injury.
Avoid Contracting Pelvic Muscles – Keeping your pelvic muscles tight can result in pelvic floor fatigue, pain and muscle tension.
Keep Good Posture – Although pregnancy promotes slumped forward posture, that sort of behavior can cause spinal strain and tends to decrease the activity of your core and pelvic muscles. So, keep good posture by lengthening your spine and raising your chest while running.
Change Surfaces – Changing the surface you're running can reduce the strain and impact running has on your body. So, ditch the treadmill and walk through a park with lots of different trails on lots of different paths.
Make Sure to Eat and Drink – Don't let your milk production take a hit because of your run. When breastfeeding, your body requires an increased amount of energy and fluids, so make sure your staying fed and hydrated while working out.
Dress Appropriately – The ligaments on your feet soften with pregnancy, so make sure your well supported with a good pair of durable running shoes.
Trust Your Body – Listen to what your body is trying to tell you, it knows how much you can handle – after all, this is part of what it's made for. If you're feeling tired, overworked, or fatigued it may be your body telling you that it's time to take a break.
Bringing the Baby Running
Running with babies on board is a controversial topic with plenty of opinions going either way. But nevertheless, if you have made the decision to start bringing your little one on your morning workout, then these are the best tips on how to keep everyone safe and ready.
Let Them Age – It's important that your baby be old enough to sustain bouncing before you take them on a run. Make sure that they have learned to support their heads and necks as most joggers aren't made for infants. (but for parents desperate to get back out onto the trail there are joggers that come with attachable infant seats that can be used with a doctor's permission.)
Watch Over – Your baby's safety should be your number one priority. Make sure that you have taken all the necessary precautions when running with an infant, whether that be purchasing a jogging stroller with built in safety features, wearing reflectors in the night time or avoiding bust streets.
"Bundle" of Joy – Remember that just because you're running and warming up, doesn't mean your baby is too. If anything, quite the contrary. While your racing with the wind, your baby is sitting still in the cold. It's important to dress your baby for the weather outside; whether that be sun or snow.
Planning Makes Perfect – Babies are on schedules too, and it's important that they be in the mood for action before forcing them on a run. Get to know your baby, and when they're happiest to be out in the world.
Strap Them In – Not all strollers can be running strollers. Jogging strollers tend to be built with durable wheels, and adjustable shocks to minimize bouncing. These, along with other features ensure the safety and comfortability of your baby while you work out.
Why a Running Stroller?
A running stroller is (generally) a three wheeled stroller with added safety features such as a locking front wheel, a five-piece baby harness and a single handlebar for one handed steering. Running strollers are built for the active parent, and its many features allow for smoother rides for both baby and parent. So, whether it be the smooth ride from suspension, the durable wheels, or any other of the countless advantages; a jogger is essential for any running parent.
Why Not a Regular Stroller?
Regular strollers definitely have their own share of advantages. Not only can they be drastically cheaper than a jogger, but they are also significantly lighter and more compact when folded down. However, when running, a regular stroller can present a number of challenges. Ranging from the bumpy ride your baby will have to endure, to the cheap easy to break wheels. When it comes to a regular stroller, it just wouldn't pass the test of time or keep your baby safe during your workout.
Running Stroller Makes Running Better
Running with a stroller may seem like a hassle – especially given all the extra weight and the added stress of a baby. But really, a stroller can be a really helpful tool while racing through the great outdoors.
Strollers are a great place to store all those extra things you never knew you needed on a run, suddenly one water bottle may not even be enough. And who knew you could take this many snacks?
The handlebar could be a great stretching tool for unbalanced individuals. It's no shame to be a little unbalanced, but it's no great honor either. Using the handlebar could help you hide avoid those awkward falls and pesky trips by letting you stand and hold on tight.
The stroller can help make sure that you keep correct posture and speed as you race up and down hills. Because the stroller is in front of you, it keeps you from running too fast or slouching to low. It ensures that you keep a steady stride and stand tall as you hold onto the jogger to keep it from getting away from you.
That extra weight could turn out to be the extra few calories you always wanted to burn. The stroller may be heavy, and bulky, and annoying, but it is also a weight. And just like any other workout, added weight means added calories, so let your baby be your excuse for toned arms and speedy weight loss.
Running with a stroller means running with your baby. And although the stroller may prove to be an inconvenience, y having the baby with you, you could turn your workout into bonding time with your new favorite person. You may not like working out, but maybe with the great company, those torturous minutes will become slightly less painful.
But overall, maybe these months of stroller-pushing through park trails will provide you with a whole new appreciation on what it's like to be running solo. Running without the added weight or stress of having baby and stroller with you will make solo running feel like breaking free.
Final Thoughts
In conclusion, we know that your baby's safety is your number one priority, but that doesn't mean that your health or happiness needs to take a hit. Running has been proven to relieve stress, and what new parent could use a bit of that positivity? Overall, running strollers were created for this exact reason. There's no reason why your workout can't be one more safe, fun, and bonding experience for you and your baby.