Best Knee Braces for Running
Running is no doubt one of the most common fitness activities worldwide. It, however, has its share of pains and injuries. When an injury happens, your exercise will become taxing and painful, thus reducing efficiency. As a result, the increased pressure and stress may consequently cause more pain by tearing the ligaments and damaging the cartilage.
Overall, knee braces are orthopedic products that provide the knee with support and stability, relieve pain and protect it from injury. Also, they strengthen weakened knees and prevent inflammation. Therefore, in this article, we shall list some benefits of using knee braces while running and by tearing the ligaments and, damaging the cartilage.
Quick Look at Our Top Picks for Best Knee Braces for Running
IMAGE
PRODUCT
DETAILS

Fully adjustable compression

One size fits all

Easy to wear and remove

View on Amazon →

Breathable

Sturdy

Offers great support

View on Amazon →

BEST FOR RUNNING MENISCUS

BEST FOR RUNNING MENISCUS

Protects from injuries

Offers fast relief from pain

Great for post-surgery recovery

View on Amazon →

Has hinges on both sides of the knee for more support and stability

Has adjustable fasteners

Supports different ranges of motion

View on Amazon →

BEST FOR RUNNING WITH ARTHRITIS

BEST FOR RUNNING WITH ARTHRITIS

Has 4 size options

Made of high-quality durable materials

Offers good knee stability

View on Amazon →
Best Rated Knee Brace for Running Reviewed
Having knee pain or injuries could be very discouraging, especially if you have tried to get relief for some time. Moreover, knee braces give your knees the comfort, mobility, support, and assistance they need to function effectively. So, as a result, we suggest some of the best knee braces to keep you running.
Neo G Medical Grade VCS Advanced Hinged Open Patella Knee Brace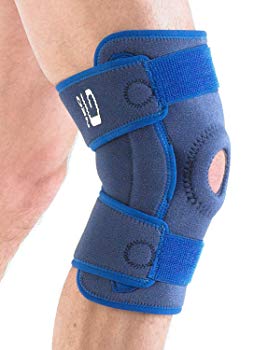 This knee brace is medically designed to offer runners maximum comfort and support. It is so comfortable that runners can use it daily for reducing fatigue, pain, and strain. Moreover, it provides relief and stability to knees that are stiff, weak or have meniscus tears, arthritis, and even runners' knee.
In addition, this high-quality adjustable knee brace helps control movements. It also keeping the muscles and joints warm to reduce knee pain. Furthermore, the knee brace is a favorite because it is one size fits all and is unisex.
Pros:
Very comfortable
Fully adjustable compression
One size fits all
Does not constrain
Easy to wear and remove
Cons:
The fabric irritates some skin types
A few people say it isn't the most durable
Knee Brace Patellar Tendon Support
You can adjust this knee brace to fit any knee with an open patella that allows your knees to breathe well. This is a very comfortable and supportive brace. For this reason, it should not slip because two straps secure it. Moreover, it helps at retaining heat and aiding fast recovery from knee-related pains and injuries. In addition, the best part is that it has a hundred percent refund if you don't find it up to the mark.
Pros:
Breathable
Sturdy
Offers great support
Has extra padding at the knee for added comfort
Helps relieve knee pain
Cons:
Some of the items have a smell of chemicals
One size does not fit all
Winzone Knee Brace Support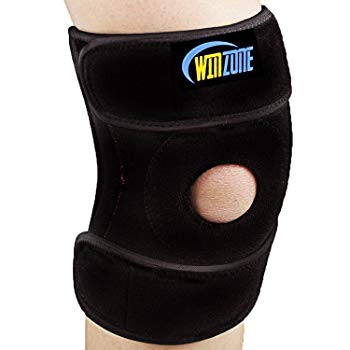 This knee brace has an open patella design and an adjustable bevel strap that offers support, compression, and relief. Moreover, this hinge-free brace is unisex, discreet and comfortable enough to allow free motion. Also, its neoprene sleeves are of very high quality and do not restrict blood flow at all. In addition, this knee stabilizer can offer your knees protection and relief from all degrees of knee pain and injuries. While preventing it from slipping
Pros:
Protects from injuries
Sturdy
Offers fast relief from pain
Does not slip out of place
Great for post-surgery recovery
Cons:
The Velcro does not hold for super long
Quite pricey compared to other braces
Vive Hinged Knee Brace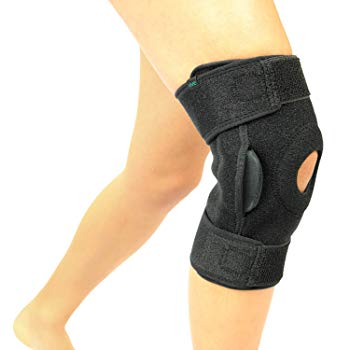 This knee brace is of breathable and light-weight latex-free neoprene material. It is the perfect choice for runners suffering from sprains, strains, instability, ACL, MCL and patellar tracking. Moreover, it also has adjustable fasteners and straps that you can alter to fit you.
In addition, this brace also has an open patella design. Also, it gives thermal compression to your hurting knee to ensure fast recovery. Furthermore, the best part is that it has a sixty-day guarantee.
Pros:
Has hinges on both sides of the knee for more support and stability
Its neoprene is light-weight, breathable and latex-free
Has adjustable fasteners
Good for short-term wear
Supports different ranges of motion
Cons
:
The Velcro is sticky and not the most durable
Just one size option
ZSX Compression Knee Brace Support Protector Adjustable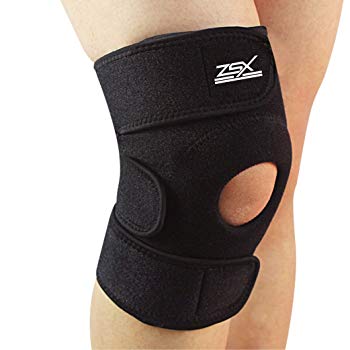 This knee brace is made your knees feel better again. Unlike most braces, it comes in four different sizes. Slim, comfortable and light-weight, this brace support can be worn every day for various sports.
Moreover, whatever the source of the knee pain is, ZSX will make it all go away while offering you soothing comfort and stability. In addition, this brace also provides a guarantee. You can, therefore, return it within thirty days of purchase if you do not like it.
Pros:
Has 4 size options
Made of high-quality durable materials
Offers good knee stability
Easy to use and clean
Cons:
Too warm for some users
Does not stay in perfectly in place
SB Sox Compression Knee Brace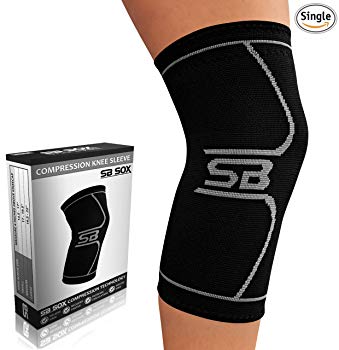 This knee brace is exceptionally light-weight. The material is high-quality nylon and spandex. Moreover, to avoid friction and relieve knee pain, this knee brace has silicone grip gel. Also, nurse your knees to quick recovery with this breathable, versatile and form-fitting knee brace. Overall, this highly recommended brace is excellent at allowing the flow of blood around the knee.
Pros:
Very comfortable
Snug and allows blood flow
Can be worn discreetly
Cons:
The elastic gives away after some time
Does not come as a pair
Crucial Compression Knee Compression Sleeves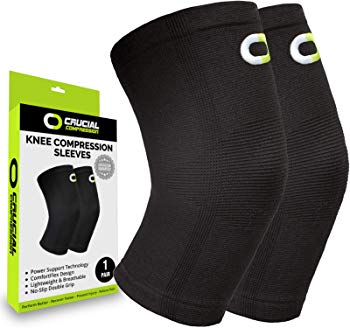 This knee brace is of very high-quality nylon, rubber, and spandex material. It is light-weight, breathable and consequently gives a snug fit without confining or hindering the flow of blood. Moreover, it also gives fast relief from meniscus tears, LCL, MCL, and ACL.
Furthermore, double rows of stitches mean that this brace is very durable. It will also keep you running for a very long time because it will have its compression intact. In addition, you also get a guaranteed refund if you do not like it.
Pros:
Fits snugly
Great for compression
Looks great and of good quality
Stabilizes the knee effectively
They stay dry
Cons:
Inner fabric irritates some skins
A few people say its a bit thick
Several complaints of it sliding down
UFlex Athletics Knee Compression Sleeve Support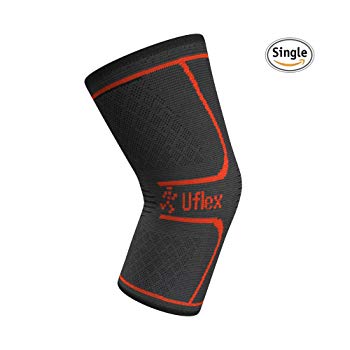 The material of this knee brace is very high-quality. It will also offer your knees maximum support. Moreover, it offers relief in muscular issues and helps heal injuries to give you fast relief and excellent athletic performance. Also, this versatile brace allows blood flow, offers your knee the much-needed protection. In addition, it speeds-up the recovery process and reduces stiffness and inflammation.
Pros:
Very comfortable and offers excellent compression
Offers great support
Keeps the knee very warm
Good at absorbing shock
Great customer service
Cons:
Not very durable
Does not stay in place for all leg sizes
McDavid Reversible Neoprene Knee Support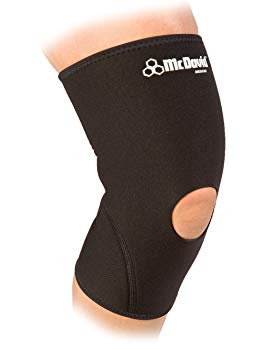 This knee brace is a hundred percent latex-free neoprene to give you maximum support and comfort. Moreover, it offers a 5-needle flat seam technology for a comfortable and snug fit. Also, it allows blood flow and free movement of the leg without causing irritation. In addition, its anatomical design adds more comfort and support.
Pros:
Easy to wash
Versatile
Very comfortable
It is hundred percent latex-free
Cons:
The fabric inside causes irritation
Slips off if not properly sized
Mueller Patella Stabilizer Knee Brace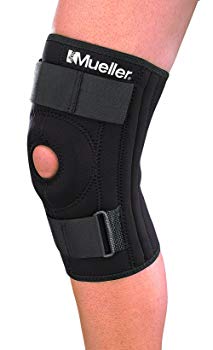 This knee brace is mainly for people with patella dislocation. Its Velcro straps are adjustable. Moreover, the fabric used in it is very breathable, comfortable and seamless. Also, it provides enough stability and comfort for people with dislocated patella. Finally, it provides relief to people with runners' knee, and arthritis.
Pros:
Great for treating patellar tendinitis and other knee-related issues
Provides support during tough workouts
Easy to get on and off
Excellent knee stabilizer
Provides proper protection and comfort
Cons:
Not a good fit for a few customers
Benefits of Using Knee Braces
The main functions of knee braces are pain relief and protection from injury. It is essential for runners to wear knee braces consistently, no matter what the state of their joints is. Braces keep their knees safe and helps them keep up their exercise. The following are some benefits of a knee brace.
Knee braces consequently lessen inflammation that may occur during or after exercise
Stabilizes the knee. As a result, it helps to prevent tearing of ligaments, damage to the patella or kneecap twisting
Gives support, especially when the runner is suffering from MCL, ACL and PCL injuries
Compresses the knee, thereby increasing blood flow
Compresses the knee and reduce pain and stress on the joint. This consequently prevents bone to bone contact and overall, reduces the pain from arthritis
Helps secure the patella while you run
Types of Knee Braces
Knee braces are of different types. They help ease the pain, support the knee and protect it from further injury. Based on the nature of the knee problem, a trained professional will also know the type of brace that is most suitable.
Arthritic Knee Brace: This brace has a design with hinges. It reduces the pain  by bones rubbing against each other when you run. Its primary use is the treatment of arthritis. Using adjustable compression can help in reducing swelling and inflammation caused by arthritis.
Hinged Brace: This brace is bigger and more rigid than others and provide the knee with support, stability, and rigidity. It restricts some degrees of motion and leg extension. Moreover, it may be adjustable and customized to fit an individual. Mostly, people wear it after a having knee surgery or when recovering from a severe knee injury. Furthermore, it is not very comfortable for running because it is bulky and large.
Knee Bands: These are straps worn for minor injuries and go around the knee. Also, they reduce soreness, strain, stress and pain in the patellar tendon, as well as help in the treatment of tendinitis and runner's knee.
Knee Tape: This brace mostly protects the knee from injury. Furthermore, it helps to minimize the mild runner's knee pain. It mainly helps prevent knee strain and soreness. Additionally, it is usually very light-weight and allows total mobility.
Neoprene Brace: This brace has a stretchable and insulating material called neoprene. Runners use it for bruised knees. Neoprene braces could be in the form of sleeves for retaining heat and compressing. Some could use patella stabilizers or hinges to stabilize weak knees. Moreover, the heat warms-up the sore muscles and joints, while the compression allows blood flow.
Patellar Stabilizing Brace: This brace is made with a strap to stabilize the patella while you run. As a result, it helps relieve the pain and friction caused by patellar tracking injuries. Additionally, it helps to compress the patellar tendon and consequently relieves the pain caused by tendonitis.
Key Considerations When Buying a Knee Brace
Getting relief for knee pain or injury is the priority of every avid runner. Knee braces are specially made to ensure that you do not have to struggle through such pain and discomfort. Also, it helps to protect your knees from further injury. However, there are a lot of factors to look into before getting a suitable knee brace.
Benefits: You should be aware of the specific needs you want the braces to meet. You should know what is wrong with your knees. Moreover, it is good to know how the knee braces will be of help.
Breathability: Braces will make you sweat and this could be very uncomfortable. So, consider getting one that is very light-weight and well-perforated to increase airflow while running consequently.
Comfort: The best knee braces should be very comfortable. That means no slipping or irritating. Moreover, ergonomic designs offer more comfort, support, and stability.
Compression: Different knee braces have different compression levels. Some are fixed-type while others are adjustable. Therefore, it is good to get knee braces that are adjustable. This consequently allows you to get the level of compression that you is comfortable.
Maintenance: Your knee braces will need maintenance, and this should not be a stressful process. Some braces may get damaged when you wash them, while some may not. So you need to know the best way to maintain your knee brace.
Material and Design: The material and design used for the braces should be seamless, malleable, comfortable, light-weight and excellent at providing relief. Neoprene is more useful for knee support because it warms up the muscles and enhances blood flow.
Mobility: Your knee brace should suit your specific need. Some problems like arthritis need restricted movement. Less severe injuries will allow full mobility. Also, open patella knee braces are advisable to let your knees to stretch fully while in motion.
Performance: Whatever your choice is, it should enhance your performance. If you get a knee brace, but it irritates, is not sized correctly, slips off often, causes discomfort and does not relieve pain, your performance will consequently suffer.
Price: The price of the brace should be within your budget. Also, it must match the quality of the brace. Most of the time, high quality does not come cheap. For thsi reason, you should be willing to part with some extra money. This is especially true if you find a brace that is perfect for your needs.
Sizing: Sizing is critical. If the size is not right, the brace will be uncomfortable and will not offer the desired support. Therefore, be sure to use the size chart on the company's website and read reviews to be sure of the sizing that will be perfect for you.
Support: Your knee brace should offer enough support to your ailing knee for faster recovery.
Type of Equipment: Knee injuries require either knee sleeves or knee braces. It would help if you were aware of the kind that best suits your needs.
Final Thoughts
In conclusion, as a runner, there may be a few hurdles to enjoy your sport. One such obstacle is knee pain and injury. In the end, these can keep you off your feet for some time. Overall, we have picked some of the best braces to soothe your pain and discomfort. Go through them and get a knee brace that will stabilize your leg while your body heals.