Best Running Backpacks
This page contains affiliate links. As an Amazon Associate I earn from qualifying purchases.
The evolution of backpacks has gone from meaning simple school bags to durable, practical backpacks for all sorts of physical activities. Today's technology allows running backpacks to have different features that really make it more than just a place to put stuff in.
These days, running backpacks have ventilation channels and durable harness systems that make it easy to carry around.
Quick Look at Our Top Picks for Best Running Backpacks
IMAGE
PRODUCT
DETAILS

Comfortable all throughout use

Breathable even in hot weather

Durable and Long-lasting

View on Amazon →

Snug Fit

Long-lasting & sturdy

View on Amazon →

BEST RUNNING BACKPACK FOR COMMUTING

BEST RUNNING BACKPACK FOR COMMUTING

Great for traveling

Visually pleasing

Customizable for users

View on Amazon →

BEST LIGHTWEIGHT RUNNING BACKPACK

BEST LIGHTWEIGHT RUNNING BACKPACK

Storage is great for sensitive electronics

Can fit up to a 15'' laptop

Affordable

View on Amazon →

BEST WATERPROOF RUNNING BACKPACK

BEST WATERPROOF RUNNING BACKPACK

Cheaper than most

Great for everyday use

Waterproof

View on Amazon →
Best Rated Running Backpacks Reviewed
After learning about the things that you should consider, it is now time to look at some of the better items on the list. We suggest some of the top bags below. They are meant to give you an idea of what products are out there.
Osprey Packs Talon 22
Versatility is the main reason why this bag is at the top of the list. It is a high-tier running backpack that can travel through all types of landforms whilst keeping the essential tools intact and easily accessible. It is mainly for extreme sports such as hiking tremendous heights and biking unpaved roads. As far as its design goes, this running backpack has been refined to the core with unique features exclusive only to this design. The back panel has a feature called Airscape that is of mesh-covered foam ridges. Its breathability ultimately tops regular mesh. For those who prefer a quick fix of their thirst, the Osprey Packs Talon 22 is perfect with its external hydration sleeve. This is in the backpanel to lessen the possibility of spills.
Pros:
Comfortable all throughout use
Breathable even in hot weather
Durable and Long-lasting
Cons:
Hipbelt may be tight on wider waists (40 inches and above)
Frame is quite bulky
Deuter Trans Alpine 30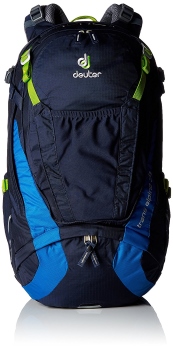 The Deuter Trans Alpine ensures the user's utmost comfort by having an anatomically-sound construction that keeps the load secure to the body. It has an Auto Compress System and Pull-Forward technology to help with optimal fit. Despite the tightness of the straps, chaffing won't be an issue since it has padded S-shaped shoulder straps. Another feature that it has is the AirMesh lining that minimizes the contact of the actual running backpack to one's back.
As for how much storage it can hold, there is an air pump holder and a reflective holder. There are also elastic side pockets for holding water bottles, a front pocket for jackets and an easy-access stash pocket with a zipper for electronics. Furthermore, to maintain the volume of this running backpack since it can a hefty amount, the main compartment has compression straps for volume regulation. Its durable quality makes the running backpack water and abrasion-resistant so the Deuter Trans Alpine 30 has no problem holding up to 25 lbs
Pros:
Snug Fit
Long-lasting & sturdy
Cons:
Slightly on the heavier side
Not available in exciting colors
Kelty Redwing 50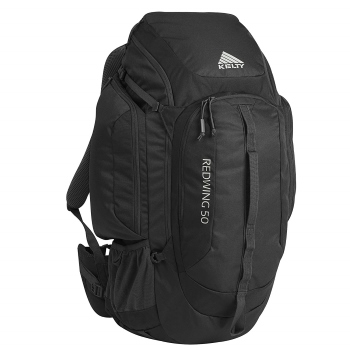 It is one of the best traveling companions among running backpacks. This item is for backpackers who need a little organization in their routine. It has a carry handle, unlike most running backpacks, so it's much easier to pull it out of small spaces like the bottom of the user's seat on the airplane. Furthermore, the U-zipper at the top load allows for a bird's eye view of the user's belongings. In addition, the U-zipper design is in the top loader, but also in the panel loader. As a result, it allows for an easy-access compartment.
The Kelty Redwing 50's organizational design is at par with its comfort level. The weight evenly distributes by the thick straps, as well as the Light Beam™ single aluminum stay. Efficiency and organization are the two things that sets it apart from others.
Pros:
Great for traveling
Visually pleasing
Customizable for users
Cons:
Not waterproof
Only available in 2 colors
The North Face Women's Recon Backpack
An all-around running backpack made to fit anyone's needs. There are students who say that the large main compartment is great for books, binders and even a 15'' laptop. The 30-liter backpack does not disappoint with the amount it can hold. The FlextVent™ suspension system includes custom injection-molded shoulder straps, padded mesh back panel and a breathable lumbar panel.
Furthermore, the backpack itself is very simple from the outside. It's details is what makes it special. The features have double purposes; the mesh water bottle pockets serve as a quick-draw cellphone compartment, and the sternum strap has an attached whistle buckle in cases of emergency. These are some of the many reasons why so many love the North Face Women's Recon Backpack.
Pros:
Storage is great for sensitive electronics
Can fit up to a 15'' laptop
Affordable
Cons:
Chest strap is on the shorter side
Zippers are difficult to open and close
Granite Gear Jackfish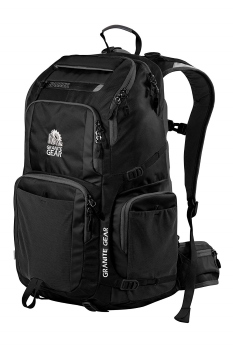 Unlike the others on the list, the audience the Granite Gear Jackfish aims to entice are commuters and students. It's tall and slim design is capable of fitting long folders and a 17'' laptop which even has a Gear Tech Computer Sleeve. To prevent phone screens and glass lenses from scratches, there is a water-resistant Barrier-zipped stash pocket. All of these compartments are one-of-a-kind quality since they are of Repelaweave and Taurpalite fabrics.
Breathable Load Absorbing Shoulder Harness with Load-Lifter Straps, Load Stabilizing Sternum Strap and Hide-Away Load Bearing Waist Belt are for stability. Based on its features, this truly is for those looking for a durable running backpack for everyday activities.
Pros:
Cheaper than most
Great for everyday use
Waterproof
Cons:
Pockets are hard to open one-handed
Some say that they wish it was bigger
Gregory Mountain Products Contour 60 Backpack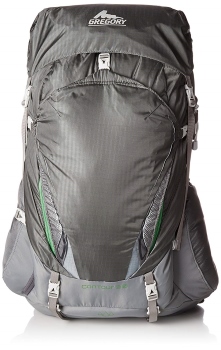 The contoured back panel replicates the curvature of one's back once put on. The material of this back panel is a breathable spacer mesh which aids in flexibility. Its implausible comfort is not the only thing that sets it apart from others. Its harness has a MonoBond Architecture with thermos-bonded, four-layer construction. These materials are also waterproof and water resistant. Due to its outstanding capabilities, the Gregory Mountain Contour 60 is highly for campers as it also possesses a Trail Smart Packing System. Furthermore, it is able to hold On-the-Go tools for camping. Also, it also has a rain cover that matches the color of the backpack.
Pros:
Can withstand rain very well
Simple yet efficient design
Great for campers
Cons:
Gender-biased (designed for men)
Issues with water bottle holder
Pricier compared to others
Thule Men's Capstone Hiking Pack, 32-Liter
Adventure is this backpack's middle name. It is a perfect companion to take on the rockiest roads and the most unpredictable weather. Its adjustability lives up to its promise with the MicroAdjust suspension system. Aside from this, minor adjustments can be done without the hassle of removing the backpack. By doing this, it keeps the backpack in place and allows for a snug fit. Furthermore, it helps with the transferring of weight to the hip belt. This makes sure that the load is not only on the back but on the hips, glutes, and chest. This ensures safety and prevents injury. Even though it is not as advanced as others, the Thule Men's Capstone 32 Hiking Pack's simplicity speaks volumes.
Pros:
Customizable
Great adjustability
Built-in rain cover
Cons:
For larger frames
Accessories sold separately
CamelBak 2018 Fourteener 20 Hydration Pack
The CamelBak 2018 Fourteener 20 Hydration Pack has been designed to perfection. Just like the previously mentioned, its purpose is prominently seen when used for outdoor recreational activities, specifically hiking. The bag is made to carry food, trekking poles, trail maps, ice axe, media, sunglasses and extra layers; It can house all the hiker's gear. Its structure is similar to most, but what stands out the most is the external lash points to carry tools and gear on the bag's outside.
On Its NV Back Panel, it has the best class 3 ltr Antidote water reservoir – all riding as one of its added features. It is undeniable that the CamelBak 2018 Fourteener 20 Hydration Pack makes for the perfect hiking aid due to its state-of-the-art design that clearly shows that the production process of this backpack was well thought of.
Pros:
Perfect for hiking
Best used in hot weather
Cons:
Waist belts are sewn-in, not removable
Design may look tacky
High Sierra Pathway Backpack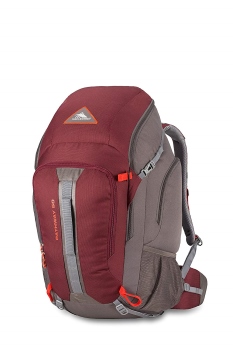 This bag is not to be underestimated because of its appearance. With a padded air mesh hip belt with adjustable tension webbing, it makes sure that the weight is not on the back. It focuses on keeping the risk of injuries at its lowest which is often looked over by advanced backpacks. Furthermore, it also possesses multiple attachments such as an accessory pocket, key fob, bottom compression strap sleeping pad attachments and etc. The High Sierra Pathway Backpack sticks to its roots, thus, remaining purposeful.
Pros:
Has a large variety
Affordable
Most straps are adjustable
Cons:
Does not come with a rain cover
Back can be stiff on first use
Teton Sports Rock 1800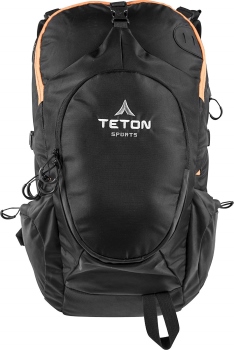 The ultimate multi-purpose backpack which can operate as an office bag today and a hiking backpack tomorrow. Durability is never an issue with the Teton Sports Rock 1800, this backpack has a rugged pack shell from 420D Oxford. However, this protective shell does not cause an imbalance in the comfortability of the backpack. The padded back and straps are of mesh to keep ventilation and flexibility. Also, these materials are lightweight so the actual weight of the backpack isn't much.
Pros:
Very Affordable
Lightweight
Cons:
No variety at all
Zippers are not durable
Benefits Of Having A Running Backpack
The benefits of a running backpack ranges.  Some of the benefits of having a running backpack include:
Prevents back injuries or pains –The running backpack's weight distributes across the user's back, glutes and chest. Thus, the pressure balances and will not concentrate only on a single part of the user's body. As a result, this reduces the risk of back injuries or pains.
Intensifies the workout –With time and training, exercising with a running backpack enhances one's technique. This is because they need to adjust to having something on their back and the distribution of weight across their body. It makes a higher calorie-burning run than when running without a running backpack because of the added weight, so it's great for those who are into a tough challenge.
Water-Proof – Although weather forecasts nowadays are very accurate, there are still some moments when runners are caught in a rain storm. A runner's backpack allows you to have a safe place to put your items, as most of these products are water-resistant and waterproof material.
Safe and Durable –Since running backpacks are quite tight, items inside don't bounce around. A lot of these bags have secure locks. Athletes don't have to worry about their items falling off when running. Running backpacks provide security like no other.
What to Look For In A Running Backpack
Convenience over Complexity – No one wants to spend more than a minute unlocking buckles, detaching straps, and opening zippers from one compartment to the other. A convenient bag is one that allows the user to get an item in a swift manner.
Pockets – Instead of multiple small pockets spread out all across the bag, one big pocket that has divided sections inside is better for your valuables. Having a reasonable number of compartments is much more realistic than having extras which you won't even use.
No Bounce –A good running backpack should be sturdy. This means that the items inside should not bounce around while you are running.  People should be able to go for an extreme hike, a rigorous jog or biking on an uneven pavement without worrying about their items inside.
Materials – Lightweight fabrics (e.g. nylon, polyamide & mesh) are the way to go. These provide proper ventilation. Technology's constant advancement allows modern running backpack's fabrics to be water resistant and waterproof, as well as withstand extreme weather conditions.
Design – Another thing to consider is the design of the backpack. Some may opt for a plain black one while others may look for a lively design with bright colors. There are brands who specialize in minimalism and there are also brands who add more flare. For a running backpack, it is best to find the right design that is fit for you.
Lightweight  – Running backpacks must be able to evenly distribute the heaviness. Placing weight and pressure on the runner's glutes, hips and chest allows for greater mobility and lessens the possibility of injury. Also, make sure that the backpack is snug on your body and doesn't dangle.
Price –  Buyers tend to be hesitant to invest a large sum of money in running backpacks. However, cheaper options usually tend to be less durable, and this will eventually lead you to buy another new item again anyway. Thus, make sure to consider the price and see if it fits into your budget.
Using a Running Backpack
There are plenty of ways how you can use a running backpack. Whether you buy it for everyday commuting purposes or for something a bit more hardcore, they are useful items to have.
For everyday users, a running backpack should have multiple organizational pockets in its interior, smooth zippers, and easy-access compartments. Durability is also important since you would most likely carry it around everywhere. The amount of the load it can carry, the quality of the seams and the material are also important things to note. On-the-go students or employees who need a space for their essentials should pick running backpacks on the smaller side. These are enough to carry around extra clothes, valuables, and a water bottle. Office workers will probably bring a laptop with them, so look for a running backpack that has a designated fleece-lined laptop sleeve and a padded back panel for the laptop's safety.
For hikers, choose a running backpack that can carry all your hefty gear. Having exterior straps for trekking devices is something to look for as well. Since things can get a bit rough, you need a backpack that is lightweight and durable. Hikers should not dwell on the backpack's size but it's capacity. Chest straps and hip belts aid in carrying heavier loads. It should evenly distribute the weight to your glutes, chest, and hips. Furthermore, consider the liters of water it can hold, this is important for staying hydrated.
For runners, choose a running backpack that is extremely lightweight. This is something that you will carry on your back for intense physical exercise. Thus, you do not want it to slow you down. The back panel should have comfort and breathability.
For bikers, choose a running backpack that is flexible. The adjustable straps make the running backpack remain tightly strapped on your body. There should not be any bouncing around inside since this could steer your balance off.
Final Thoughts
In conclusion, a running backpack is a product that you can for anything, from hiking a 3000 ft mountain to commuting from home to work. For this reason, it is worth investing in a good running backpack. This is because of the fact that no matter who you are, where you are or what you do – a durable backpack will always be of useful importance.