Best Running Pants
This page contains affiliate links. As an Amazon Associate I earn from qualifying purchases.
Running is all about agility and for that you need flexibility in your legs. You can't run properly if you are not able to comfortably move with the pants you are wearing.
Whether you are a pro or a casual runner, having an outfit that is for outdoor physical activities can make a tremendous difference in your running experience.
Quick Look at Our Top Picks for Best Running Pants
IMAGE
PRODUCT
DETAILS

Quick dry fabric

Soft and comfortable feel

Lightweight and Breathable

View on Amazon →

Quick dry fabric

Soft and stretchable

Has a comfortable feel

View on Amazon →

BEST WOMEN'S RUNNING PANTS

BEST WOMEN'S RUNNING PANTS

Lightweight material

Soft and stretchable

Quick-dry fabric

View on Amazon →

Waist can be adjusted

Soft and quite comfortable

Elegant color option

View on Amazon →

Zipped pockets on sides

Weather protection

Reflective logo

View on Amazon →
Best Rated Running Pants Reviewed
Every pants are unique and suitable for different seasons. Below we compile a list of running pants worth considering.
This list will hopefully give you an idea about some great pants that will not only have functionality but also elegance.
Baleaf Men's Tapered Athletic Running Pants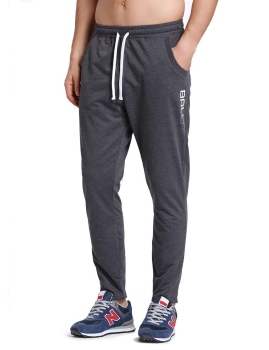 These running pants for men are made with 100% pure Polyester. Polyester has moisture wicking properties thus these pants dries quickly making it breathable. Overall, the fabric is very soft and has a comfortable feel.
The style of this pant is slim-fit with tapered legs. The waist fits perfectly and even has drawstrings for further adjustments. It has two big side pockets and one back pocket. While washing takes care for it should be machine washed preferably inside out. These lightweight pants are neither water nor windproof so cannot be worn during rain. The design and fabric both are suitable for summer outdoor activities.
Pros:
Quick dry fabric
Soft and comfortable feel
Lightweight and Breathable
Reasonable price
Excellent customer service
Cons:
Pockets are not zipped
Not waterproof or windproof
No ankle zip
ASICS Men's Aptitude 2 Run Pant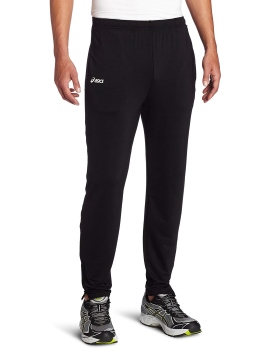 These running pants for men are made with 87% Polyester and 13% Spandex. The material of the fabric does not contain Cotton and has moisture wicking properties.  Also, the material is soft, stretchable and very breathable. This pant is designed for moderate temperature.
The style of the pants is semi-fit with gripper elastic at the opening and zippers at cuffs. It will fit you nicely and will prove quite comfortable especially while exercising. The waist has internal drawstrings for adjustments. There are two pockets on both sides but without a zipper.
Pros:
Quick dry fabric
Soft and stretchable
Has a comfortable feel
Lightweight and Breathable
Side pockets
Contains ankle zip
Cons:
Not waterproof or windproof
No zipper in pockets
No inner pockets
Southpole Men's Active Basic Jogger Fleece Pants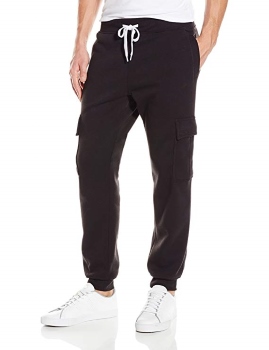 These running pants for men are made with 100% Polyester. The material is warm enough for winter wear. As the price is relatively cheaper, the material used is not going to be as durable as other brands.
Furthermore, the style of these pants is semi-fit with elastic closure at ankles. It also has adjustable waist cords for a better fit and comfort. There are three pockets, two on the sides and one on the back. The pockets don't have any zipper but are deep enough. Moreover, these pants should be machine washed in the cold water and air-dried. Proper care while washing will prevent it from shrinking.
Pros:
Elastic closure and adjustable waist cords
Soft and stretchable
Quite comfortable
Affordable price
Cons:
No zipper in pockets
No inner pocket
Lacks durability
Southpole Men's Basic Fleece Marled Jogger Pant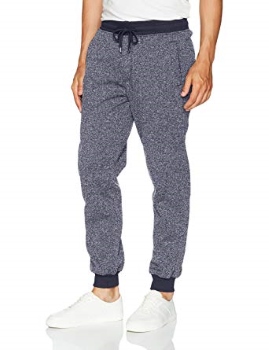 These running pants for men are also made with 100% Polyester. The material is very comfortable and is not prone to shrinkage after wash. The material is very warm and can be worn during winters. Furthermore, these semi-fit pants come with an elastic waist and banded ankle cuffs. You can also adjust waist using cords. There two side pockets and one pocket on the back. As per washing instructions this pant can also be washed in the machine in cold water. It should therefore be left in the open for drying.
Pros:
Waist can be adjusted
Soft and quite comfortable
Elegant color option
Cons:
No zipper in pockets
No inner pocket
4ucycling Windproof Athletic Pants for Outdoor and Multi Sports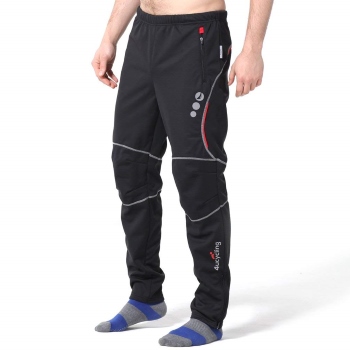 These running pants for men are made with double layer synthetic fabric. The front is 75% Polyester while the fabric on the back is 85% Polyester and15% Spandex. This unique blend of material makes these pants flexible and breathable. The material on the front is also water-resistant. There is also a thermal inner lining for the prevention of heat loss.
In addition, the style of this pants is semi-fit. There are drawstrings for you to adjust the waist. The ankle cuffs don't have any elastic or drawstring but there is an ankle zip for your ease. Moreover, it has two side pockets that are zipped. It also contains a reflective logo on the left side. Overall, the design and material make these pants suitable for days with light rain. However, you might have to order a larger size as the size run small.
Pros:
Zipped pockets on sides
Weather protection
Reflective logo
Cons:
Sizes run small
Loose ankles
BALEAF Women's Athletic Joggers Pants
These running pants are for women and is made with 100 % Polyester. Hence, the fabric has moisture wicking properties and is breathable. The material is lightweight yet not too thin thus is suitable for autumn and early winters.
Furthermore, the style is tapered legs and slim-fit. The pants come with a waist that has both elastic and adjustable inner cords. Moreover, there are also zippers at ankle cuffs. The two side pockets are quite deep and also zipped. Consequently, the design and material make these pants excellent for outdoor activities and training purposes.
Pros:
Comfortable material
Sweat-wicking technology
Breathable
Adjustable inner cords at waist
Cons:
Affordable but the fabric has a cheap look
SweatyRocks Women Pants Color Block Casual Tie Waist Yoga Jogger Pants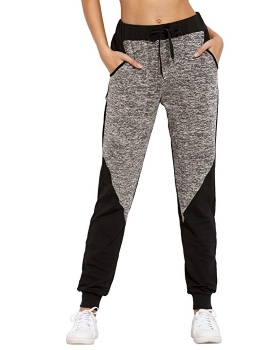 These running pants for women is of synthetic material. The exact composition of the material varies with different colors. Nevertheless, the material is very stretchable and breathable thus making this a perfect athletic pants. Overall the fabric is slightly warm.
These high-waist pants have a loose fit. The pants have drawstrings at the waist and elastic on the ankle cuffs. There are only two side pockets. Moreover, the stitch quality is also good at such a low price. However, the sizing chart should be consulted carefully as these pants have sizes designed for the Asian market.
Pros:
Stretchable and flexible
Breathable
Elastic ankle cuffs
Cons:
Not as warm as advertised
Sizes run small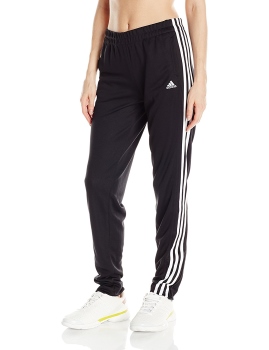 This double-knit running pants for women is 100% Polyester. Adidas women's T10 has temperature management design as the fabric allows air circulation making it very comfortable and breathable. Overall, these pants are suitable for training and outdoor exercising in summers.
This elastic waist pant has a form-fitting style with tapered legs. Moreover, the ankle cuffs have zippers. There two big side welt pockets without any zippers. However, these pants are from an affordable product line by Adidas, therefore lack premium quality material.
Pros:
Quick-dry fabric
High on breathability index
Very comfortable
Lightweight material
Material can be machine washed
Cons:
Pockets don't have zippers
No weather-protection
Not many color options
adidas Tiro 17 Athletic Soccer Training Pant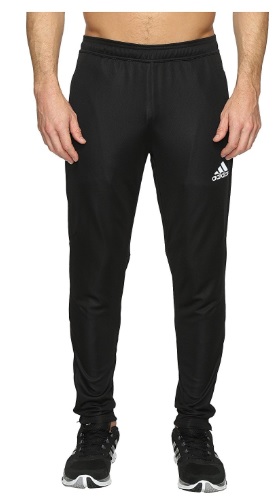 These running pants for men are 100% Polyester. The fabric is double-knit and has climacool ventilation properties. Hence, the fabric is quick-dry and breathable that keeps you cool and dry. The climacool protection does not mean the fabric is water or windproof. Moreover, these famous pants by Adidas have the signature three strips on the sides. It comes with elastic-waist and ankle zips. Furthermore, there are drawcords at the waist for a better fit. It has front pockets that you can zip for added protection. This pants also has mesh inserts at the lower back waist. These inserts further help in a better air flow and increased breathability.
Pros:
Breathable fabric material & design
Lightweight and comfortable
Mesh inserts at lower back
Zipped pockets
Cons:
No weather-protection
Not very stretchable
Champion Women's Track Pant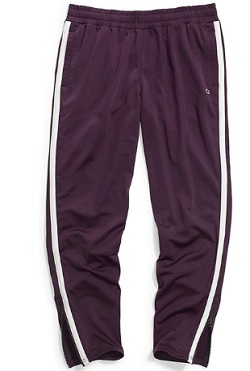 These running pants are 100% Polyester. The fabric material is very comfortable, lightweight and breathable. You can easily wear these during summers. Furthermore, the style is loose-fit with open bottom legs and wide waistband. The waist has an elastic closure and colorful drawstrings. Some of the color options also have drawstrings at the waist but the quality of these cords is not great. Moreover, these pants lack pockets. Hence, until and unless you can live without pockets this pants will not appeal to you.
Pros:
Affordable price
Very comfortable
Elastic waist closure
Cons:
No pockets at all
Limited colors
Key Features to Look For
You need to wear your running apparel for improved performance. These specialized pants come in different styles and are flexible enough for outdoor physical activities. To understand more about running pants we list some differentiating features below
Style – Running pants come in varying lengths such as full-length pants vs. shorts/Capri length pants. Pants also vary how they fit. For example, it can be a slim-fit or loose style. The style of cuff can also vary from loose/open vs. elastic closure.
Fabric Material – It is important that you purchase pants that are flexible or stretchable. The best option is to choose synthetic material such as Polyester, Spandex, Lycra, or Nylon. Always avoid 100% pure cotton pants as it will absorb moisture and sweat.
Ankle Zips – This feature comes in handy specially if you are running for a race. You can wear such a pant before any race during a warm-up session and quickly take it off when your race starts.
Reflective Logos/Patches – It is common to have a reflective material on your running attire. It is often useful when running in the dim light such as the early morning, during the night or during rain/fog.
Weather Protection – Sometimes certain companies reinforce running pants with a special design and material. These pants can be worn even on a rainy or a windy day.
Pockets – These pants often come with a deep pocket. Some pants are more advanced, and the pockets have zippers. Zip-sealed pocket pants are perfect for activities that require a lot of movement. Some brands even include internal pockets for storing your keys etc.
Lightweight Feature – When you are exercising, it is always preferable to wear clothes that are lightweight. Breathability is another feature that is essential for an athletic pant particularly in summers. Lightweight pants with mesh linings are very breathable. Such pants are perfect for your workouts when you generate a lot of body heat.
Waist Style – For ease of adjusting these pants, have inner or outer drawstrings that can you can use to get a tighter fit.
Mesh Lining – Pants that are breathable become immensely important when exercising for long hours. Keeping this in mind, since many brands have also designed for mesh linings or mesh inserts at the back of the pant.
Final Thoughts
When you buy pants for running you have ample choices available. Using the above list as a guide you can search for products that have a positive review from most of the customers. In the end, we want to reiterate three important things that you should always keep in your mind.
Firstly, always avoid 100% cotton as it will not offer you breathability. Secondly, you should always consult the sizing chart before buying because the size tag may not give an accurate size. Lastly, always follow the washing instructions carefully to prevent shrinkage.