Best Running Shoes for Bunions
Bunions also referred to as hallux valgus or hallux abducto valgus, are formed when the big toe bends towards other toes.
As a result, this makes the connecting joint to protrude painfully resulting in a deformity. This deformity has a gradual onset but may lead to complications such as bursitis or arthritis if not treated early enough.
Furthermore, bunions are more common in women than in men. It affects about 23% of adults, having an onset between 20 and 50 years old.
Moreover, bunions in adolescent girls may develop at the early ages of 10-15 years.
Though the exact cause of bunions is unclear, there are some likely factors that can trigger this deformity.
Many runners struggle with bunions. This deformity can deter any runner from performing excellently due to the pain and discomfort.
Keep reading to see our top 5 recommendations for the best running shoes for bunions.
Best Rated Running Shoes for Bunions Reviewed
The best running shoes for bunions should be comfortable, roomy and stretchable. Additionally, it should have a wider toe box, enough room for your bunion to spread, and great arch support. Such shoes should not rub the sensitive area.
These are some of the qualities to look out for when shopping for the best running shoes for bunions.
New Balance Fresh Foam 1080v6 Running Shoe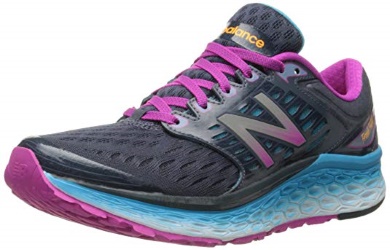 This running shoe is made from fabric and synthetic and features rubber soles, fresh foam midsole, ortholite sockliner and a data driven midsole and outsole design that offer runners smoother heel-toe transition.
Its bootie construction with engineered mesh allow for ventilation and dryness of the feet. Moreover, people with bunions or orthotics will love the large toe box and snug feeling it gives the midfoot while running. Many customers love its plush and cushiony feel.
Pros:
Roomy toe box for people with bunions
Good choice for people with high arched feet and plantar fascia
The lightweight is great for marathon races
Offers great durability and support
Cons:
Requires a different insole for extra height
Grip is not good enough for wet roads
Does not wear easily
Also Read: 10 Best Lightweight Running Shoes
Altra Torin 2 Running Shoe (Men and Women)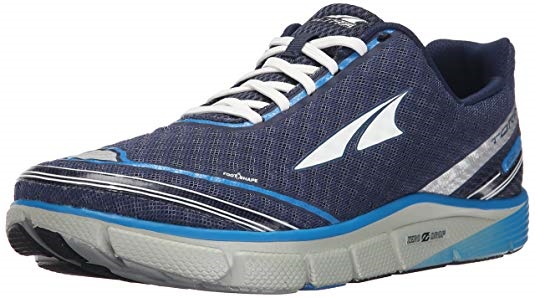 This running shoe is made from fabric/synthetic, with a synthetic sole, and mono-mesh with trouble-free no-sew overlays on a sleep platform, that will keep your feet dry and provide them with sufficient breathing space as you run. It also has a zero-drop platform and a metapod traction outsole.
It is made with anatomical toe box to naturally position your foot and provides great support for sensitive feet.The dual-layer altrabound cushioning this imported shoe offers balances the runner without causing much discomfort to the bunions during long distance running. This is the best running shoe for people with either high or low arch.
Pros:
Most ergonomically comfortable shoes
Great for opening up the forward arch
The zero lift offers overall nature feel
Best choice for people with flat foot or low arched feet
Cons:
Company is hard to get in contact with
Not durable
Causes heel blisters
Also Read: Best Cushioned Running Shoes
ASICS GEL-Kayano 22 Running Shoe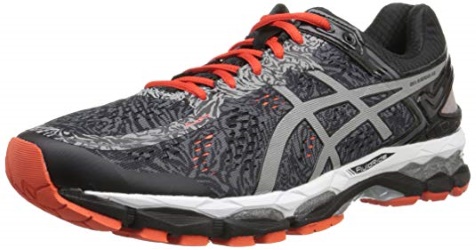 This running shoe is made from fabric/synthetic and has several awesome features. It possesses Gait-enhancing Impact Guidance System (I.G.S.) for improving the natural form and harmonization of your feet and legs while walking, jogging or running.
This lightweight shoe boasts an exoskeletal heel clutching system and rearfoot and forefoot gel cushioning systems. Its fluidride bounce-back cushioning and fluidfit multi-directional reinforced stretch will ensure you run long miles with the maximum comfort possible.
Pros:
Very lightweight for running marathon irrespective of leg or foot issues
Has big heels for even distribution of body weight while running
Great arch support, especially for people for flat feet
Cons:
Heels too high for some runners
Its rubber soles are not very durable
Not suitable for long distance runners
The Brooks Ariel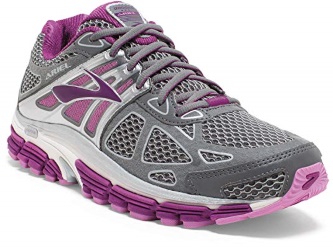 This running shoe is made of great motion-control components. Its maximum arch support and wide width make it a favorite for people with bunions and orthotics. Its mesh offers great breathability. You could run with stability and ease, even with flat feet.
The ariel provides great traction for slippery roads and your feet will love the cushioning this shoe offers. It also comes in widths of B (medium), D (wide), and 2E (extra wide). However, it has limited styles and colors.
Pros:
Wide width which is great for bunions and orthotics
Good mesh that is very breathable
Excellent traction is provided by the ariel for wet/slippery roads
You can run in any weather condition with these shoes on
Cons:
Has limited styles
There are limited colors
Also Read: Best Motion Control Running Shoes
Altra Escalante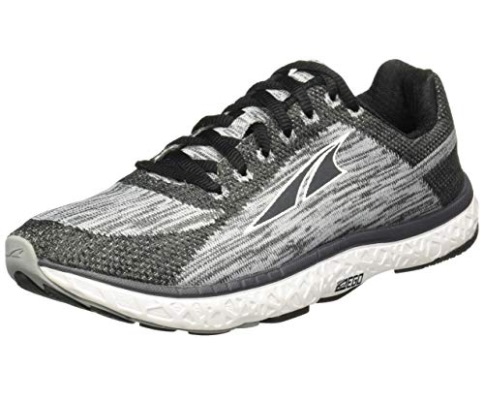 This running shoe is made from mesh-synthetic materials and a sleek aesthetic. It offers a well cushioned and bouncy Escalante with the typical oversize toe box, which is made wider by a stretch mesh on the upper part of the shoe. It is designed to perk up running, racing and training forms, toe-splay, push-off, traction, and comfort. Furthermore, with its responsive altra ego midsole, this 6.5 oz running shoe sets you apart from other runners. The zero-drop platform soothes any discomfort bunions might cause while the stretch mesh eases pain.
Pros:
Great for easing bunion pains
Has a stretch mesh that offers more comfort
Offers wide toe box
Has zero drop platform
Cons:
Low height
May not fit perfectly
No grip on the bottom
Saucony ProGrid Omni 9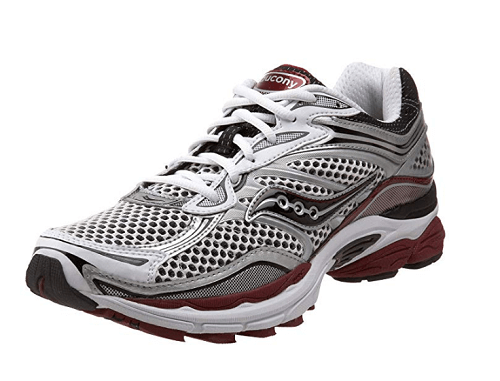 This running shoe is from synthetic and mesh material. Its unique heel cassette ProGrid technology provides maximum convenience and performance. It also provides a roomy toe box, denser and more structured arch for female runners with bunions and lower-arched feet. Its dual density SSL EVA midsole and SRC forefoot cushioning are its major advantages. It is available in D-width for women, to make room for the bunion-afflicted feet.
Pros:
Wide enough toe box to take the pressure off the bunion
Provides maximum convenience
Offers optimal running performance
Cons:
Quite pricey
May be rough on the Achilles tendon
May cause blisters
Also Read: Best Gel Insoles for Running
Salomon Women's XR Mission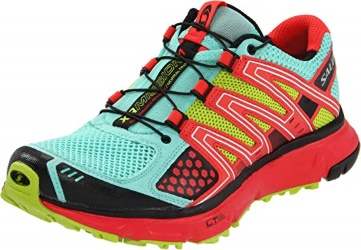 This running shoe is made from nylon mesh, contra grip high abrasion rubber, EVA foam console, TPU frames and lugs. These major components are put together in a display of great technology to form a lightweight, great traction, excellent transition and springy running shoe. It also has the latest dual technologies – sensifit and sensiflex – which are working together for an optimal running experiecnce. Furthermore, an excellent shoe for female runners with bunion-related defects, this shoe offers an EVA foam midsole that will protect the toes from bunion-related discomfort. This shoe also provides great traction, better transition and quick responsiveness while running are some of the few things this shoe is known for.
Pros:
Has a quicklace lacing system
Has contragrip high abrasion rubber for great traction
Not too heavy
Has a shock-absorbing EVA foam midsole
Cons:
Slightly pricey
Old model
Sketchers Sport Women's Premium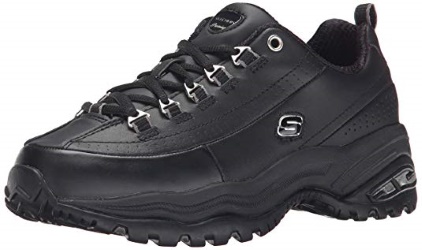 This running shoe is made of leather in the United States of America. It has a rubber sole with extra height that is comfortable, durable and also stylish. The outsole and midsole of this terrific running shoe are shock-absorbing with high traction for a great running performance. Furthermore, it fits perfectly well and is extra-wide, which is a bonus for runners with bunions. This high-quality female shoes also have a lightweight EVA midsole and lace-up vamp. It is perfect, not just for running, but for work, play and strolling as well.
Pros:
Offers great arch support
Soft leather support features
Non-skidding
Cons:
Wears out in average time
Poor fit
Lining and insole wear out too quickly
Adidas Ultraboost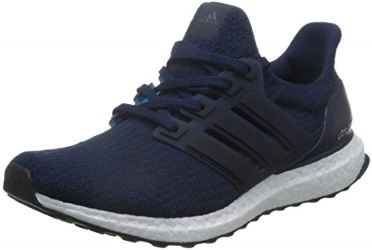 This running shoe is from textile and synthetic material. It comes with a removable insole and a high-quality rubber sole. Each foot strike from this amazing female running shoes will release an energized push-off for a light, fast run. Furthermore, its cushioning is of such great quality that the manufacturers claim it does not pack down over time. The cushioning neither makes the shoe heavy nor sacrifice the ground feel. Moreover, the molded heel counter of this shoe is a natural fit that is great for Achilles movement. Overall, this shoe boasts of a torsion system for a very stable ride.
Pros:
Provides ultralight comfort for long walks and running
Awesome bouncy feel
Has a supportive cage that locks down the midfoot, providing the runner with balance
Cons:
Too expensive for the quality
Most customers
Not very comfortable for runners with wider feet
Nike LunarGlide 7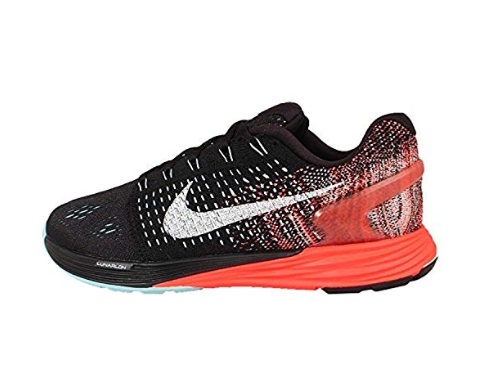 This running shoe is from USA and is of mesh, carbon rubber, and Nike flyknit material. Designed to match the standard running shoe length, this shoe is for comfort and optimum support. The cushioning on the heel and forefoot are high and act as shock absorbers, protecting the foot from impact and fragments on roads. It also has flywire cables and a TPU heel counter that are superb fits for your heel and midfoot. The seamless support it offers is dynamic and quite matchless. Nike LunarGlide 7 is the best option for over-pronators, flat-footed runners, and runners with medium to high arches.
Pros:
Can be worn all day without pain
Absorbs impact well
The best option for people who are flat footed
Cons:
Stiffer cushioning
Shoe soles wear out quickly
What Might Cause Bunions?
There are plenty of factors that lead to Bunions, some of which we take a look below:
High-heeled shoes – Wearing high-heeled shoes that crowd your toes and smoosh them into the front of your shoes can stress the joint. This will make it sore.
Ill-fitting shoes – Wearing under-sized, very tight, narrow and pointed shoes can trigger bunions.
Heredity – The structural formation of the toes that make the big toe bend towards other toes could be inherited. The likelihood of developing bunions could come from family history.
Rheumatoid arthritis – Bunions result from having an inflammatory condition known as arthritis.
Unequal length of legs – Having one leg longer than the other could result in the formation of a bunion on the big toe of the longer leg.
Body weight – Being overweight can cause bunions to become more severe. Therefore, you should make sure to maintain normal body weight.
Also Read: Best Running Shoes for Wide Feet
Symptoms of Bunions
There are several ways you can tell whether you have bunions.
Reddish skin color around the toe area
Pain when walking that is persistent or intermittent
Soreness around the big toe joint
Swelling or blister formation around the joint
A bulge on the base of the big toe
Restricted movement of the toe when it complicates
Methods for Treating Bunions
Besides trying the shoes above, you can also try and treat your bunion well by doing the following:
Use proper and comfortable shoes
Relieve pressure on the toe
Maintain normal body weight
Use gel-filled pad
Use shoe inserts for repositioning of the foot
Take non-steroidal anti-inflammatory drugs like ibuprofen
Use ice packs or massage the inflamed area.
Surgery
Orthotics
Final Thoughts
In summary, whether you have bunions or are simply shopping for the best running shoes, one of the first qualities to look out for is the width of the toe box. Lightweight, good stability, cushioning, durability and price should also be put into consideration.
This will help you acquire a shoe that will make running an enjoyable sport. Moreover, it will also help to prevent you from getting bunions, and in turn allow for a comfortable running experience.