Best Running Shoes for Plantar Fasciitis
This page contains affiliate links. As an Amazon Associate I earn from qualifying purchases.
The most common injury among runners is plantar fasciitis. This is a result of the tear from tension and stress on the plantar fascia. The plantar fascia is a tissue linking the heel to the toes. As one does running and sports that cause this tissue to overly stretch, tiny tears may occur in it. Doctors note a few factors that cause this problem. Some of them are aging, overpronation, obesity, and tight calf muscles.
One of the best ways to deal with plantar fasciitis is wearing specially made running shoes. The makers design them to help runners with this problem. A few features must always be noted before making a choice. For one, great arch support and good shock absorption must be there in a Plantar Fasciitis running shoes. Overall, to help you make the best pick, we shall suggest some of the best brands based on our research.
Quick Look at Our Top Picks for Best Running Shoes for Plantar Fasciitis
IMAGE
PRODUCT
DETAILS

Great stability

Super comfortable

Often recommended by podiatrists

View on Amazon →

One of the most comfortable shoes out there

Offers great roll, lateral and ankle support

Has good airflow

View on Amazon →

BEST MEN'S RUNNING SHOES PLANTAR FASCIITIS

BEST MEN'S RUNNING SHOES PLANTAR FASCIITIS

Good arch support

Allows the use of orthotics

Best for walking on pavement or concrete

View on Amazon →

BEST WOMEN'S RUNNING SHOES PLANTAR FASCIITIS

Super comfortable

Good support and balance

Stylish and colorful

View on Amazon →

BEST FOR HIGH ARCHES AND PLANTAR FASCIITIS

BEST FOR HIGH ARCHES AND PLANTAR FASCIITIS

Affordable

Light in weight

Lots of cushion

View on Amazon →
Best Rated Running Shoes for Plantar Fasciitis Reviewed
There are many running shoes for plantar fasciitis there in the market due to progress in research. We have chosen a few that can help wearers ease pains linked to this problem.  The list below mentions them all:
ASICS GEL Kayano 24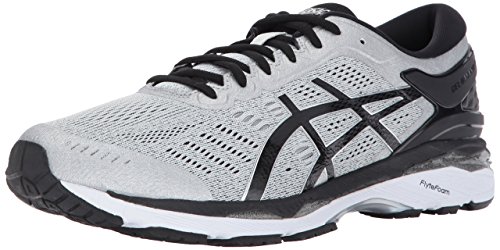 The ASICS GEL Kayano 24 has always been the top pick for runners with from plantar fasciitis. That's mainly due to the features that these shoes come with. It gives great comfort, is light in weight and gives proper support. Moreover, it has the sparkling new MetaClutch System, which is a heel clutching system. On top of that, it also limits movement and gives a secure fit all around the foot.
Furthermore, the rear-foot and forefoot gel cushioning on the shoe keep any extra stress from all parts of the foot. Its ASICS FluidFit upper gives a comfortable fit that can accommodate all types of feet. In addition, the FluidFit technology helps give stability to the foot by providing more support to the entire foot. The forefoot gel also minimizes stress as the foot snowballs into a toe-off while the rear-foot gel eases the shock off the heel.
Pros:
Great stability
The gel in the heel protects the heel from wearing out
Super comfortable
Gives solid support
Often recommended by podiatrists
Cons:
A few people say it does not have enough cushioning
Runs a bit too narrow
New Balance 990v4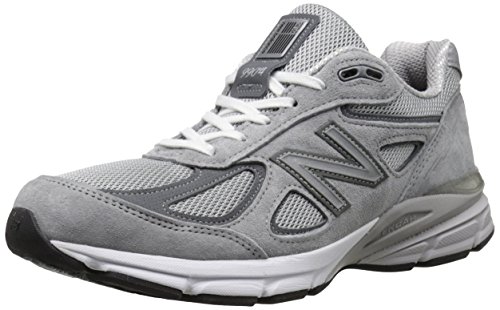 The New Balance 990v4 gives great comfort and stability. It is also very durable. It comes with a cushioning and supportive midsole that has light in weight and lasting Acteva Lite foam. This can work well for people who have plantar fasciitis by easing arch, heel, knee and shin pains. Apart from running, it can also be used as an everyday shoe, all thanks to its nifty build.
Furthermore, the New Balance 990v4 has a breathable leather and mesh upper. It also has a collar padded well with dual density foam and a 12mm heel to toe drop. All that joins up to make your feet stable and give them the needed support all day long. This shoe can be worn on all surfaces because of its great blown rubber sole.
Pros:
One of the most comfortable shoes out there
Works well for Plantar Fasciitis
Offers great roll, lateral and ankle support
Light in weight
Has good airflow
Cons:
Some quality control hitches
Some shoes are inconsistent size
Brooks Addiction Walker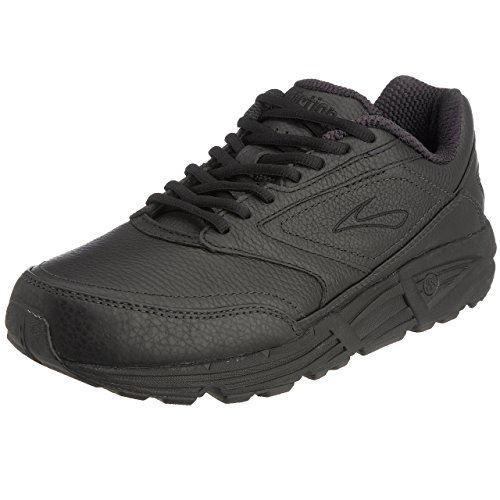 Brooks has designed the Addiction Walker for those who have flat arches, extreme overpronation or excess weight. It is for those who have plantar fasciitis. It comes in three colors and can be worn anywhere owing to its supportive and stable fit. Its BioMoGo midsole technology gives maximum shock absorption, cushioning and support to the arches.
Furthermore, it also properly aligns the foot to guide against overpronation that often causes pain around the joint. Its Extended Progressive Diagonal Rollbar makes sure that the foot takes the right position as you make a stride. It also has a roomy toe box, which makes it a great choice to manage all issues linked to the arch of the foot.
Pros:
Good  arch support
Allows the use of orthotics
Great for plantar fasciitis
Best for walking on pavement or concrete
Cons:
Very heavy and noisy
Style and color are off
Brooks Adrenaline GTS 18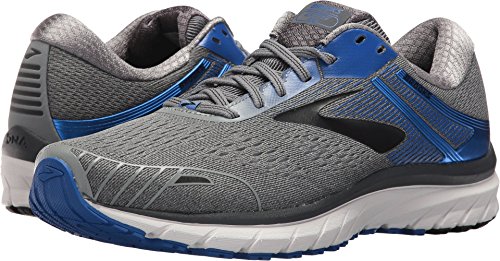 Brooks has designed the Adrenaline GTS 18 to give great support with a flexible upper for runners. This is for those who need a comfortable and stable shoe. It is a light in weight shoe for people with low to medium arches and for sufferers of plantar fasciitis. It has Brooks' bio-degradable foam midsole that gives great arch support. The Progressive Diagonal Rollbar helps guide against overpronation by properly aligning the foot. This is to make sure that the tendon in the arch gives cushioning to each stride.
Furthermore, its adjustable, asymmetrical midfoot saddle keeps the foot secure. Also, its BioMoGo DNA has a gender-friendly cushioning design that gives a smooth ride. This shoe's Tri-density midsole uses the Progressive Diagonal Rollbar to allow smoother transitions through the entire gait cycle. Additionally, it also gives progressive pronation control. Its Flextra rubber outsole gives various degrees of support matching the weight and gender for perfect flexibility.
Pros:
Super comfortable
Good support and balance
Stylish and colorful
Sturdy yet light in weight
Very breathable
Cons:
A few users say it has poor quality control
Some of the shoes were not true to size
Saucony Guide 10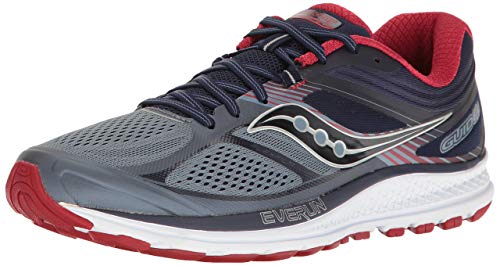 Saucony created the Guide 10 to give the support to those who overpronate and to those with plantar fasciitis. Its mesh design makes it a comfortable and breathable shoe. It also features a light in weight Flexfilm overlay that gives extra support to the foot. In addition, the Tri-Flex outsole makes it very flexible. It comes with an insole of orthotic inserts that can be removed or placed for a custom fit.
Furthermore, the Tri-Flex technology also gives the shoe the highest level of traction. The Saucony Guide uses Everun cushioning technology to help spread shock away from the foot as it hits the ground. Moreover, there is extra padding that puts exact stress on the arch to help ease the pain. This also gives added stability.
Pros:
Affordable
Light in weight
Lots of cushion
Gives a great amount of stability
Cons:
A few people say it runs too small
Some of the shoes have a narrow toe box
New Balance 928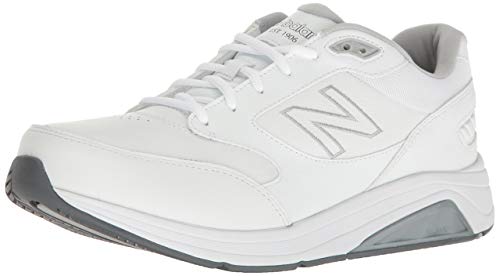 New Balance has designed the 928v3 especially to give the needed cushioning, support, and stability. It also gives a sturdy fit with proper room for forefoot issues and for custom orthotics. New Balance uses the Abzorb technology make this shoe and give a great cushioned fit. The Abzorb technology uses rubber that aids in providing a cushiony feel while minimizing the stress and shock on the joints that occur due to forceful impact.
Furthermore, its inner is laid with a seamless phantom liner. This is worked upon with odor-resistant technologies to give a fresher feeling during use. Also, it comes with a leather upper that you can adjust and match your foot shape to give you a comfortable fit. Also, its hook and loop closure system make it easy to put the shoe on and take it off.
Pros:
Comfortable shoe for wide feet
Gives great support with Rollbar
Great and colorful look
Flexible yet strong for walking
Cons:
Some say the tongue is too short
A few customers say that the quality control isn't the best
New Balance 574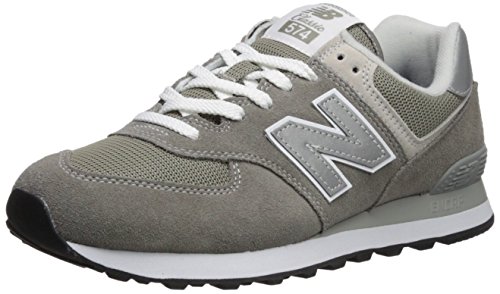 New Balance's 574 is a shoe for running and other sports. It comes with ENCAP midsole technology that helps give support. Moreover, it is a nifty shoe that comes in different colors and styles for everyone. Its Dual Density ENCAP helps absorb the shock from the force of impact, hence protecting the heel. Also, it gives stability for runners with an even heel strike and holds the foot from rolling inwards. As a result, this helps prevent pain in the knee, ankle, back, and hip that may be felt after long periods of standing, running or walking.
Also, its EVA Foam midsole helps cushion the foot and stand the stress of supporting your full body's weight. The EVA foam is crack-resistant and this helps make the shoe more durable. This shoe is great for managing plantar fasciitis by giving proper cushioning to ease pain and by giving proper support to the arch.
Pros:
Gives great weight spreading
Super comfortable
Very light in weight
Great customer service and delivery
Cons:
Runs a bit small and tight
Some say it has inconsistent size
ASICS GEL-Nimbus 18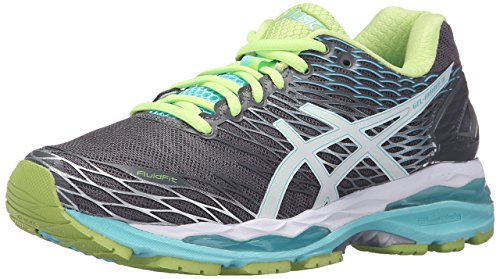 The ASICS Gel-Nimbus 18 is for athletes that need proper cushioning and support to reduce foot pain caused by plantar fasciitis. Its durable and flexible outsole makes this shoe great for all types of terrains. The blown rubber outsole and small air pockets allow it to give great cushioning for your foot. The Gel cushioning system in the forefoot and rear-foot units to allow better shock absorption. As a result, this makes for softer landings. It also allows movement in multiple planes as the foot passes through the gait cycle.
Furthermore, ASICS Fluidfit upper technology works well with the multi-directional stretch mesh that has stretch supports. These wrap around your foot to create a glove-like fit. Also, ASICS also uses the Heel Clutching System Technology. Moreover, this is an Exoskeleton heel counter to give enhanced support and allow better heel fitting.
Pros:
Great for plantar fasciitis
Gives great arch support for the low arch
Great cushioning
Comes in vibrant colors
Cons:
Not true to size, you may need to order a full size up
A few people say it is inconsistent quality
ASICS Men's GEL-Flux Running Shoe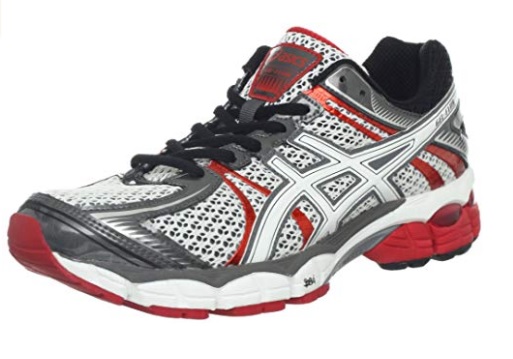 This shoe has a shaft that measures approximately 2.84 inches from the arch. This shoe supports under to mild overpronation using cushions. This helps in lessening the pain and distributing the shock and impact of the feet to the ground. Moreover, the SpEVA midsole improves bounce-back of the foot, which improves the gait of the wearer. It also features the Guidance Line vertical flex groove and Guidance Trusstic System, which allows the wearer to have a better gait as the shoe provides stability and security to the foot.
Pros:
Very lightweight
Well ventilated
Has a more pronounced support
Cons:
Hard to break in
Foam area of the heel may rip off
ASICS Women's Gt-1000 5 Running Shoe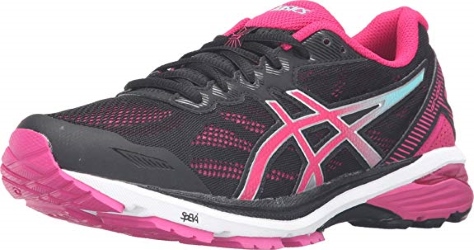 This shoe is from synthetic materials and has a rubber sole. The shaft measures as low-top from the arch, making it a shoe that allows maximum mobility on the part of the wearer. The Impact Guidance System enhances the gait of the wearer and corrects their gait from the heel strike up to the toe-off. The Rearfoot and GEL cushioning systems reduce the effect of the shock of the ground to the feet from impact and toe-off phases.
Pros:
Orthotics can fit the shoe
Has moderate stability and cushioning
Good stability
Cons:
Runs narrow
Is not slip resistant
What is Plantar Fasciitis?
Plantar fasciitis is a painful condition that affects the sole of the foot and the heel. It occurs when the tissue called plantar fascia, which connects the heel to the toes, tears. The tears can appear because of it stretching too much, and cause pain. The cause of stretching can be things like running, standing for a long time and even putting on too much weight.
Features of the Best Running Shoes for Plantar Fasciitis
There are some key features that the running shoes for plantar fasciitis must have. Only then can they be deemed great for easing the pain linked with it. Some of these features are discussed in this section.
Great Shock Absorption – The main role of the arch in your foot is to help absorb impact and shock while you walk or run. So, if this arch is not there, it means that all the shock will go to your joints, heel, ankle, hip, and knee. The result of this is untold pain caused to the runners. The first thing that runners who have this problem feel are the clumsy slump instead of the normal bounce in the step. But good running shoes for plantar fasciitis help by absorbing shock when the foot hits the ground.
Optimum Arch Support – Runners with plantar fasciitis should know that arch support is the most vital thing to look for in a running shoe. This is because a shoe without proper arch support will make your problem worse. It will make your plantar fascia compress and stretch. A pair of running shoes with optimum arch support will give you a better run. Moreover, it also helps you ease the pain linked to plantar fasciitis. Based on how severe your problem, arch support comes in varying degrees for you to choose from. It is advised that people with extreme cases avoid low arches and chose shoes with maximum arch support.
Sturdy Midsole – The main goal of running shoes for plantar fasciitis is to help ease the pain in the feet. The shoes do this by absorbing shock from the force of impact. At the same time, they train the feet to get firmer and grow natural arches. A shoe that has a firm midsole, a robust heel counter, and flexible toe box will curve greatly at the forefoot. It will also stay sturdy at the rear-foot. Shoes with stronger midsole will make sure that your arch is kept in the right place to reduce stress on the tissue.
Good Brand – Experts advise to go for running shoes made by well-known brands. This is because most top brands have good resources, finances, and technology. Thus, they can design running shoes that are the best fit for people with foot problems. Most of these top brands have invested a lot in medical research. They keep going to invest in the latest technologies to stay relevant and to compete in the industry. Rather than gambling with the unknown, it is better to choose brands that have got customer reviews. This gives you a better chance to get the right to buy.
Heel Support – Proper heel support is yet another key factor that you must take note of. You must have this in a running shoe if you don't want your foot to roll from one side to the other. An unstable stride can worsen the issue. Stress will go to the wrong parts of the foot if you are not walking with proper heel support. The heel is the most area that gets the most impact and plantar fasciitis occurs where the heel meets the fascia tissue. Proper heel support needs a good deal of thought when buying running shoes for this problem.
Ergonomic Sole or Insole – The best shoes for runners with plantar fasciitis are the ones made to give maximum comfort. Shoes with ergonomic soles are best known to give a great deal of comfort. They help take stress off the joints and reduce the impact of each step on the heel. Apart from helping absorb shock, an ergonomic sole also increases the blood flow around your foot. This is done by keeping away odor and bacteria that may weigh your foot down.
Key Considerations When Buying A Shoe for Plantar Fasciitis
You must also consider some of the factors below when making a buying choice.
Breathability – Running shoes for plantar fasciitis must be able to breathe. This is done by advanced technology with materials high in quality and light in weight. The best options will always have an upper that is made from the industry's standard fabrics. Some brands come with an upper that allows airflow. They do this using layers made of mesh and other materials that allow air to pass. In the end, your choice should always have proper airflow for a comfortable run.
Proper Comfort – Runners with plantar fasciitis need shoes that can give them the needed comfort. It is not just about having the right support for your arches, but also giving proper comfort. With the center support, your shoes should also consequently give good cushioning for the forefoot and the heel. This is since the heel shoulders the stress caused due to the high arch pushing down. From our research, every brand seems to have a proprietary technology for midsoles and cushioning systems.
Stability – Higher arches will demand maximum stability from your shoes. Usually, high arches will not allow the foot to have much central contact. Hence, a good model should fill in that gap by giving the needed stability. Additionally, it is worthy of note that a pair with good stability will give a steady running platform to maintain a confident and natural stride.
Flexibility – Flexibility is yet another thing that runners with plantar fasciitis must take note of. In fact, runners can deal with the stiffness in their feet by proper flexibility in shoes. It also helps spread shock from impact evenly around the foot. Moreover, the most flexible running shoes are made of a mesh or synthetic upper. The shoe's midsole and outsole should be flexible enough to allow the natural movement of the foot.
Shoe Shape – The shoe shape is also a key factor to take into account. The best shape for runners with plantar fasciitis is curved last, as it allows a runner to have neutral pronation. In addition, the fabric should be able to wrap around the foot and give a very snug fit. As a result, this gives proper cushioning, comfort and flexibility.
Common Causes of Plantar Fasciitis
You run a risk of getting this problem if you:
Walk, run or stand a lot.
Overpronate, that is, your feet roll inwards when you walk or run.
Have very tight calf muscles.
Have a flat foot or high instep.
Gain weight
Are aging
Simple Home Tests for Plantar Fasciitis
When you have foot pain, there are some simple tests you can carry out at home before you see a podiatrist. These can help to know if it is due to plantar fasciitis.
First Step Test – Do this test by taking note of the first step you take when you get of bed in the morning. Note whether you feel a lot of pain near the heel, which slowly subsides as you take further steps. If you do, it is likely due to plantar fasciitis.
Hot Spot Test – Do this test by sitting on a chair, bending your knee and placing the aching foot on your other knee. Then, press the heel area firmly with your thumb. If you feel severe pain (known as 'hot spots'), you likely have plantar fasciitis.
Symptoms of Plantar Fasciitis
A lot of runners don't know the fact that they might have plantar fasciitis. People often mistakenly take heel pain to be a minor problem that will subside with time. This may turn out to be very risky as it may make the pain worse and lead to other problems. Here are some common symptoms to watch out for to know if you suffer from this problem:
You feel a bad pain near your heel in the base of the foot
The pain worsens when you take the first few steps as you get out of bed
This pain slowly goes away as you take a few more steps
Painful feeling reappears if you stand or run for a long time
Your feet hurt as you climb the stairs
The Best Ways to Treat Plantar Fasciitis
Those runners who suffer from plantar fasciitis need not worry about their running career because it is something you can deal with. In fact, about ninety percent of the reported cases can be heal without even going to a doctor. Here are some of the best ways to treat it:
Limit your activity to get your feet healed. Don't do too much of running or sports until your foot heals.
Massage your feet with a zip-lock bag filled with ice.
Tape your feet because that gives the needed support to the fascia tissue.
Use night splints to reduce your morning pains.
Get an expert to massage your foot massage on a regular basis.
Wear shoes with proper support and good cushioning.
You may also use orthotic insoles.
Some Key Facts About Plantar Fasciitis
If you suffer from plantar fasciitis, there are some facts that you should know.
The plantar fascia is the largest tissue in the body.
The main symptoms of plantar fasciitis are:

Foot pain
Heel pain
Tenderness
Stiffness

Plantar fasciitis can occur on its own or with other diseases.
Extreme plantar fasciitis can result in plantar fasciosis.
People often mistake it for Baxter's neuritis, which is a nerve cramping in the heel.
It is diagnosed by physical checkup as well as based on the person's history.
About ten percent of the people get plantar fasciitis at some point in their life.
The age group most likely to get plantar fasciitis is people that are 40 to 60 years of age.
Ninety percent of reported cases will heal without a doctor's aid.
The average daily cumulative shock that your feet can absorb is equal to the weight of a fully loaded cement truck.
Runners are more likely to suffer from plantar fasciitis.
Final Thoughts
Overall, plantar fasciitis is a problem that is stems due to the tearing of the tissue that joins the heel with the toes. It is a very common problem in runners but is often ignored. Moreover, we also mentioned the various symptoms of this problem and its possible causes. In summary, research suggests that a good pair of running shoes designed especially for plantar fasciitis can go a long way to solve the problem. With that being said, we believe that our recommended shoes here will help you pick the best one for your feet.