Best Running Socks for Women
Being a runner, your feet are the most precious assets that need to be pampered and cherished. There may be a lot of different brands of socks available to you but not all are specially designed for running. Since you want to protect your feet as much as you can, you need the right kind of running socks that are not only comfortable but also blister resistant. If you are having a hard time deciding which socks to buy, you can always refer to this article for inspiration.
Quick Look at Our Top Picks:
Best Rated Running Socks for Women Reviewed
Now that you're a bit more aware of the different types of socks and important features of a running sock, it's time to select the best items available. If you are not sure where to start, check out our list of the top running socks that women have found to have value for their money.
Balega Hidden Comfort No-Show Running Socks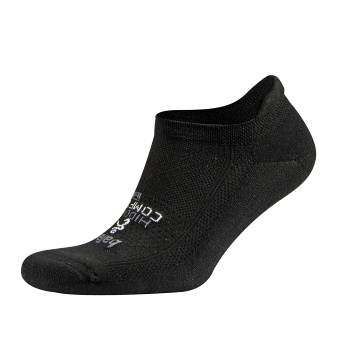 This running sock for women is made up of DryNamix Polyester, Polyamide Nylon, and Elastique. DrynNamix is a patented moisture management technology that keeps feet cool and dry and allows for maximum airflow.
This no-show ankle sock has a hand-linked seamless toe, a high tab heel, and a mesh construction. This sock also has an under sole cushioning. These socks come in many different vibrant colors such as Zest Lemon, Blue Radiance, Screaming Green, Watermelon, etc.
Pros:
Moisture management technology
Hand-linked seamless toe
Heel tab
Reinforced heel and toe
Balega Blister Resist No-Show Socks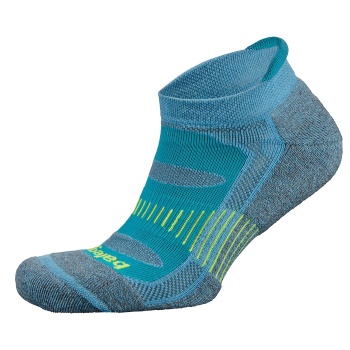 This running sock for women is another variation by Balega. It is made up of mohair fiber and DryNamix fiber. DrynNamix fiber has excellent moisture management properties and prevents moisture buildup while mohair is a natural material that has a silky softness and prevents blisters.
This no-show sock also has a seamless toe, high tab heel, plush under sole cushioning and a mesh construction. The sock also has a wide arch band for enhanced arch support. The heel pocket is extra deep for ensuring a perfect fit.
Pros:
DryNamix and mohair fiber
Moisture management technology
Blister protection
Seamless toe
Heel tab
Cons:
Counterfeits are common
Some say the fit is a bit weird
Thorlos Unisex XJ Running Thick Padded Crew Sock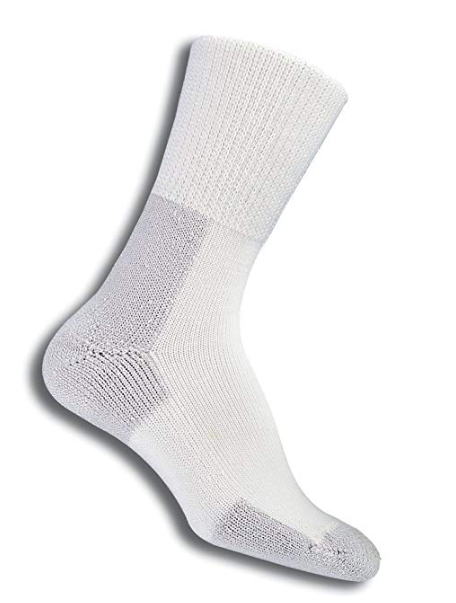 This running sock for women is constructed mainly with patented THOR.LON® fibers. This unique material has a high level of resilience, foot comfort, blister protection and durability. The material also has moisture-wicking properties.
This is a crew length sock and has a thick padding under the ball and sole for maximum comfort and protection. The toe does not have seamless construction, but the seam is neatly knit and does not cause irritation or chafing. This sock also has an arch support. Women who love to have a neat and clean look would adore the available white color sock.
Pros:
LON® fiber
Moisture management technology
Blister protection
Comfortable and durable
Adding under the ball and heel
Cons:
Only white color
Not many variations
Injinji Run 2.0 Lightweight No-Show Toe Socks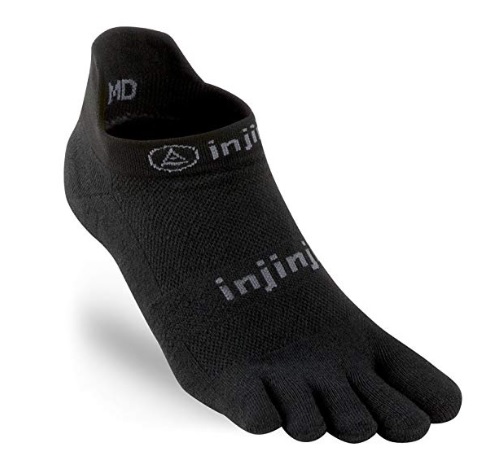 This running sock for women is made up of special Coolmax Xtralife fiber that wicks sweat away and keeps you comfortable and dry. The material used is extremely comfortable and lightweight. The material is suitable for milder temperature.
This ankle sock has an anatomical 5-toe sleeve design. It also has a dual welt band with increased compression hold that gives sock a no-slip grip. Other important features are a seamless toe construction, arch support, heel tab and a mesh top construction. These socks have modest color variation.
Pros:
Coolmax Xtralife fiber
Unique 5-toe design
Seamless toe
Mesh top
Heel tab
Cons:
Slightly on thicker side of socks
Adidas Women's Superlite No-Show Socks
This running sock for women has a Climalite construction that has been developed by Adidas. This innovative Climalite technology uses cotton as an outer layer and a synthetic fiber an inner layer. Hence, the sock has the softness of cotton yet has moisture management properties of a synthetic material. This blend of fabric used is also comfortable and lightweight.
This ankle sock has arch support and a no-slip grip style. It is a perfect snug fit for most, but some women had found the size too large for their feet. This sock has an extra comfortable feel due to flat knit construction. There are many cute color combinations. All of these options have an authentic signature three strips textured knit.
Pros:
Superior material
Climalite construction
Perfect no-slip grip for most
Comfortable and lightweight
Arch support
Cons:
Some have found size issues
Some complain about the fitting
Ronnox Women's Low Cut Running & Athletic Performance Tab Socks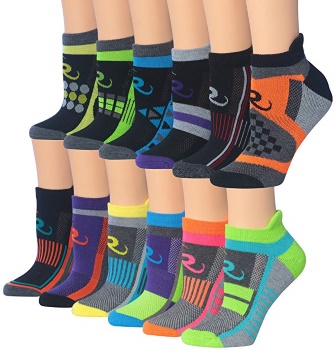 This running sock for women is made up of Polyester, Elastic and Spandex. This blend of material is lightweight and breathable. As it is mainly Polyester, the fabric also has moisture control technology.
This is an ankle sock that comes with an elastic arch for better support. The sock design also includes mesh insets, a sole cushion, and a heel tab. This design has no-slip grip properties thus this sock will not budge while running. As an extremely affordable option, it lacks seamless knit at toe. Although the seams have a very neat knit you may miss wearing socks with a seamless toe.
Pros:
Synthetic material
Comfortable
Very affordable price
Heel tab
Mesh inserts
Cons:
Lack seamless toe
A bit uncomfortable (some say)
PUMA Women's Low Cut Socks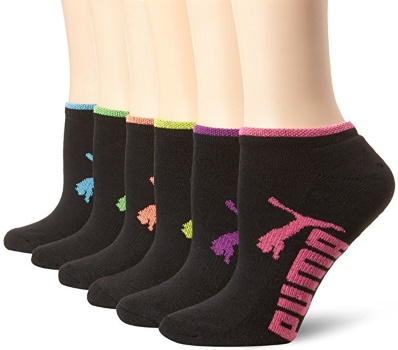 This running sock for women is made with a superior quality synthetic material mainly Polyester. Overall, the fabric is comfortable, lightweight and breathable. The material quality is exceptional. Some exceptional incidents of skin allergy were experienced by few women who wore this sock. However, this was not a common issue and did not bother the majority of people.
This ankle sock has built-in arch support and an advanced no-slip heel. This sock is half-terry making it thicker and comfortable at the bottom yet thinner and breathable at the top. The designs mostly have black and white as a base color.
Pros:
Superior quality material
Synthetic blend
Comfortable and lightweight
Advance no-slip heel
Advance arch support
Half terry style
Cons:
Lack color variation
Few incidence of skin allergy
MudGear Premium Compression Socks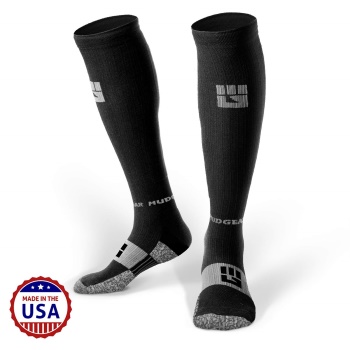 This running sock for women is made up of synthetic material consisting of Polyester, Nylon, and Spandex. This blend of material is comfortable, lightweight, breathable, and can wick away moisture.
This knee-high sock has graduated compression benefits. The unique feature is its padded calf which comes in handy especially during obstacle course races (OCR). The durability may be an issue as these are not premium quality socks. However, they can do a decent job of protecting your leg during an OCR.
Pros:
Synthetic material
Moisture-wicking material
Lightweight
Knee high with padded calf
Compression benefits
Cons:
Durability maybe an issue
Limited colors
Smartwool Women's PhD Run Light Elite Micro Socks
This running sock for women is manufactured with Merino wool, Nylon, and Elastane. The main component is Merino wool that is naturally comfortable and breathable and can also wick moisture. Moreover, Merino wool also has natural anti-microbial properties that ensure the socks remain odor free.
This ankle sock has body mapped mesh zones. It has unique 4 Degree™ Elite Fit system i.e. it contains two elastics for greater stretch. Its indestructawool™ technology ensures unbeatable durability and comfort. The additional features are heel tab, seamless toe and targeted cushioning on the ball and heel.
Pros:
Superior quality material
Synthetic blend
Anti-microbial fabric
Body mapped mesh zones
Heel tab
Cons:
Lack color variation
Price is not budget friendly
Types of Running Socks
When it comes to buying a pair of running socks, we are often unaware of the different variations available and just randomly select options based on the appearance. The different styles and designs have a different purpose to serve. For our better understanding, we can divide these variations in two categories namely compression vs normal sock and length variation.
Compression vs. Normal Running Sock
The compression socks are manufactured under strict medical and technical specifications. These socks provide graduated compression that is claimed to help in previous injuries, prevent future injuries and enhance running performance. On the other hand, normal running socks do not provide this level of protection but is still able to improve performance as compared to casual cotton socks.
Length Variation (Crew/knee high/no-show sock)
There are almost six different lengths for socks. The most common length used for running is the ankle length, also called the low-cut or no-show socks. The second most common length is knee high. Usually, compression running socks have this length to provide support for calf muscles. After these two lengths, people also prefer crew length running socks that are approximately 6-8 inches high.
A Quick Buying Guide
Since we want you to find the best socks for yourself we have gathered some important information and formulated a mini buying guide just for your convenience.
Selecting the Right Material
When it comes to buying running apparel the most important thing you should consider is its material.
Natural Material – 100% natural materials such as cotton absorb moisture. When used inside a shoe they get saturated with sweat. This ability to retain sweat makes socks made with natural material harmful when used during intensive workouts.
Synthetic Material – The alternative for the natural material is the synthetic material such as polyester. Some brands have even researched and introduce many proprietary fibers that have a maximum moisture-wicking ability such as THOR.LON®.
Other Features
After you have selected the material, there are some other features that will make a sock relatively more comfortable than other options.
Seamless Toe – Running socks are meant to be worn for an intensive workout thus they need to have a knit that is feet friendly. By feet friendly we simply mean a seamless construction or a flat knit seam that prevents abrasion and chafing.
Mesh Construction – The running socks usually have a mesh construction for ventilation and proper air circulation. Some socks include mesh inserts at a varying distance while some have entire mesh top construction.
Under Sole Cushioning – Your sole is especially prone to blisters and injuries while running. Hence, extra cushioning under sole allows added protection and comfort.
Arch Support – This ensures that socks will have a snug fit and will not slip while you are running.
Heel Tab – Ankle socks usually have an additional portion of fabric that protects the Achilles and upper heel. This tab also ensures that the sock does not slip while you are running.
Final Thoughts
Let's recap some important information we have discussed. Firstly, the most trending socks are usually no-show socks. Secondly, while buying running socks appearance is not what matters. In fact, the features that matter the most are the fabric material. Other important features are sole cushioning, knit style, mesh panels, no-slip grip, anchor support etc. Not all socks have all these features.
Sources
https://www.sockgeek.com/pages/chart-glossary
https://www.complex.com/sneakers/2014/07/know-your-tech-adidas-climalite
https://unsimplystitched.com/blogs/news/types-of-socks-for-men-and-women-based-on-length
http://www.businessinsider.com/best-running-socks/#the-best-running-socks-overall-1
https://www.rei.com/learn/expert-advice/socks.html