Best Water Bottle for Running
When you're out for a long run to exercise, hydration is crucial and vital. You are going to lose body fluids from your system when you are running. This is the most widespread problem of every runner; they need water to quench their thirst. As you run, your heart rate increases and the body temperature rises. This is because of the heat that you generate, which is 20 times more than when you are resting. You will then start sweating, which is a natural way for the skin to cool. This naturally causes you to lose water in your body.
During hot weather, it is crucial for your body to be hydrated. This is especially crucial to up your running game. When you lack proper hydration and nutrition, your body will lose the right amount of energy needed by your body to complete distances. Running season and training season is a good opportunity to learn more about nutrition tips that all runners should know about.
Quick Look at Our Top Picks:
Top 10 Running water bottles
Figuring out what's the best running bottle for you can be quite hard, so we've gathered some of the best selling water bottles to help you choose. These bottles listed below have the highest reviews on Amazon. Always consider that choosing your running water bottle is a matter of personal preference and comfort. Here are the top 10 running water bottles.
CamelBak Quick Grip Chill Handheld water bottle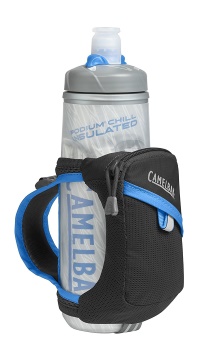 Camelbak Quick Grip Chill is a quick grip handheld water bottle that can hold up to 21 ounces of liquid. Coupled with a Jet Valve making it easier to open the bottle without worrying to twist it with your sweaty hands when you're running. Also, it has insulation, so your drink will stay cold when you're running thanks to it's thermo flask effect. Also, it has a zippered pocket for your money, phone and other essentials.
The bottle also has a hand strap so you could have a quick grip on the bottle. A comfortable fabric is added to the strap to prevent chafing to the runner's arm. Besides, it has a reflective material for safety in low light conditions. With its bright color you can see the water bottle during your early morning or evening runs.
Pros:
Strap keeps the material from sliding.
Good insulation.
Holds enough water for your 10-mile run.
Cons:
The hand strap of the water bottle might loosen.
Some people find the pouch too small for their phones.
Nathan Speed-Draw Plus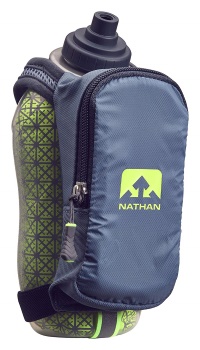 This handheld water bottle is one of the top-rated running water bottle on Amazon. The SpeedDraw plus has a capacity of 535ml water bottle. Coupled with a useful zippered pouch where you can put some of your things like your car keys or your phone. It also has an integrated reflective material making it visible even in low light conditions.
Besides, this bottle has a double-wall insulation that keeps the liquid cool due to its thermo flask, coupled with a grip- free hand strap that is soft and comfortable. This allows the runner to hold the bottle without having a grip on it. Apart from that, you can hook your fingers around the water bottle and run without hassle. This bottle is removable making it very easy to clean the pouch and the bottle.
Pros:
Double insulation keeps your water cold.
Reflective element make it easier to see in low light conditions.
Has a thumbhole to fit in your hand when running.
Cons:
The pocket may be too tight for storing larger phones.
The handheld water bottle doesn't have a sight tube or an ounce marker to check water level.
FuelBelt Helium Sprint Ergonomic Bottle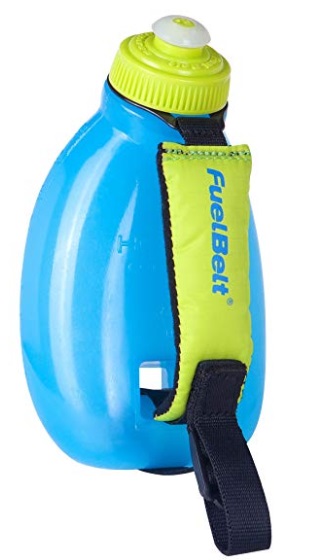 The ergonomic bottle by FuelBelt is ideal for running short distances. It is very light and easy to carry. The bottle holds up to 10 ounces of water. It also has a push-pull silicone cap that is easy on your fingers and teeth. The bottle also has a pocket where you can put your phones and other essentials.
One of the features is that the bottle fits in your palms, aong with a Velcro attachment that will secure the hand strap in place. Also, for a greater comfort the hand strap is padded with soft fabric. Aside from that, the bottle has an enhanced adjustability because of its knockout window and is BPA-free.
Pros:
Best for shorter runs
BPA- free material
This water bottle is light and easy to carry
Cons:
This handheld water bottle is not suitable for long runs
This water bottle does not have insulation for keeping the water cold
Salomon Hydro Handset Flask

This Hydro Handset by Salomon will fit around your wrist and you can avoid discomfort of gripping a water bottle. It has an adjustable strap to customize depending on the size of your wrist. The flask can hold up to 18 ounces of water. Coupled with an outfitted expandable pocket to store your other accessories.
Apart from that, its bladder is collapsible and will shrink as you drink from it. Another feature is that it has a blaster valve for fast hydration. The bottle is also added with mesh pockets for ventilation and a reflective material for safety.
Pros:
Hand strap wraps well around the wrist
Reflective material for visibility in low light conditions
Affordable
Cons:
When water bottle compresses the strap needs adjusting
The water bottles don't have insulation and drinks won`t be cold for long
Ultimate Direction Fast Draw 600
This Ultimate Direction water bottle of Fast Draw 600 has a capacity of 20 ounces of water. It is shaped to comfort every runner. Also, it has a push-pull valve where you can sip and prevent water from spilling. Another feature is a pocket that is added to the bottle that is large enough to hold your iPhone 7.
Aside from that, the pocket is made from nylon and is chafe-free, edge binding, coupled with a ventilation material for moisture-wicking. It is also available in three colors and if you want something smaller it comes in varied sizes. The bottle is available in 20 ounce, 12 ounce and 10 ounce capacity for water.
Pros:
Curved designs on the side to fit your fingers.
Easy to use and carry.
Fit perfectly on either of your hands.
Cons:
There is no insulation on the water bottle and won`t keep water cold.
You need to suck the mouth piece and squeeze to get a flow of water, some find it difficult to drink.
Amphipod Hydraform Jett-Lite Thermal Handheld Hydration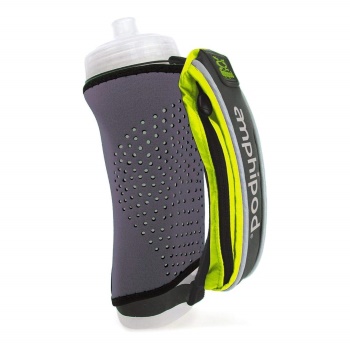 Amphipod water bottle can hold up to 20 ounces of water. The bottle comes with a pocket for your essentials. The pocket is also expandable allowing more space in storage. This comes along with an ergonomic design that reduces the chance of cramping and hand fatigue.
In addition to this, the hand strap will fit on all hand sizes as it has a cushioned and adjustable strap. Moreover, the pocket has a reflective detailing for safety in low light conditions. Coupled with a removable and breathable sleeve that is easy to wash.
Pros:
Easy to carry
Comfortable
Ergonomic and contoured design
Good bang for the buck
Cons:
Larger phones may not fit in its pocket.
Some costumers reported that water leaks around the cap.
Fitletic Hydra Pocket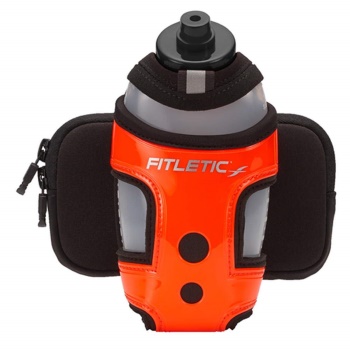 Fitletic Hydra water bottle is a handheld water bottle that is perfect for runners seeking smaller bottles. This is a practical choice for them. It can hold up to 12 ounces of water, enough for short distance run. Also, it is very light and easy to carry.
The pocket comes with a soft neoprene material making it comfortable to rest on your hand as you run. It has a form-fitting design that will rest on your hand. It also has a reflective material for increased visibility in low light conditions. The bottle is also BPA-free and dishwasher safe.
Pros:
Lightweight bottle.
Compact design
Offers more storage for your essentials.
Cons:
The bottle is a bit pricey.
The water bottle does not have insulation for keeping the water cold.
CamelBak Arc Quick Grip HandHeld Bottle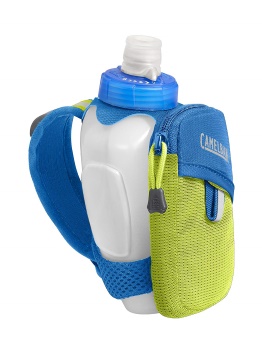 This handheld water bottle of CamelBak Arc has a capacity of up to 10 ounce of water. It comes with an efficient and leak-proof valve that makes it easy to drink the water. Also, it has a large pocket that allows you to have more storage for your essentials. The handheld bottle also comes with a bright color for visibility in low light conditions.
Other features included are soft fabric around the bottle for comfortable running. The bottle is made from polypropylene material that is BPA-free and safe to use. It also designed to hug your hand for easy and fast hydration.
Pros:
Light and easy to carry.
Soft fabric
Comfortable running
Cons:
The water bottle lacks in insulation and does not keep water cold.
Some people find the pocket small for their phones.
Nathan Exoshot Handheld Flask

Nathan Exoshot running water bottle offers you 12 ounce of water capacity. Coupled with a hand strap that is designed to comfort every runner. The hand strap will prevent hand fatigue that may occur when gripping a bottle. The hand strap is also removable and easy to wash.
Apart from that, the water bottle comes with an integrated spine to keep the bottle comfortable against your hand. The bottle also has a stash pocket that is expandable and best for storing small items. Another feature is that the bottle is spillage-free with a valve locking that prevents liquid from spilling.
Pros:
Leak-free
Water bottle is designed to be grip-free.
Affordable
Cons:
Some Consumers mentioned that the cap loosens during the run.
The water bottle is costly.
Osprey Packs Dyna Handheld Bottle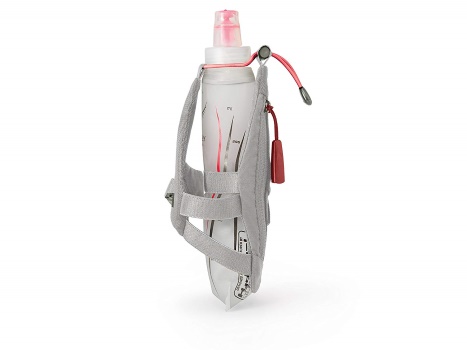 This handheld water bottle of Osprey Packs Dyna can hold up to 8 ounces of water. The bottle is designed for female runners with small hands that want to avoid the hassle of carrying a heavy bottle. The bottle fits comfortably in small hands in either hands. Being a compact water bottle makes it easy to carry.
Aside from that it has a stabilizing hand strap that will hold the sleeve in place. Runners can also choose if they want to carry the water bottle or put it in a hydration vest or in a waist pack. The water bottles have the features to fit into your waist pack and hydration vest because of the added strap to the water bottle.
Pros:
Designed for female runners.
Easy to use and wash.
Light and very easy to carry.
Cons:
This handheld water bottle is costly.
The water bottle only holds a small amount of water.
It only comes in one color.
The handheld water bottles do not have an insulation for keeping water cold.
How Much Water Should You Drink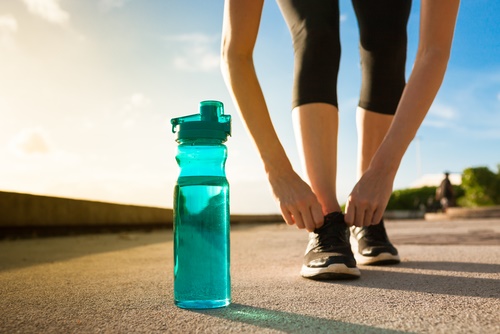 The guidelines on how to maintain good levels of hydration as you run are simple. All you have to remember is that, whenever you sweat, you need to drink water as you run. This you should be done whenever you exceed 30 minutes of exercise.
Also, whenever you are thirsty, simply drink water! In a while, the trend of hydrating whenever you are running revolves around the formula recommended. There are certain ounces of water that you should maintain on a given amount of time. The result of  over-hydration leads to more serious health issues than being dehydrated. By drinking water whenever your body is telling you that you need it, you will consume the right amount of liquid that you need.
Why is Water Important?
Water brings a lot of health benefits to keep your body running smoothly. The benefits of include the following:
Keeping the body cool
Nutrition and Energy Replacement
Helping the body execute many basic and critical functions
Maintaining blood volume
To learn more about how you can replenish energy storage, here are few helpful tips that you can consider:
In usual cases, the human body can depend on its storage for 60-75 minutes of exercise without the need for liquid replacement. However, there are certain factors that could cause deviation from that given time. These factors include body weight, the intensity of the workout, and weather conditions.
While running  for more than 75 minutes, you have to proactively replace your energy intake every 45 minutes. This is usually done with gels, chews or sports drinks. For instance, if you run for 90 minutes, you should consider taking a gel after 45 minutes to ensure that you won't be drained. This is a better way of replenishing your energy rather than completing 75 minutes. At the end of 75 minutes run, your energy is already depleted.
If you do not replace your stored energy, you might suffer a runner's nightmare that is termed as "hitting the wall". This happens as a result of running on almost empty energy. Formally known as Central Fatigue, which happens when the brain is not having the right supply of what is needed by it to remain focused.
What is the importance of a running water bottle?
If you don't consume water while you're running you'll be dehydrated. The lack of proper hydration will result to discomfort and in general poor performance. That's where running water bottles come in very handy. With your water bottle you can hydrate yourself and you can bring it wherever you go.
You'll need to account for water from fluid loss to replenish your body, so water should be accessible at all times. Water will enhance your strength, speed and stamina. Also water can prevent the body from overheating and low body temperature. When you`re hydrated the likelihood of muscle injury will decrease and your concentration will improve. Water will dissipate the heat and will delay fatigue when you're running.
But carrying it might tire your hands and cause you discomfort when running. It is best to buy a running water bottle that is light and easy to carry. Which contains enough water to keep you hydrated. Not those big and bulky water bottles that will add more weight to you when you are running.
During your long runs getting water is not always easy so getting a water bottle will be convenient to you. With your running water bottle you could slurp whenever you are thirsty. You can also bring your preferred drink or nutritional fluids with you. Maintaining hydration will be easy and replace the electrolytes you have lost. If you lose too many electrolytes your performance will suffer.
Bringing a hydration system is a necessity to a runner especially during the hot summer days where they sweat and lose water in their body. They need to drink and replace as much water as they have lost. Getting a running water bottle will aid that problem and will definitely be a life saver to a runner
What to consider in a running water bottle to choose the best one for you
As in today's world, health is a priority and the demand market for these running water bottles is increasing. This is because they are cost efficient and not expensive plus it is a necessity to every runner in the world. A running water bottle can be affordable by anyone in the society. Moreover it is available in the market areas and local vendors who supply these to the customers. You can also order a water bottle online. there are lots of available running water bottles on the internet. Hence its affordability and availability makes it another advantage. Water bottles also come in vibrant colors and fancy designs which makes them interesting and attractive in today's market. In today's world it`s all about trends and being trendy is a fashion for today's youth.
The ideal running water bottle should be easy to carry and must be comfortable while on a long run. It's also recommended that water bottles should have pockets for storing your essentials. The most important feature is that the capacity of the running water bottle must be enough to keep you hydrated while running. There are so many brands of water bottles that hit the top of the market. Among all, there are a few brands that people find very efficient to use and are worth the penny. To help you choose the best running water bottle, here are some points you should consider:
Size – How much water do you want to carry on your running trails is the first thing that pops in your mind. Running water bottle ranges from 16-32 ounces, but if you are going for a long run, you're going to need a larger capacity bottle. How strong are you? These bottles can feel heavy, especially handheld bottles. You need to consider how long you could carry its weight because carrying it for hours may cramp your hands.
Comfort – It is recommended that you buy the running water bottle that is easy to use. Some water bottles may be comfortable at first, but some are annoying if they are carried for hours. It should not affect your running performance.
Easy to use – Your chosen running water bottle must be easy to use so that you won't have a hard time accessing your water bottle whenever you're thirsty. Washing it should not be hard, and neither should opening and refilling it be difficult.
Shape – You also need to consider the shape of the water bottle you are going to buy. It should be slender so you can have a good grip on the bottle. Much better if the water bottles have a finger identification designed to its body. With that you'll have a great grip and it won't slip through your hands while you're running.
Materials – When running you want to carry as little weight as possible. That is the reason that running water bottles are made of plastic. But, some plastics contain a chemical called bisphenol A (BPA) which can affect your health, so the water bottle must be BPA-free. Running water bottles nowadays are BPA-free so you don't have to worry. If you prefer the water to be cold, especially during the hot summer days, taking a metal bottle with thermos flask effect is the best for you. But holding it in your hard might be difficult, so we recommend to go with something lighter.
Final Thoughts
Whether you are looking for a water bottle with a lot of storage, or want a more compact one, there are a lot of options available for you to choose from. Before making your next purchase, it is best to consider which one is best from up above and try that out. Not every bottle in the list may suit your need but it will definitely help to be aware.