Best Track and Field Shoes
Track and field is a collection of sporting events that occur in the field of running, jumping and throwing.
These events often require a great amount of skill and power. One of the most conspicuous features during these events is the footwear.
Knowing the indispensability of quality sporting shoes, a lot of brands have gone to the extreme using the available technology to engineer assorted spikes that meet the needs of athletes at various levels.
Quick Look at Our Top Picks:
Key Considerations When Buying
When making a choice of a track and field shoe that will most give you the best you desire, certain criteria are worth considering.
Fit – Track and field shoes should not be too tight because it might obstruct blood flow. This will cause muscle and nerve cramps. Furthermore, extra cushion, padded tongues, and collars coupled with closed lacing system combine to add to the feel and fit of the track shoes.
Functionality – Depending on the levels of skill and events, track shoes perform and function in diverse ways. For instance track, shoes for racing shorter distances usually have a strong, hard sole along the base of the foot. This is good for takeoffs and gaining momentum.
Ventilation – Adequate ventilation is essential in track shoes for long distances. Perforations and mesh fabric along with toes and uppers ensure proper aeration for middle or long distances.
Our Top Recommended Products
There are so many shoe brands out there meant to serve the needs of track and field athletes. Getting one that best suits you in terms of flexibility, durability, traction, and comfortability is quite tasking. One of the best-known brands we recommend below might just give you that dream finish.
Saucony Spitfire 4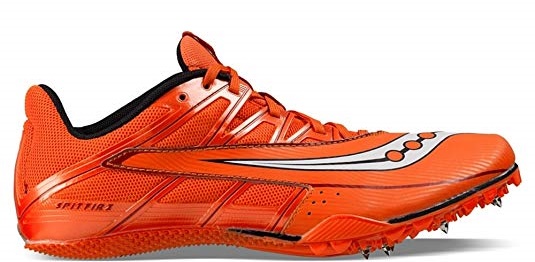 This Saucony model is from a top quality synthetic fabric for durability and lightweight. As a result, this seven-spiked shoes will allow you to gain control over the track, giving you that optimum performance that will set you apart from the park. It gives support for movements both on the straightaways and on the turns. It is well perforated for proper aeration. Furthermore, its synthetic quality allows a great degree of breathability. Overall, it has a Grid, sole-based stability as well as an excellent cushioning system.
Pros:
It is lightweight
It offers good value for money
It is a nice beginners track sprinting shoe
Good quality control
Cons:
It can run too small
You may have to order one or a half size up
Saucony Velocity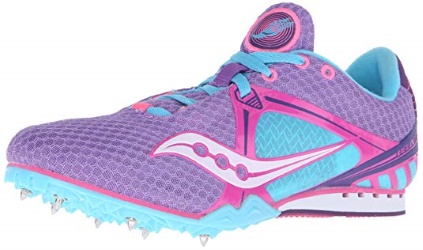 This shoe is specifically for those runners who have the need for speed. Saucony Velocity has high-quality synthetic fabric and textile mesh, as well as a softer rubber outsole. Although it is an entry level track shoes, it offers a high standard of stability and comfort. Furthermore, it has an EVA insole for sumptuous cushioning and meshes upper, as well as the welded quarter frame to give maximum support.
Pros:
The heel gives better support
It is an entry level track shoe
It is comfortable and breezy
Cons:
It may run too small and narrow
Poor shipping and support
Puma TFX Sprint V4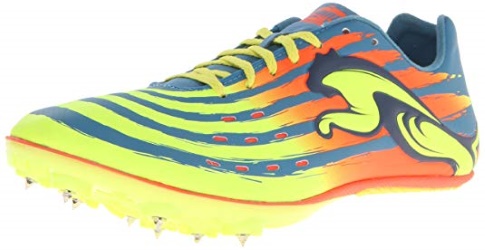 This masterpiece from Puma is an expertly engineered running shoe coming with an excellent improvement on average track shoes. Puma TFX Sprint V4 has different quality materials. Furthermore, it is a product with high-grade mesh and synthetic textiles. Unlike other brands that usually have seven spike plate, this shoe comes with an eight-pin Pebax. Moreover, it has perforations all along the toes for proper aeration. It is also quite aerodynamic because its microfiber frame is not mixed with any additional materials
Pros:
It offers good fit and comfortability
The item is a colorful track shoe
Has good spikes
Excellently lightweight
Cons:
It is half size small
Sometimes, spikes get missing in shoe package
Puma Complete TFX Sprint 3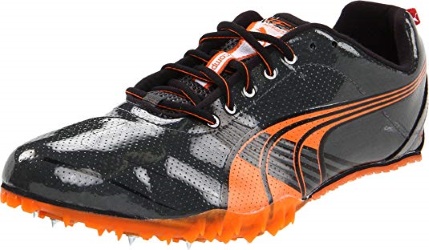 This modern spec from Puma is designed to look sleek, aggressive and sophisticated. It is has all major functionalities that Puma has engineered over the years to bring about this beautiful beast. One of its conspicuous features is the sturdy mesh and synthetic textile. It comes with a glove-like fit that enables athletes to run and train longer with less foot fatigue. Furthermore, the forefoot of the outsole has a seven-spike quarter plate that provides excellent traction.
Pros:
The shoe is very comfortable
Great for most surfaces
Affordable price
Cons:
The shoe may run too narrow
It has some quality issues
Saucony Vendetta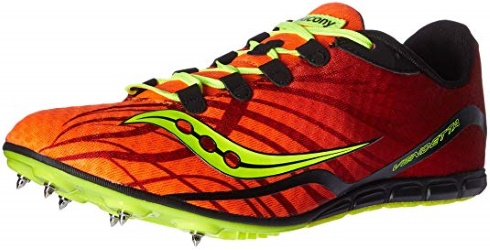 This Saucony model has middle distance runners in mind. It enables athletes to engage in multiple events while providing durability and high-speed performance. Furthermore, it features a carbon rubber outsole that makes it come out as aerodynamic spikes. It also has a 6-pin Pebax spike plate as against the conventional 7 spike. It also comes with an EVA midsole that provides additional cushion and padding. Its laces are elastic and adjustable due to its lace closure system.
Pros:
Good shoe at a great price
The shoe has an excellent spike for mid-distance
It offers excellent comfort and support
Cons:
It runs too small, ordering a half size up may be wise
Some users say that it may run too narrow
Adidas Performance Sprintstar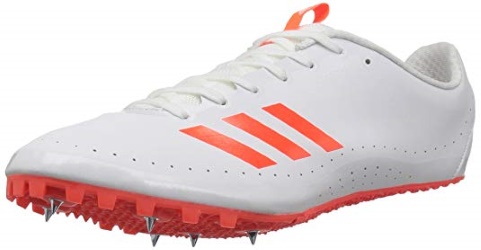 This Adidas brand is a well-designed field and track shoe furnished with an unmatched agility and functionality. Although it might not be that flashy, it is durable and lightweight. In fact, it is best for focused runners who are after upbeat performance and improvement. Furthermore, it has perforations all along the toe for adequate ventilation like any good quality track shoe. It also boasts of the patented SPRINTWEB tech that enables stability and optimum traction. Additionally, its synthetic overlays coupled with the fabric mesh upper, contribute to the firm fit of the shoe.
Pros:
It works very good for sprints
It also fits true to size
The shoe comes with sturdy spikes
Cons:
It runs narrow around the toes
Some say it delivered late
Saucony Showdown 4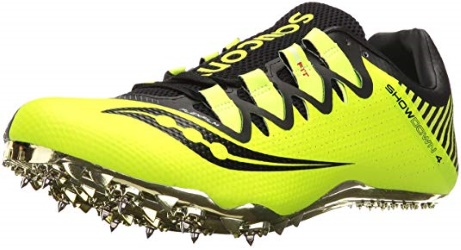 This Saucony edition is well constructed for top speed on the tracks. It also comes assorted with latest features that work intricately together to form a superior fit. What sets it apart from the rest of the park is the phenomenal lacing system for locked down tech coupled with all-length ten-pin Pebax spike plate. Furthermore, the ten-pin Pebax spike plate provides strong traction which gives the wearer maximum stability. Moreover, the shoe is fully supportive because of its rigid and lightweight design.
Pros:
It is super comfortable
Both lightweight and rigid
There is an excellent grip
Cons:
The shoe is very expensive
It may run too small
Adidas Adizero Lj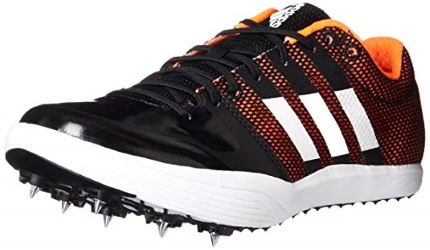 This Adidas model is from both synthetic and textile materials. It comes with a molded EVA midsole that provides optimum cushioning while on the run. Its Sharkskin rubber outsole has a superior traction. Moreover, it features microsuede lined spikes that offer absolute comfort and durability. Its upper also provides extra support that is made with synthetic leather that makes it super lightweight and breathable. This shoe also makes athletes feel more natural while running because of its zero heel-to-toe design.
Pros:
Timely delivery
The shoe is super comfortable
It has a great shock cushion
Cons:
It seems very hard to clean
Some users say the quality is so-so
Saucony Endorphin LD4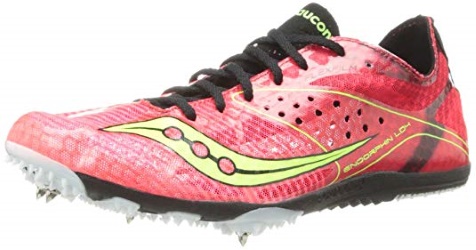 This well-crafted Saucony spike has many great features. It comes with a compelling thin SSL EVA midsole that offers best cushioning and a four-pin spike plate for great traction on the track. Furthermore, your foot remains steady through its super thin FlexFilm upper. It also features a 6mm pyramid spike that many people consider to be one of the most lightweight on the market. Saucony Endorphin LD4 is a combination of both textile and synthetic materials. This gives it a more lightweight and sleek look.
Pros:
It is very flexible, thin and lightweight
The shoe offers good comfort
Perfect for high school track and field
Cons:
It has the potential to generate ground heat
The item may run a little too small
Reebok Twistform Blaze 2.0 Bright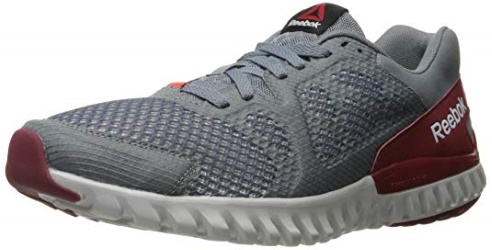 This Reebok brand is designed with beginning racers in mind. This shoe that offers top-of-the-line performance, flexibility, and comfort. It may not necessarily be perfect for highly competitive athletes but the young budding beginners will definitely find it invaluable. Furthermore, people can wear it casually off the track because it does not have a spike plate. As part of its unique features is the EVA midsole, it offers extra cushion. Additionally, its collar and tongue have additional padding. Also, you are sure to propel forward more smoothly and faster by the power of its spiral midsole.
Pros:
The shoe has a great insole
It is lightweight
Less expensive
Cons:
It may run too narrow and small
Quality control issues
Our Tips for Selecting the Best Shoes
At the end of the day, no matter what kind of shoe you get, make sure to take note of the following tips:
Ensure you always have a test run before making your final decision because it has to fit and feel good. Walk around with the shoe on and make sure it is good enough.
Extra security on the outsole is usually the best for track and field.
Always choose comfort and fit over style and fashion.
Different brands will always have different fitting and sizes.
Final Thoughts
In summary, it does not matter whether you are a pro like Usain Bolt or you are just a high school beginner in track and field. There is always that running spike that can deliver the top-of-the-line performance you would have loved. You must be reminded that most shoe brands design footwear having in mind every skill level. Therefore, you have no need to get overworked in obtaining your best performer. The reviewed brands in this article might just as well save you the sweats.