Best Treadmills for Running
This page contains affiliate links. As an Amazon Associate I earn from qualifying purchases.
Choosing a treadmill that matches your needs can be a huge task. In fact, there are quite a few hurdles for you to cross. Our focus in this article is to inform you about various types of treadmills. We will also list some key features that you must look out for while picking one for yourself.
Quick Look at Our Top Picks for Best Treadmills for Running
IMAGE
PRODUCT
DETAILS

Easy to set up, fold and store

Reasonably priced

Durable

View on Amazon →

Light in weight

Stable

Super-fast delivery

View on Amazon →

BEST HOME TREADMILL FOR RUNNING

BEST HOME TREADMILL FOR RUNNING

Foldable and easy to set up

Great for beginners

Affordable

View on Amazon →

BEST FOLDABLE TREADMILL FOR RUNNING

BEST FOLDABLE TREADMILL FOR RUNNING

Easy to install with clear instructions

Very sturdy and stable

Great features at a reasonable price

View on Amazon →

BEST RUNNING TREADMILL UNDER 500

BEST RUNNING TREADMILL UNDER 500

Motor runs smooth and without much noise

Great customer service

375-pound weight limit

View on Amazon →
Best Rated Treadmills for Running Reviewed
There are many treadmills in stores for indoor running. But most fail to give optimal performance to meet your exact needs. Some of our recommended models in this section will help you make the right choice.
Nordic Track T 6.5 S Treadmill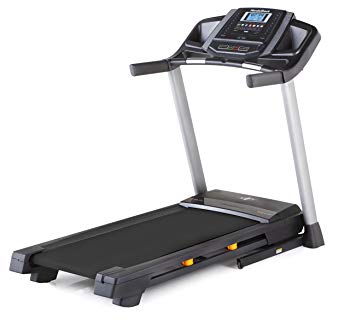 The Nordic Track T 6.5 S treadmill is a great choice, but only if you have a spacious spot to use it. It has a sturdy design that keeps it steady while you jog or run on it.
Moreover, its FlexSelect system allows two settings. You can also either run on a sturdier tread deck that mimics jogging on the road or a more cushioned tread deck. Its other features are as below.
Pros:
Easy to set up, fold and store
Reasonably priced
Quiet
Durable
Cons:
Few people say its heavy
Poor customer service
Confidence Power Plus Motorized Electric Treadmill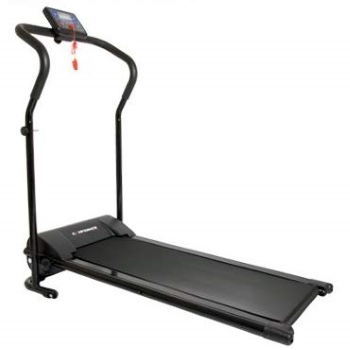 This treadmill is one of the most affordable running machines. It allows you to do your workouts indoors without burning a hole in your pocket. Although it may not come with some of the options found in pricier models, it still has some great features. For instance, this treadmill can fold down easily.
Also, it is small enough to be tucked under the bed. It can withstand up to 250 lbs. Moreover, the Confidence Power Plus Treadmill allows jogging and walking with a speed range of 0.6 to 6.2 miles per hour.
Pros:
Light in weight
Stable
Affordable
Easy to operate
Super-fast delivery
Cons:
Some say its a bit loud and noisy
Welso Cadence G 5.9 Treadmill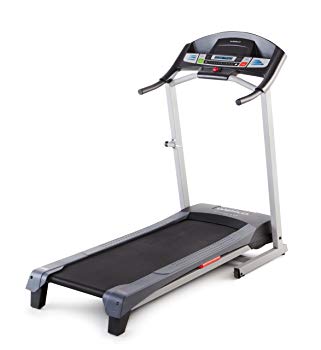 This Welso Cadence model is a compact treadmill that can fit into small spaces. It also has some good features. It comes with a 2.5 horsepower motor with a top speed of ten miles per hour. Moreover, about six workout programs are pre-loaded into the console and these are designed by certified personal trainers.
Furthermore, it has a footprint that is 64.5 inch long and 2inch wide. It also has Comfort Cell cushioning that gives a great deal of comfort.
Pros:
Very quiet
Foldable and easy to set up
Affordable
Great for beginners
Sturdy and sleek
Cons:
There is some poor quality control
Stops unexpectedly while running
Schwinn 830 Treadmill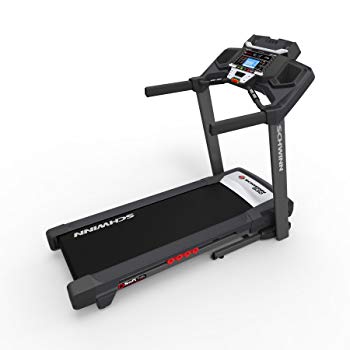 This treadmill is built to be a high-end running machine. It has a 2.75 CHP motor and an incline of range 0 to 12 percent. It also lets you connect to running apps like MyFitnessPal and Schwinn Connect.
Moreover, Schwinn 830 treadmill also comes with many other great features. It is pre-loaded with 22 workout plans and can download workout data.
Pros:
Easy to install with clear instructions
Very sturdy and stable
Runs quietly
Great features at a reasonable price
Cons:
Monitor sometimes displays inaccurate information
Awkward locking mechanism
Sole Fitness F80 Folding Treadmill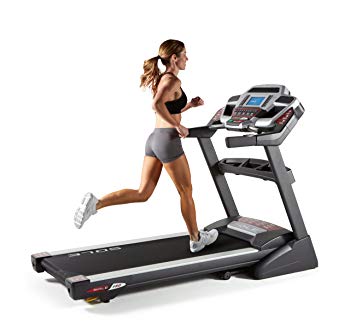 The Sole Fitness F80 has advanced features. This treadmill can be termed as one of the best running machines. Moreover, it has a commercial 3.5 CHP motor and a 22" by 60" running tread. This model also has a 7.5-inch LCD display that shows useful workout stats.
In addition, it has a Cushion Flex Whisper Desk that helps reduce noise. Its speed ranges from 0.5 to 12 miles per hour. This model has a 0 to 15 percent incline. It also comes in a foldable design.
Pros:
Well-built and solid
Motor runs smooth and without much noise
Great customer service
375-pound weight limit
Foldable
Cons:
It is very heavy
Some quality control issues
Horizon Fitness T101-04 Treadmill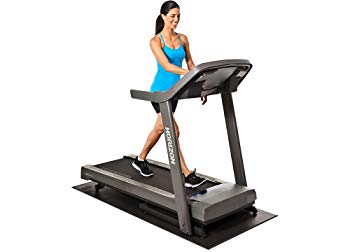 This Horizon Fitness model an entry-level model to meet the needs of an average runner. It comes with a 2.25 CHP motor with a lifetime warranty. This treadmill has many great features like MP3 player port, speaker system, 30 inbuilt programs and so on. Its foldable design is based on the FeatherLight folding technology, which has two hydraulic shocks.
Furthermore, these help lift and lower the deck. Its gray console also has three data windows with soft orange LED lighting. Moreover, this treadmill has a weight of 165 pounds and can carry up to 300 pounds.
Pros:
Affordable model with great features
Quiet motor
Very strong
Easy to set up
Runs smooth
Cons:
Some quality control issues
Bad extended warranty support
ProForm PFTL59515 Performance 400i Treadmill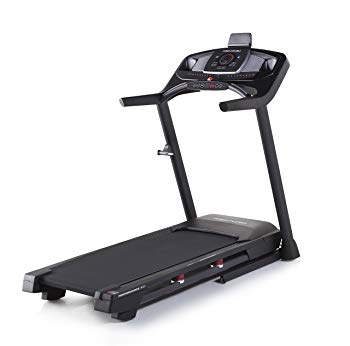 This treadmill comes with various great features that will make you want to keep running. It also comes with eighteen programs designed by certified Personal Trainers.
Moreover, there is a lifetime warranty for the frame, a twenty-five years motor warranty and one-year parts and labor warranty.
Pros:
Sturdier and better built than expected
Easy to set up
Gives more natural jogging feel
Very quiet
Gives great value for money
Cons:
A few people say it has bad customer service
No iFit app as advertised
LifeSpan TR 1200i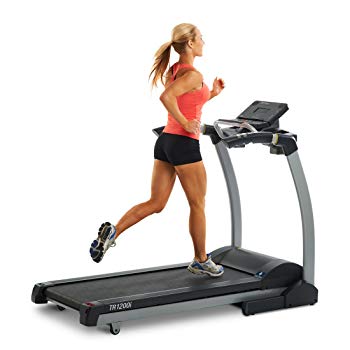 This model by LifeSpan is a mix of solid build, convenient size, and affordable price. This great mix has made it one of the most popular treadmills. The treadmill's peak speed is eleven miles per hour, while it has a fifteen percent incline.
Furthermore, LifeSpan TR 1200i is a folding treadmill. It has the capacity to carry a maximum weight of 300 pounds. Moreover, it also comes with an LCD display that shows basic stats about the user like distance, speed, and calories.
Pros:
Sturdy and durable
Great product at a great price
Awesome customer service
Extremely quiet
Generous warranties
Cons:
A few people say its a bit heavy
Sudden acceleration issues
ProForm Pro 2000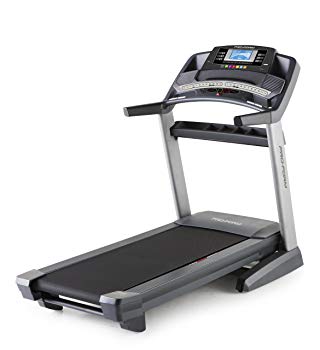 This ProForm model is built to serve the needs of all runners whether they're a beginner, intermediate or an expert. It comes with great features that set it apart as one of the best treadmills out there. For instance, it allows runners to set their running goals and improve their performance in terms of technique, speed, distance and time.
Moreover, it saves space because it is foldable. It also comes with twenty-four pre-loaded workout programs that give the runners the option to choose based on their training needs. Additionally, its highest speed is twelve miles per hour, while its incline ranges from -3 declines to +15 incline.
Pros:
reduces stress on the knee
Very easy to set up
Speed and smooth incline change
Free shipping
Runs flawlessly and quietly
Cons:
It is very heavy
Poor customer service
NordicTrack Commercial 1650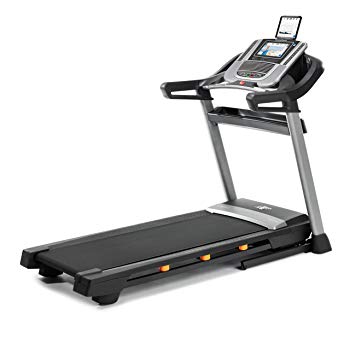 The NordicTrack Commercial 1650 treadmill is a mid-range running machine. It comes as a good bargain between great features and great price. Moreover, the model has a 10-inch internet-allowed touch-screen.
Furthermore, this lets you quickly read data about your time, speed, distance, calories burned and heart rate. The treadmill also features thirty-four pre-loaded workout apps that help runners personalize their workouts. In addition, its top speed is estimated to be twelve miles per hour.
Pros:
Smooth belt
Strong motor
Works smooth and soundlessly
Has everything that is advertised
Great treadmill at a great price
Cons:
There are some control issues
A few people say it has bad customer service
Key Considerations When Buying the Best Treadmills
There are some features that you must take note of when buying a treadmill. These are as follows:
Motor and Horsepower – It is needed to choose a treadmill that comes with a motor that matches your workout plans. For instance, a bigger motor with more horsepower is a must for a machine meant for long distance running. This is because a smaller motor would burn sooner than expected. A motor with 1.5 to 2 continuous horsepower is ideal for serious runners while 1 horsepower is enough for those who plan to run or jog just to keep fit. Another thing to note is the motor's cooling mechanism. This is necessary to reduce heat in the motor and other important parts of the machine. Moreover, a good treadmill must have a strong motor with an effective cooling mechanism.
Belt/Deck – The quality of the belt of a treadmill plays a huge role in how smooth the machine runs. It also decides how durable it is. Note that cheaply made treadmills often need frequent belt lubrication. On the other hand, good quality treadmills have belts that may not need oiling or maintenance so often. If you are tall, you will need at least a 20 by the 60-inch belt. Thus, you will get enough room for a comfortable stride. You should also make sure that your machine has a sturdy and stable support for your runs.
Power Incline – Only good quality treadmills have a power incline. This part helps you have training sessions with an outdoor experience. It is used to give you the feel of running up the hill. In other words, it allows you to simulate uphill training. This is done by controlling the ramps by pre-set plans or with some control buttons on the console. A low-level incline will be like wind resistance. On the other hand, a higher level is perfect for the experience of an outdoor route and interval training. The best treadmills for runners have an up to fifteen to twenty percent higher angle.
Speed – Treadmills for runners have a speed range of about 0.5 to twelve miles per hour. Some running machines have a design for walkers and come with a top speed of about ten miles per hour. The higher the maximum speed of a treadmill, the faster you can run and integrate interval training.
Cushioning – The cushioning on a typical treadmill is often 15 to 40 percent softer than the road. But there are some treadmills that come with a cushioning system that can be adjusted. This allows setting the deck to match your workout goal. For instance, if you are training to compete on the road, you will have to reduce the cushioning. On the other hand, more cushioning is needed for walking. Note that when you are hitting the treadmill hard, you need to have advanced cushioning. This keeps you safe from the excess force of impact and gives the needed support during your workout. A commercial-grade suspension system will most likely give you what you are looking for.
Noise – Treadmills that make too much noise can disturb other activities like watching TV or listening to music while working out. Also, if your treadmill is placed in a common area of your house, too much noise may be a nuisance to others. So, look for a running machine that has a good casing around the motor to reduce noise and vibration.
Preloaded Programs – Apart from being able to adjust your speed level with the press of a button, it is great to have a treadmill that comes with pre-set workout plans designed by certified trainers. This will allow you to follow suitable routines to rapidly reach your workout goals. Good treadmills have at least ten preset workouts. These can include distance, intervals, heart rates, calories, and other things.
Heart Rate Interactivity – Heart rate indicates proper intensity and progress. Runners often operate within a set range of heart rate. This is because a heart rate that is too high can be a risk for the heart. The best treadmills will adjust their speed and measure your heart rate to make sure that you stay within the ideal range.
Console and Screen – A good treadmill should have a screen. Some have colored LCD or LED monitors wide enough to display workout routes and terrains, videos and music. On the other hand, others only show basic stats like speed, time, distance, heart rate etc. For the most part, this comes down to your budget and preference.
Safety – You must take care when it comes to safety. There are some safety features that any treadmill must have. For instance, it should have console grips or handrails that you can hold with ease. You should also be able to walk or run on it with comfort.
Warranties – Most branded treadmills come with warranties. For instance, some give a lifetime warranty for the frame, one year for the motor and so on. In this case, look for at least a one-year warranty on labor. Also, there should be a warranty of one to three years on other parts. The parts below are the ones that should have a warranty:
Motor
Deck and belt
Electronics
Maintenance – It is also necessary to check if a treadmill is maintenance-free. A good machine will not need frequent oiling or service. Although, it may need it after six months or so. We suggest a treadmill with a reversible deck. A reversible deck can be flipped when it is worn out.
Ease of Use – Having many features and complex buttons all over the console can be quite frustrating for users. Look for a machine with a well-written instruction manual. Don't work hard to get used to your treadmill. Buy one that is easy to use.
Affordability – What matters the most is to acquire a quality treadmill without burning a hole in your pocket. There are good treadmills out there to fit all budgets. That is why we have added some less pricey but good machines to our list.
Types of Treadmills
Treadmills come in various sizes, configurations, and types. It is a must for you to know the types that are there before you buy one.
Folding Treadmills – These come with the option to fold the deck or belt towards the console or vice versa. Hence, they are compact and save space. These can also be carried on trips by fitness buffs who don't want to miss on their workouts.
Manual Treadmills – Manual treadmills are cheaper and lighter than motorized treadmills. They don't have an electric motor and transmission to move the deck. They are only used for walking because they don't generate their own force to support running or jogging. Also, users must hold the handles to create enough force to move the belt.
Motorized Treadmills – Motorized treadmills have an electric motor system. These are used for both walking and running. In contrast to manual ones, users don't have to hold the handles.
Manual Incline – There are some treadmills that have manual incline change. Hence, users must step down from the treadmill when they want to change the incline.
Automatic Incline – Treadmills with an automatic incline have buttons on the console that you can press to change the incline. Some can also change incline and speed to match a running or walking workout automatically.
Walking Treadmills – Treadmills with low speed or a max speed of fewer than five miles per hour are often meant for walking. They may also be used for slow jogging.
Running Treadmills – Running treadmills are for both walking and running. They have a strong electric motor for higher belt speed that can support running. They are generally costlier than walking treadmills. Although, some walking treadmills with advanced features can be equally costly.
Final Thoughts
In conclusion, the bottom line is that treadmills are used in every household. As a result, it gives its users benefits like heart fitness, burning of calories and enabling indoor workouts during unfavorable weather conditions. So, we state the various types of treadmills and some key features that must not be left without notice. In the end, no matter how good a model is, your choice should be dependent on your budget and personal needs. Therefore, in this article we have recommended products that can fit any budget.