Best Winter, Rain & Cold Weather Running Jackets
This page contains affiliate links. As an Amazon Associate I earn from qualifying purchases.
Whether you are training for a race or running for fun, having the right running outfit can make a tremendous difference in your performance. This is even more so if it is winter time. So when it comes to investing in a winter jacket for running, there are many things to keep in mind.
Jackets for running are very different from your normal jackets. That's because it needs to be breathable despite the body heating-up. So if you want to wear a jacket during winter, it needs to be more advanced than others. It should be lightweight yet warm enough to protect you from the cold weather.
Quick Look at Our Top Picks for Best Winter, Rain & Cold Weather Running Jackets
IMAGE
PRODUCT
DETAILS

Heat retention technique

Breathable fabric

Lightweight material

View on Amazon →

Lightweight material

Breathable fabric

Water-resistant fabric in front

View on Amazon →

Warm inner fleece lining

Waterproof and windproof material

Lightweight material

View on Amazon →

ClimaProof breathable material

Waterproof and windproof

Very comfortable

View on Amazon →

BEST ULTRALIGHT RUNNING JACKET

BEST ULTRALIGHT RUNNING JACKET

Synthetic material

Breathable and lightweight

Comfortable feel

View on Amazon →
Best Rated Running Jackets for Winter and Rain
With all the brands available in the market it becomes hard to decide which brand is the best. To help you with your decision, we have listed down a few options. Refer to this list as a guide to upgrade your running gear.
4ucycling Light Weight Easy Carry Wind Raincoat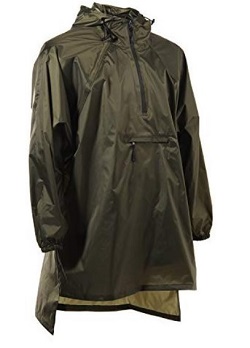 This stylish winter running jacket is constructed using latest windproof technology. It has three layers. The innermost layer has a thermal interior with a fleece lining. The middle layer consists of material that is windproof and breathable. The outer shell is made up of synthetic material that has a knit with proper elasticity. The unique layer ensures maximum heat retention while keeping the overall jacket lightweight.
This jacket has elastic cuffs allows for a better fit. This elastic cuff closure also adds to the ability to protect from cold wind. It has a full-length waterproof front zipper for added protection. There are two sides pockets that can also be sealed using a zipper. This jacket can be comfortably worn between the temperature range of 40-60 Fahrenheit degrees. If you don't like to use hood this is a perfect jacket for you that comes in pure black with red edge design.
Pros:
Heat retention technique
Breathable fabric
Lightweight material
Full-length zipper
OUTON Men's Cycling Jacket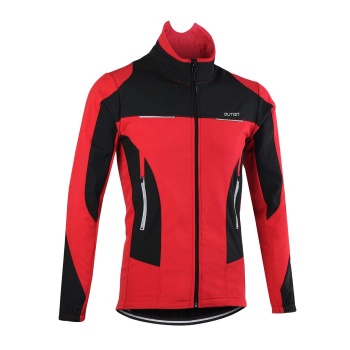 Although designed as a cycling jacket this winter running jacket has high performance even while running. The jacket has an outer shell mainly from polyester and spandex and an inner thermal fleece lining. The material is both lightweight and breathable. The fabric at the front is water resistant for protection against light rain.
Some noticeable design elements are full-length front zipper for convenience, elastic cuffs to allow a better fit, a silicone band at hem for a better grip and reflective logos and strips at back and front. The jacket lacks a hood but has a high neck collar to protect against wind. Being a cycling jacket its design also includes four back pockets. Three of these pockets have elastic closure while one has a zipper. There are also vent zipper pockets at front with mesh lining. This jacket is warm enough and can be worn during spring, autumn and winters.
Pros:
Lightweight material
Breathable fabric
Water-resistant fabric in front
Fully windproof material
4 back pockets
Vent zippers at front
Cons:
Lacks hood
A few people complained about delivery time
4HOW Snow Jacket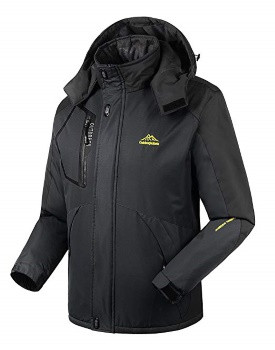 This winter running jacket's outer shell is made from 100% polyester with a fleece interior.  The material is warm, lightweight, breathable, windproof and waterproof and has moisture-wicking properties.
It has a relaxed fit with a full-length zipper. Front zipper also has button closure for added protection. There is a large detachable hood with hook and loop closure. The cuffs have a snug fit and also have Velcro for further adjustments. If you love to have pockets this is definitely a great choice for you as it has two side pockets, one chest pocket, and one internal security pocket. All the outer pockets have zippers for better protection of your belongings while running.
Pros:
Warm inner fleece lining
Waterproof and windproof material
Lightweight material
Detachable hood
Cons:
Limited color options
A few people complained about the fitting
Adidas Outdoor Men's 2 Layer Wandertag Solid Jacket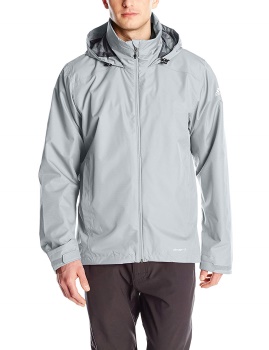 This jacket is made from Adidas's special ClimaProof fabric. CimaProof fabric helps to regulate body temperature, protection against harsh winds, colds and rain. It can also wick moisture away and dry quickly. Overall, the fabric is weather-resistant, comfortable, lightweight and breathable.
The jacket is designed with two layers for added warmth without being too bulky. For added breathability factor it also contains ventilation pockets. It has a relaxed fit with a full-length zipper. There is a large stowaway hood with a hook and loop closure. The hood can also be rolled up using Velcro at the back of the hood. The cuffs can also be adjusted using Velcro. It has two side pockets with zipper and one internal security pocket.
Pros:
ClimaProof breathable material
Waterproof and windproof
Very comfortable
Adjustable stowaway hood
Zippered hand pockets
Cons:
Turtleneck too long for some
A few people complained about the fitting
The North Face Women's Apex Bionic Jacket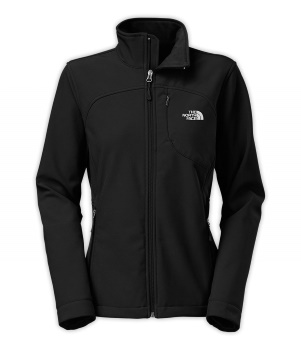 The outer shell of Apex Bionic jacket is mainly made up of soft shell TNF™ Apex that is 96% Polyester and 4% Spandex. The interior has warm a fleece lining that can provide warmth for the low-temperature range. Overall, the fabric is lightweight, breathable and comfortable.
The jacket has stretch cuff panels and a turtleneck with a full-length zipper. It also has two zippered side pockets and one chest pocket. This jacket has slim fit style with drawcords at hem for further adjustments. If you want a jacket with really vibrant colors then this is for you as it has so many color variations to offer.
Pros:
Synthetic material
Breathable and lightweight
Comfortable feel
Extremely windproof
Fleece lining
Cons:
No hood
A bit on the expensive end
The North Face Men's Apex Bionic Jacket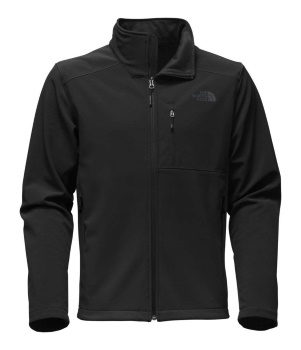 This softshell running jacket is similar to Women's Apex Bionic jacket mentioned above. Mainly made up of TNF™ Apex ClimateBlock it is a windproof, lightweight, breathable and comfortable jacket.
Similar to women's version this men' Apex jacket also has comfortable cuffs, full-length zipper, two zippered side pockets, one chest pocket, and drawcords at hem. If you want to have a large number of color choices, then this jacket will suffice your need.
Pros:
Synthetic material
Breathable and lightweight
Comfortable feel
Extremely windproof
Fleece lining
Cons:
No hood
This item has been noted to arrive late say some
Columbia Women's Mighty Lite Hooded Plush Jacket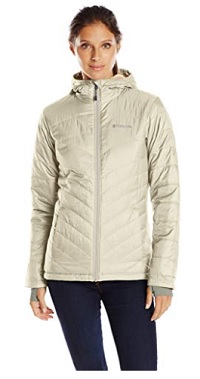 This winter running jacket by Columbia has a perfect balance between warmth and weight. Its unique Omni-heat thermal reflects body heat yet keeps the jacket breathable. The material is also water-resistant.
The jacket has a slightly loose fit with an adjustable attached hood and adjustable hem. The other features are its full-length front zipper, side pockets, and inner security pockets. Overall this women's jacket is ultra lightweight, highly breathable, very comfortable and extremely elegant. Although it is a perfect fit for a majority, some may find that arms are too big for them.
Pros:
For extremely low temperature
Omni-heat thermal reflective and insulated
Breathable and lightweight
Extremely comfortable
Cons:
Arms too large for some
A few people complain about fitting
Columbia Women's Fast Trek II Full-Zip Fleece Jacket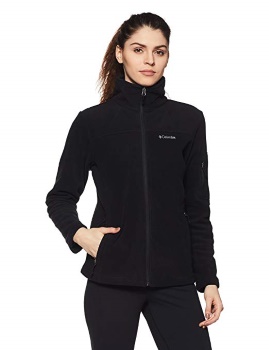 This is a running jacket by Columbia designed for all-seasons. The fabric is 100% polyester microfleece. This material is lightweight, breathable and has a 4-way comfortable stretch. Women's Fast Trek II has a modern classic fit with full-length sleeves and adjustable hem. This jacket design has a lot of pockets. Moreover, there are two zippered pockets on the front side and one small zippered pocket on the arm. It even has a big internal pocket that can be used to keep items such as a lightweight headband. This simplistic jacket comes with more than 40 color options and you would be tempted to buy all of those colors.
Pros:
Perfect fit most
4-way comfort stretch
Ultra lightweight
A lot of pockets
Fleece for warmth
Cons:
No hood
Some say it was packaged badly
adidas Performance Women's Techfit Cold Weather Half-Zip Gondola Print Jacket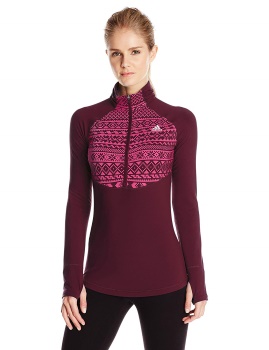 This winter running jacket from Adidas has climawarm technology. Climawarm ensures that the jacket is lightweight, breathable and is able to retain body heat. The material is famous for having a comfortable feel.
Furthermore, the jacket has a techfit design with half zip and a stand-up collar. It has long sleeves with thumb holes. The jackets neckline with its front and back graphic design gives this an extremely feminine look.  The jacket may lack pockets but it is a high-performance jacket that can easily withstand the temperature range of 50-60 degrees Fahrenheit.
Pros:
Cilmawarm technology
Techfit design
Breathable and lightweight
Very comfortable
Sleeves with thumb holes
Cons:
There is no hood
Lacks pockets
Key Considerations When Buying a Winter Running Jacket
As mentioned above, running jackets are different from casual winter jacket. When you are making the final decision, make sure to ask yourself the below-listed questions.
Warm Enough? – Jackets made with a thicker material are inherently warmer but bulkier. It is not an ideal situation to wear something heavy while running. Hence, you would want to buy a jacket that is either made up of special material or has a reasonable lining. Instead of buying the warmest thing you can think of layering up. Owning a jacket that is warm enough and allows room for layers will ensure that you are able to retain most of your body heat.
Weather Protection – During winters you want protection from both wind and rain/snow/humidity. Hence, you may want your jacket to be wind/waterproof or wind/water resistant. You may wonder if there is any difference between a water-resistant and a waterproof jacket. Well, water-resistant material is not the same as waterproof material because it does not provide maximum protection because water can slowly seep in through water-resistant material, making it ineffective after a few hours. Hence, for running in the rain it is better to have 100% waterproofing.
Breathable – When designing a winter jacket some manufacturers use material that can provide you with the warmth and weather protection but is not breathable. Even during winters, having a jacket that is breathable is immensely important. Keeping this in mind many brands have designed jackets for running with vents at front or underarm that allow airflow.
Visibility Feature – During winters, days are short and the amount of sunlight we receive is limited. There is a high probability that most of the time you would be running in low light condition. Hence, while going for a run you need to ensure your safety. The safety rule dictates to wear something that has a reflective material.
Hood design – If the weather is not too harsh then some runners may like to run without a hood. To meet this demand many jackets, have an option of detaching the hood or rolling it at back. Even if you don't mind running with the hood you still need to take notice of the hood design. Since you will be moving a lot while wearing your jacket it makes sense to have an adjustable hood.
Layer Up In This Size – When the weather conditions become extremely harsh it is better to layer up instead of finding the warmest jacket. We all know layering is important as it traps most of the body heat and keeps you relatively warm. While selecting the size of your jacket make sure to purchase with an intention to layer up. If the size is too small you may feel suffocated with all those layers you are wearing.
Final Thoughts
Overall, winter running jackets should be lightweight. It keeps you warm without compromising on breathability. As every jacket has a different level of warmth, some are more suitable for early winters while some can be worn during extremely harsh wintry days. Moreover, depending on your preferences you can also buy a jacket with or without a hood.