Best Compression Sleeves for Running
Running is an excellent sport that strengthens your bones and muscles, develops your stamina, burns calories and maintains a healthy weight. However, there is a risk of injury if:
You are a beginner and have just started running
You are a runner who has recently increased the intensity of training
You have been practicing on a hard/uneven surface
Have flat feet
Quick Look at Our Top Picks:
Hence as a runner, you might have suffered injuries such as shin splints, muscle cramps, soreness or fatigue. Most of these symptoms might have occurred due to continuous use of your calf muscle that vigorously moved during your running session. Scientific research shows that you can use a compression sleeve and resolve many of these issues by applying an optimal level of consistent compression to your muscles.
Best Rated Compression Sleeves for Running Reviewed
We have already talked about different features that you should give importance to while making your final decision. Based on these main criteria let us explore a few options that can give you an idea what is trending in the market and is preferred by others.
Run Forever Sports-Calf Compression Sleeve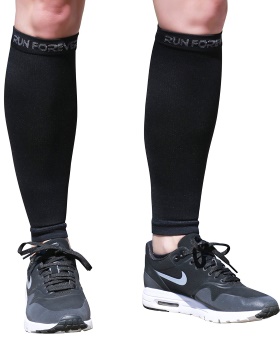 This compression sleeve for running is made up of high-quality Nylon and Lycra. The material is soft, breathable, and lightweight. It also has moisture wicking properties. The seamless knot of this sleeve makes it very one of the most comfortable brands available in the market. The sizes fit almost most people. However, some people do find the length to be too short, but if you are not happy with your purchase you do have the option to refund it within 60 days.
Pros:
Graduated compression
Breathable fabric and design
High-quality material
Very comfortable and lightweight
Breathable material
Cons:
Some find the length is too short
The fitting is a bit uneven
Blitzu Calf Compression Sleeve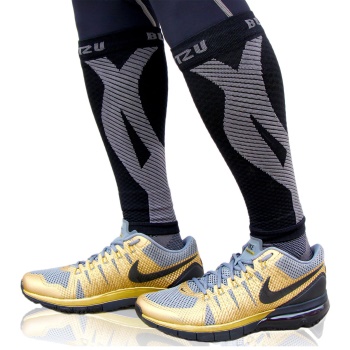 This compression sleeve for running has a unique "Kinesiology taping design" that helps in stabilizing the calf muscle by providing additional support to the posterior & anterior calf muscles and Achilles tendon. Hence, Blitzu calf compression sleeve is useful if you are suffering from shin splints, swollen muscles, muscle strain and/or muscle pull. Blitzu also has a policy that allows you to exchange or refund your purchase if you are not satisfied. Although there are not many color variations you still have an option to select a color that is vibrant and looks great.
Pros:
Graduated compression
Beneficial for both performance and recovery
Reduces muscle strain
Helps stabilize muscles
Cons:
Limited color options
Not much variability
Zensah Compression Leg Sleeves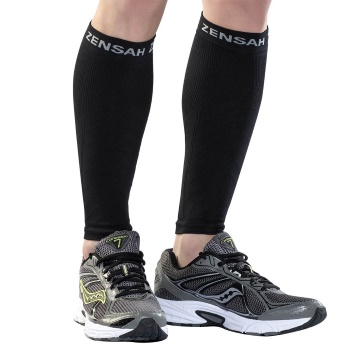 This compression sleeve for running is made up of Nylon and Spandex. The material is comfortable and has moisture wicking properties. As the fabric is relatively thick, it is also able to provide you with the warmth during cold days. Zensah compression leg sleeve provides graduated compression that is useful for relieving shin splints pain or calf cramps. Hence, while using this sleeve will provide adequate support to your muscles that will eventually help to prevent future injuries and reduce fatigue.
Pros:
Graduated compression
Helps with shin split pain
Prevents calf cramps
Prevents injuries
Cons:
Sizes may not fit everyone
Comparatively on thicker side
Camden Gear Calf Compression Sleeve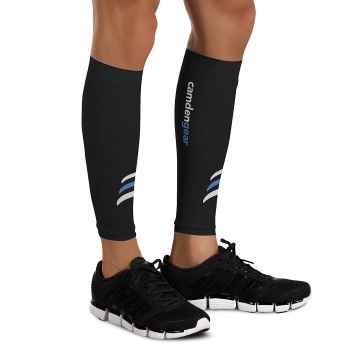 This compression sleeve for running is an affordable available option in the market that can not only help in recovery but will also help prevent future injuries. The design and fabric both provide great support to your calf muscles and prevent soreness. As the fabric contains Lycra, this sleeve wicks away moisture and allows for air flow to your skin. Hence, this is a very lightweight and breathable sleeve that is great for improving your performance and speeding your recovery. However, the sizes do not seem to fit everyone.
Pros:
Graduated compression
Help shin splints
Prevents further injuries
Reduces muscle fatigue
Cons:
Sizes may not fit everyone
Some say it is not made well
2XU Compression Calf Guards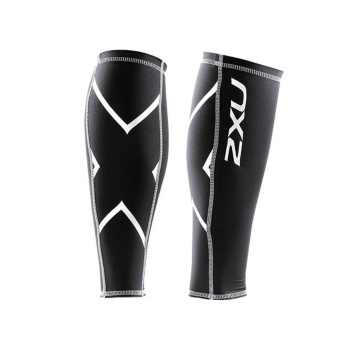 This compression sleeves for running is made of PWX FLEX compression fabric. PWX FLEX is a lightweight fabric material that not only breathable but also very flexible. The fabric has moisture wicking properties; thus it keeps you dry during intense workouts. This high-tech fabric has been through antibacterial treatment to eliminate odor.
Pros:
Graduated compression fit
Moisture management technology
Breathable
Lightweight
Cons:
Not designed for recovery
Little expensive
Understanding More About Compression Sleeves
Sometimes people get confused between a compression sleeve and a compression sock, wondering what the main difference between the two is. To put things in simple terms they are similar in terms of applying graduated compression to your muscle but differ in terms of the coverage they provide. The compression sleeve covers your calf muscle while a compression sock will also cover your foot. Many runners prefer to use a sleeve as they provide more flexibility while they are practicing.
Why Do Runners Wear a Compression Sleeve?
The most obvious benefits of wearing a compression sleeve are to recover from an injury or to avoid future injuries. But there are some added benefits due to which runners normally use a compression sleeve.
Recovery – The improved blood circulation is one of the most important factors that reduce muscle soreness and helps in speedy recovery from a previous injury. Hence, runners who have suffered an injury but want to continue with their training/practice tend to use compression sleeves.
Protection – Compression sleeves not only protect runners from injury but also acts as a mini-shield for them as it provides protection to their skin against small cuts, bruises or scratches. Some advanced sleeves are even able to protect you against UV rays.
Enhanced Performance – Runners use this because it reduces muscle moment while they are working out. The sleeve also speeds up the blood circulation back towards the heart, supplying more oxygen to the muscle and thus clearing away deoxygenated blood from the muscles. The increased supply of oxygen causes a tremendous improvement in runners' performance.
Swelling – When running for long hours runners normally end up with swollen muscles. Hence, they tend to use compression sleeves to limit the soreness and swelling.
Regulate Body Temperature – Whether it is summers or winters, wearing compression sleeves help to regulate body temperature. This sleeve can be providing the warmth on a windy day during summers when runners want to wear shorts instead of full-length pants.
A Word of Caution
As mentioned there are many benefits of using a compression sleeve. However, there is a need to take some precautionary measures. Firstly, if you intend to use a compression sleeve because of an injury then make sure to consult your physician to avoid any complications. Secondly, avoid wearing these sleeves for more than intended hours. If a wrong size sleeve is worn for an extended period, then there is a risk of developing a severe medical condition.
How to Buy a Compression Sleeve
There are a variety of compression sleeves available in the market with varying styles, designs and functionality but in order to buy the right thing you may need to consider following things:
Fit – The sleeve should fit perfectly. If it is too tight it will be very uncomfortable to wear it and if too lose it will not provide enough compression and thus will be useless. Sleeves that are designed for men or women are more likely to have better shape and fit as compared to compared unisex sleeves.
Material – As you would be involved in an intense workout while weaning these sleeves, make sure to look for fabric that wicks away moisture and keeps you dry.
Seamless Knit – As the compressed sleeve hold tightly on the body having a sleeve that has seamless knit is optimal to make it wearable and more comfortable.
Refund Policy – One of the most important features is the ability to exchange or ask for a refund on these sleeves. This factor is important because if the sleeve does not fit perfectly you can exchange it for a size that is more suitable for you.
Color – This factor is not a deal breaker, but you may still want to select colors that are more suitable for outdoor activities. Thus, instead of buying pure white, bright colors might be a better idea.
Final Thoughts
In this article, we have listed the most famous compression sleeves that can be purchased easily. However, as every brand has different sizes and level of compression strength available. What suits you may or may not suit your friend. Depending on your requirements and calf size, you can select any of these best available options. However, while making your purchase always keep two things in mind (as we mentioned above). Firstly, consult your doctor if you are using a sleeve for an injury. Secondly, if you continue to feel uncomfortable or in pain even after using a compression sleeve kindly consult your physician.
Sources
https://sleefs.com/blogs/news/51939585-6-compression-arm-sleeve-s-benefits-that-you-need-to-know
http://www.fleetfeethartford.com/sports-medicine/sports-medicine-corner/compression
https://www.active.com/running/articles/5-reasons-to-wear-compression-sleeves-and-socks
http://compressionsleeve.org/
https://www.2xu.com/ca/pick-your-threads.html