The 10 Best GPS Running Watches
This page contains affiliate links. As an Amazon Associate I earn from qualifying purchases.
Running is an exercise that everyone should partake in it. It improves your physical and mental well-being. And while many people have been adopting the running lifestyle, a lot of times, they are not properly equipped.
You might be wondering: what more do I need besides some music? For serious runners that want to improve their performance, the basics of proper running sport are having a good watch. This is particularly true if you want to see how far you've run that day and/or how fast your pace of running is.
Quick Look at Our Top Picks for

Best Rated GPS Running Watches
IMAGE
PRODUCT
DETAILS

BEST OVERALL

BEST OVERALL

Very accurate even in rugged terrain
Customization of the watch is easy
Easy to operate the buttons even with gloves on

View on Amazon →

BEST GPS RUNNING WATCH UNDER 200

BEST GPS RUNNING WATCH UNDER 200

Comes with exchangeable strapping
Heart rate monitor is super accurate
You can customize the training activities

View on Amazon →

BEST LADIES GPS RUNNING WATCH

BEST LADIES GPS RUNNING WATCH

Activity tracker keeps of your distance, steps and calories burned
Heart rate monitor readings are accurate
You can expand and read full messages on display

View on Amazon →

BEST BEGINNER GPS RUNNING WATCH

BEST BEGINNER GPS RUNNING WATCH

Excellent battery life
You can see who is calling or texting you from your watch
Very comfortable to wear

View on Amazon →

BEST GPS WATCH FOR ULTRA RUNNING

BEST GPS WATCH FOR ULTRA RUNNING

Can display how much time spent on each zone
Create your own daily target work out
Substitute your training schedules

View on Amazon →
To find a reliable and functioning GPS running watch is not easy especially when there are so many flooding the market. To have a smooth and uninterrupted run you need a watch that can keep track of your workouts. You also need something that can help you improve your training. Therefore, to help, we provide a list of the best GPS running watches down below.
Suunto Ambit3 Peak HR Running GPS Unit
Suunto Ambit3 Peak is a GPS watch that can be used for sports and adventure. You can wirelessly connect your watch to your phone and use the free Suunto Movescount App to adjust your watch. You can also share your adventures with others. Moreover, you can customize your watch on the go and access calls, messages and push notifications on the watch.
Additionally, you can monitor your heart rate while swimming, recovery time, pace, distance, and speed. The Movescount app will provide you with training programs you can use to improve your workouts, as well as map new routes.
Pros:
Very accurate even in rugged terrain
Customization of the watch is easy
Easy to operate the buttons even with gloves on
Cons:
The watch won't sync with phone using Bluetooth
Garmin Forerunner 010-03717-54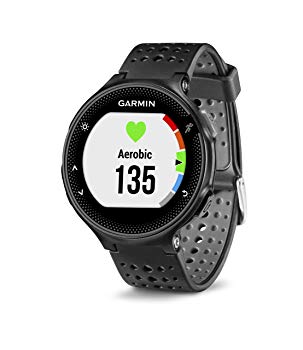 Garmin forerunner 235 is an excellent GPS watch if you want to pace yourself to a new personal record. Its colorful heart rate gauge gives you a real-time beat per minute as you work out. Moreover, the activity tracking will help you keep abreast of your distance, daily steps, pace, calories and sleep.
Furthermore, its smart features include smart notifications and social media access. It also has automatic uploads to Garmin connect and downloads of watch faces, widgets, and apps from connecting IQ. You can also get updates on weather conditions and forecast your oxygen usage while training.
Pros:
Comes with exchangeable strapping
Heart rate monitor is super accurate
You can customize the training activities
Cons:
It has connectivity issues
Garmin Forerunner 235 - Frost Blue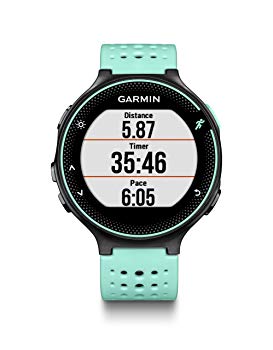 Garmin forerunner 235 has a wristband sensor that will monitor your heart rate throughout the day. It also has a 44% larger screen than the 225 which gives you the better view of the display. Its smart features allow you to read messages, emails, pick calls, automatic uploads to Garmin connect, customizable widgets, apps and watch faces from connecting IQ store.
Furthermore, you get to be well informed on the weather conditions and your oxygen usage for the training. The activity tracker keeps counting on your daily steps, calories, distance, pace and your sleep.
Pros:
Activity tracker keeps of your distance, steps and calories burned
Heart rate monitor readings are accurate
You can expand and read full messages on display
Cons:
It is a bit hard to navigate on the watch
Garmin connect app is not reliable
Garmin vívoactive 3 GPS Smart watch - Black & Gunmetal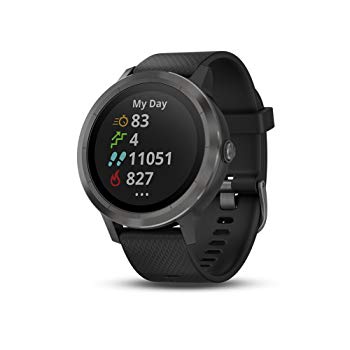 Vivoactive 3 is a smartwatch that you can use to make a contactless payment, personalize your watch with free faces, apps and widgets from connecting IQ store. It also has more than 15 preloaded sports apps that you can use for your fitness training.
Furthermore, its Chroma display with extra durable corning gorilla glass is easy to read under direct sunlight. The sideswipe interface makes it easy to scroll and navigate menus and widgets. You can also download and customize your own workouts.
Pros:
Excellent battery life
You can see who is calling or texting you from your watch
Very comfortable to wear
Cons:
Display on the watch is a bit dim
Very few credit cards can be linked to the website
Polar M400 GPS Smart Sports Watch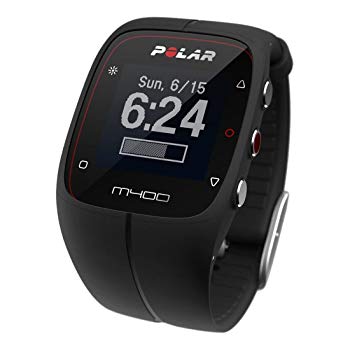 Polar M400 is a comfortable, durable, sporty GPS training smartwatch that will help you track and record your running. You can also use the Polar Flow mobile app to plan and share your training activities.
Furthermore, the waterproof fitness trainer will help you to keep an eye on your running cadence which will help you to improve and avoid injuries even in wet weather. Moreover, the fitness tracker will help you to monitor your distance, steps; calories burned and sleep quality while training.
Pros:
Can display how much time spent on each zone
Create your own daily target work out
Substitute your training schedules
Cons:
GPS signal takes a bit long to connect
The pixels on the screen don't work after some time
Experiences charging problems
Garmin Forerunner 35 Watch, Black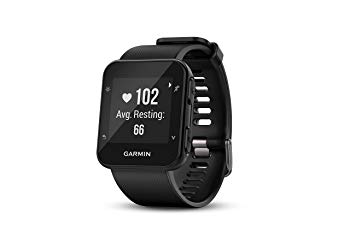 Garmin forerunner 35 is a GPS running watch that is slim and lightweight making it an ideal watch. You can use it for walks, runs when in run/walk mode and it also alerts you when to slow down or speed up. Moreover, the running metrics monitor your running fitness progress by tracking your distance, pace, calories and counts steps.
Furthermore, since your heart rate is monitored from the wrist you do not need a chest strap. You can also pair your watch to a compatible smartphone to get texts, social media, notifications, and alerts.
Pros:
GPS tracker is very fast to sync
Has a long battery life
Smart notifications appear when paired with compatible phone
Cons:
Heart rate monitor has inconsistent readings
The screen can stop displaying without warning
The auto settings of the date and time don't work
TomTom Runner GPS Watch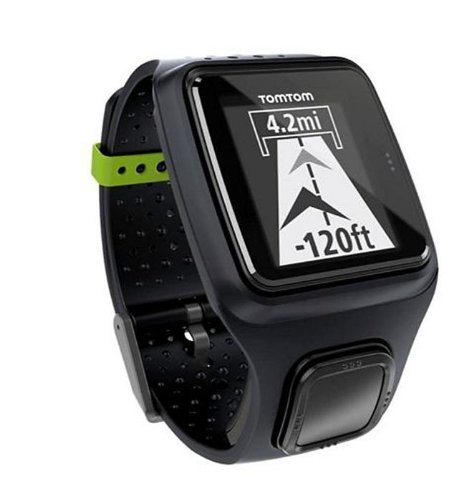 TomTom Runner GPS watch is a multi-sport cardio that gives you detailed workout metrics. You can easily navigate through the menu by using the intuitive one-button control. Moreover, the high resolution and high contrast display make it easy for you to view your distance, run time and pace at-a-glance without having to strain.
With the help of the graphical training partner, you can train more effectively. You can do this with the help of the three training modes which race, pace and challenge yourself.
Pros:
GPS signal is fast and accurate
Very comfortable and easy to use
Menu navigation is easy
Cons:
The battery does not last long
The buttons can be accidentally pushed
Garmin Forerunner 15 Large, Black/Blue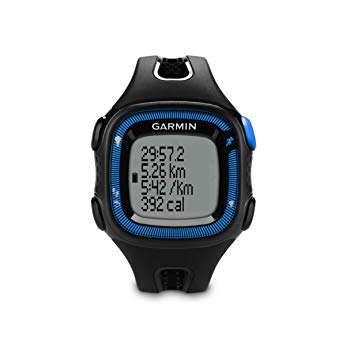 Garmin forerunner 15 is a GPS smartwatch that has a heart rate monitor to record your heart rate and heart rate zone. This helps to know when to push yourself and when to stop. Moreover, it will track your distance, steps, pace and calories burned throughout the day.
Furthermore, you do not need to use a foot pod because you can use the watch to track your distance and pace from the indoor track or treadmill. You can also connect to the free online fitness community for sharing.
Pros:
Easy to read screen display
Syncs well with the heart rate monitor strap
Durable and the bezel resists scuffling
Cons:
GPS takes long to connect
Does not have Bluetooth upload
The alert volume is very low
LAD WEATHER German Sensor Digital Compass Sport Watch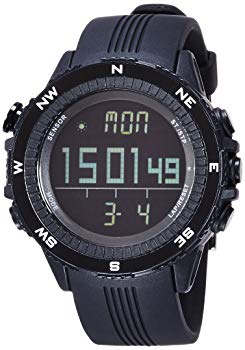 PAD weather has a barometer, digital compass, thermometer, altimeter to give you the weather conditions of your run from the starting point to the finishing point. Moreover, they measure the altitude, the temperature, the sea level pressure to give you a full weather report on the coming weather conditions for your ride, hike, jog, climb, walk or cycle.
Furthermore, this watch is your best partner for all your outdoor activities whether it is hiking, cycling, climbing; riding etc. You can rely on the accuracy of the multiple features to keep you well informed on the weather conditions.
Pros:
Hiking instructions are well written and easy to follow
Barometer and altimeter are very accurate
Wrist strap is strong and durable
Cons:
Watch display is unreadable
Some of the advanced features do not work
The altimeter does not give very accurate readings
Garmin vívofit Fitness Band - Black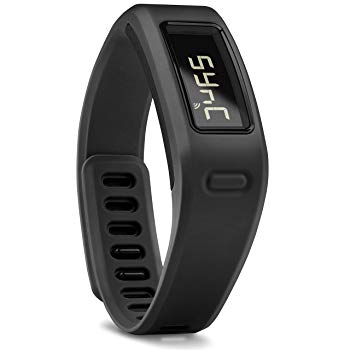 Garmin vivofit will help you to live a healthier lifestyle by learning your current activity level and setting daily goals for you. This will help you attain and keep track of your progress. Moreover, it keeps records of your heart rate and zone data and accurate calorie burn data for every day work out.
Furthermore, when you are asleep you can set the sleep mode for vivofit to monitor your sleep and get your data from Garmin connect. By connecting to Garmin connect you get to see your progress, join online challenges and earn virtual badges. This give you extra motivation to press on.
Pros:
The battery has a long life
Has an interchangeable bracelet
It pairs well with the heart rate monitor strap
Cons:
Not compatible with many Android phones
Won't connect to the Garmin app
Has syncing issues
Key Considerations When Buying GPS Running Watch
When it comes to going out for a run and equipping yourself with a GPS running watch, you should always that your device has all the necessary qualities that make it a good watch. Look at the following factors to when buying a GPS running watch
Reliable GPS – Considering a GPS running watch's main purpose is to track your running distance and speed, ensure that the watch does exactly that well. Settling for a cheap GPS watch that does not track properly or gives you a lack of in-depth information is not worth having. The point of wearing this kind of watch is to track your performance and see how you can improve. Without the right data, it ruins the entire purpose of getting a watch like that.
Built-In GPS – Do not be mistaken by just any watch labeled 'GPS running watch.' This could refer to running watches that are linked with your smartphone. While it may seem convenient, it means you have to rely on bringing your phone with you, and that in itself might weigh you down. Instead, make sure to find a GPS running watch that has built-in GPS.
Accelerometer – If you are somebody who runs a lot indoors on treadmills and wants to make sure the GPS tracking data is smoothened out, consider an accelerometer. This helps to measure how much you accelerate. Any watch that has this built in will help even out any gaps in the data. The whole purpose of this is to monitor the movement of the feet and see how many steps you take while running.
Time Display – This feature might seem obvious, but you'd be surprised just how many people forget about the original function of all these smart devices. A GPS running watch is a watch after all, which means that it should have a clear, time display. Time is, in the end, the most important factor to consider when running.
Durability – The material your watch is made with should be durable. You will be active for most of the time you wear this watch, running up and down, possibly even hiking. Therefore, this watch should be able to endure even the harshest conditions, since a GPS running watch is supposed to be for fitness purposes.
Battery life – Who wants a watch that will die out quickly? Even if the watch was analog, the last thing you want is a non-working watch. Thus, make sure to clarify that the item you are buying has a long battery life. Some watches claim to go on for hours, but that is only at idle use. If you are regularly using the GPS and other additional functions, consider whether or not this may drain your battery life.
Comfort – Since you will be running from place to place with this watch strapped on your wrist, it is important for it to be comfortable. Do not get a watch that causes rashes or rubs against your skin in the wrong way. Some people do not respond to rubber easily, and there are a lot of great jogging watches that are made of this material. So, make sure you aren't one of those people. Also, make sure that the watch is comfortable to wear during hot sunny days, since the heat may make wearing some watches extremely uncomfortable.
Lightweight – Wearing something that is lightweight is a given. The heavier the watch, regardless of how heavy duty its functionality is, make it a bad GPS running watch to wear. The lighter it is, the more comfortable, and the less burden it will be when running those long distances.
Heart Rate Monitor – Although it is possible that some watches don't have this, most running watches, in general, have heart rate monitors. This helps to enhance your training session by giving you deeper insight into controlling how fast or slow you run. While some may argue it is not the most important feature to have for a GPS running watch, we do recommend considering this as a factor to a great watch.
Foot Pod – Some watches come together with an inertial foot pod. This small device is something you place on your shoes and helps to measure the speed, distance traveled, pace, and other important factors of running. Pairing these together help to give a greater scope of your running performance.
Price – As always, with any product you purchase, you need to consider at what cost you are willing to buy it for. Depending on your spending budget, the price will always be an important factor to consider. Obviously, higher-end products with a brand name will be more expensive, but the question is whether they have all the necessary capabilities you need. However, on the other hand, purchasing something too cheap may result in a lack of durability and quality.
Additional Features to Consider
If money is not your main concern and you can shell out an extra few hundred bucks on getting the top GPS running watches, there are plenty of additional features to consider. While they aren't necessary for your run, they do provide an extra layer of convenience.
Running Dynamics – A few watches that are a bit on the higher end offer information on different aspects of running dynamics. What this means is you can get real-time feedback on the cadence of your run, vertical oscillation, and just how frequently your feet hit the floor in a single minute. All of this might seem a bit unnecessary but knowing how to gain insight from such data can definitely help to improve your running form, thereby making you a better runner.
Music – A very convenient option that a lot of top GPS running watches offer is the ability to play music. Often times, you can connect to Spotify or possibly upload songs through USB. From there, it will link up with your headphones through Bluetooth and offer the ability to listen to music as well. This is extremely convenient since many people love to listen while running. Also, you don't need to carry your phone.
Post-Run Advice – There are watches these days that offer advice on what to do after your run on the screen. It will recommend how long you should rest before choosing to depart for another long run. This is more for serious runners since it helps you to get the optimum amount of rest from a single break.
Third Party Apps – While a lot of companies in this industry offer their own applications and software, some high-end watches allow the runner the ability to connect to these apps. There are some brands that allow you to sync with apps from Strava, Garmin, and TomTom.
Interval Sessions – Some running watches allow you to create your own customized interval sessions. This helps to build your fitness according to your own plan, which combines elements of pacing, distance, heart-rate, and duration all into one.
Virtual Runner – This is an interesting feature that includes a competitive or virtual runner inside the watch. It helps you to push yourself more since you are technically up against another 'competitor.'
Online Interactivity – This option provides runner's the ability to upload and share their running data onto the web. By doing so, you can compare and contrast how your performance matches up with people of similar age, weight, height, etc. It is a great way to be part of the community.
Compass – Just in case you might get lost, this function will be quite useful. Most smartphones have this application, which a lot of people are unaware of.
Things to Consider When Running
No matter how much you want to buy the top watch out there, you need to first reflect on a few things before buying anything. The answers will determine what kind of watch you should buy, how expensive it should be, and what features you really need. Before starting, consider the following things:
Type of Runner – What type of runner are you? This is very important since this will determine what apps you need. If you are an occasional runner that does not go extreme, you do not need anything too flashy or with crazy functionality. Something simple below the $100 USD range will suffice. However, if you are running for fitness, and aim to improve your performance, something in the mid-range price that includes heart-rate monitoring and cadence feedback may be more useful.
Purpose – What are your goals for running? This question is important in understanding just exactly what type of runner you aim to become. If you are trying to lose a lot of weight versus competing in a marathon are two different purposes. Sure, they involve the same exercise, but in the end, the type of motivation you need is different. Marathon runners require more functions in their watch because they need to go in-depth with their tracking.
Location – Where are you running most frequently? If you are running inside or on the sidewalk, that will affect your tracking differently than if you are running in the mountains, hiking trails, etc. As we mentioned above from the studies performed, GPS tracking is greatly affected by the conditions of the terrain.
Are GPS Running Watches Really Worth It?
In the end, there are some people that argue that GPS running watches are not that effective and have a lot of limitations. A few people in this group claim that GPS technology is only good for long distances, but for short interval exercises are actually worthless. One of the main people in this study is a man named Jonathan Rawstorn of University of Aukland.
The Rawstorn Study
In the study, Rawstorn tested a group of soccer players. He told them to perform a loop of jogging, walking and sprinting, all in an interval style. The players were told to cover 8 miles and the tracking would cover the intervals within this distance. The whole point of the study was to see how well the watches would detect the distance and pace for each interval of the jog.
Throughout the test, the loops repeated over a 200m distance. Consequently, the watches ended up overestimating the result of the distance that was covered by almost 3%. They discovered this was not very relevant if you were on a run, but important to consider when performing a race or competitive workout.
The Garmin & Polar Watch Study
Furthermore, there was another study testing out the most famous GPS running watch brands of Garmin and Polar. The study focused on covering 6000 miles distance while tracking roughly 2,500 data points. While the study was mainly centered on comparing which watch was the best for tracking GPS, it also helped to give a better idea on whether or not GPS running watches are actually reliable.
In addition, the study found that the watches were effective when covering smooth trails in good conditions. Yet, when running on rocky or uneven terrain, the accuracy of the GPS had decreased. They discovered the only time the GPS was close to being accurate in tracking pace and distance were the ones that were paired with a foot pod.
Conclusion
From these two studies, people conclude that GPS running watches or foot pods may not be the most accurate as a lot of the companies claim. However, this does not mean that you should not use them. As far as what is currently out there, although they do fall in accuracy depending on the conditions and terrain, they are the best method of tracking your running performance, pace, etc.
Final Thoughts
Overall, whether you are running, hiking, swimming, cycling, jogging etc. you need a good GPS watch to help you train and stay healthy and fit. Getting the right watch can be stressful. However, with the right information, your workouts can be enjoyable and hustle free.