The 10 Best Running Gels
Every vigorous activity like running requires some refueling at various intervals to keep your energy boosted. Running usually becomes very hard after crossing the 90-minute mark and many tend to step out.
You can avoid the lapse by giving your body some extra fuel to get you through that tough work out successfully. Energy gels do not necessarily replace glycogen in your muscles because the absorption of the carbohydrates into your muscle may take longer.
The carbs in these gels are absorbed directly into your blood, energizing your brain and lifting away any exhaustion feeling. Energy gels basically boost your brain functionality and replenish your system when running.
Quick Look at Our Top Picks:
Best Rated Running Gels Reviewed
Energy gels are one of the most important assets that a runner should be well-equipped with before embarking in their career, exercise or hobby. They all come in different tastes, ingredients, and sizes expending different amounts of energy.
Whether you are running to keep fit or to prepare for a competition, we care about your overall performance.
That's why we have come up with the following list of the best running gels to enable you to actualize your running dreams.
Human Chia Mango Energy Gel
Flavors: Human Chia is available in different flavors such as chocolate, lemonade, blueberry, cinnamon, apple, and pomegranate. Unlike other energy gels, Human Chia has significant fiber content. This gel is made from milled chia seed making it great in carbs.
Contents: It contains glucose and fructose which are essential for energy. Part of its ingredients includes sodium (0.11 grams), proteins (1gram), total fat (1gram) with zero saturated fat, carbohydrates (21grams), and its serving size is 44 grams. This is a natural energy gel made from carbon-based food which is 100% Gluten and dairy free therefore reducing the chances of stomach cramps
Pros:
It contains high fiber content that's great for energy
It doesn't cause nausea due to its high-water content
Despite being very tasty, it is price friendly
Cons:
Not all flavors contain sufficient amount of caffeine
The flavors may be a bit stronger to some runners
Powerbar Powergel Hydro Cola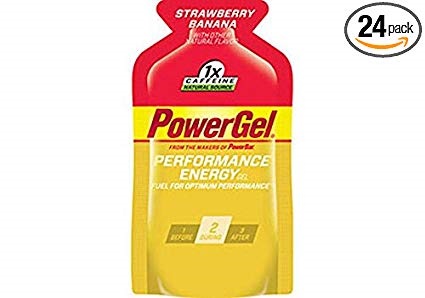 Flavors: This is a cola flavored gel which contains a mix of fructose, glucose, and maltodextrin. It comes in different natural flavors such as orange, blackberry, vanilla, and cherry.
Contents: This Gel will deliver enhancement because of its low sodium content. It contains 0.3 gram of sodium for the building of body muscles, 25.5grams of carbohydrates for the energy boost and 0.5 grams of proteins to boost the immune system. It is fat-free. It comes in a serving size of 67ml which translates into 67 ml of calories. This is an incredible source of energy and a cooling sensation when running a long race.
Pros:
It will save your money because it's cheap
It is one of the best and sweet-tasting gels
It contains caffeine for some extra energy
Cons:
The caffeine content in it may cause stomach upset
It lacks fiber which is a main source of energy
Clif Shot Mocha Energy Gel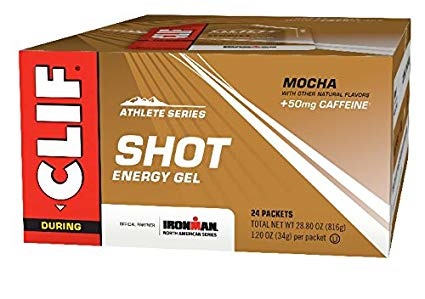 Flavors: This Gel is produced by Clif Bar Company which is renowned for supplying sport energy products. Clif Mocha has a sweet natural taste because of its content of organic can sauce. It is favorable for the lovers of chocolate and coffee. It also contains a natural cocoa powder which gives it a cocoa flavor. Clif shot blocks are available in flavors such as strawberry vanilla, blackberry, cola, cran-razz, lemon-lime, and orange.
Contents: It contains 60 grams of sodium, 50 grams of caffeine, 1gram fiber, and 24 grams of carbohydrates. Clif is very crucial in replenishing your body as well as stimulating your body needs. It comes along in six pieces per packet having a great texture in the mouth. This is the best offer for both beginners and avid runners.
Pros:
It is very easy to chew without being sticky
It is easy to carry around hence very portable
It is very affordable and cheap to buy
Cons:
Its high caffeine content may cause stomach clamps
It may not be appropriate for runners monitoring their sodium intake
High 5 Energy Juicy Orange Gel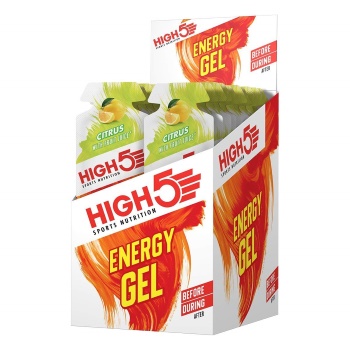 Flavors: The HIGH 5 supplies the runner with instant energy because of its glucose content. The available flavors include the banana blast, citrus blast, and summer fruits. These flavors give the HIGH 5 Gel juicy and natural tastes of recognized fruits such as banana.
Contents: This gel is 90kcal calories and it contains 23 grams of carbohydrates, 0.02 grams of sodium and 2.7 grams of sugar. It is affordable, efficient in energy boosting and long-lasting energy. Each pack contains real fruit juice, 38g of gel with maltodextrin, water, and glucose as the main ingredients. These gels are also available in a plus version which is effective in absorption of carbohydrates and fluids.
Pros:
It is very easy to swallow and very portable
Some of its flavors contains caffeine
It is relatively affordable even to an average runner
Cons:
It has a short life span
Some flavors that contain caffeine may cause stomach clamps
GU Salted Caramel Energy Gel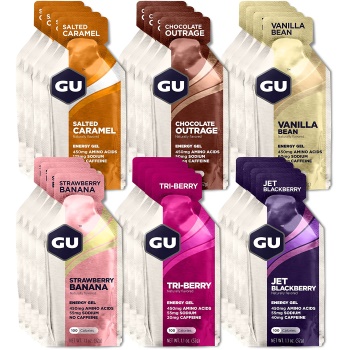 Flavors: GU is a salted gel which keeps you energized both physically and mentally. It is available in different flavors like peanut, salted watermelon, maple bacon, and cucumber.
Contents: GU has the highest number of calories; it also contains 0.125 grams of sodium, some carbohydrates, and 20mg of caffeine. It is also protein, fat, and fiber free. It alleviates lethargy and provides an immediate energy boost. It has been proven effective in both training and racing. GU is very original and proven over time for boosting the energy levels of a runner.
Pros:
It comes in a 32-gm packet which makes it portable
It decreases muscle damage because of amino acids
It is efficient in providing long lasting energy
Cons:
It causes stomach cramps if there is no proper hydration
It is relatively costly compared to other gels
Honey Stinger Organic Energy Chews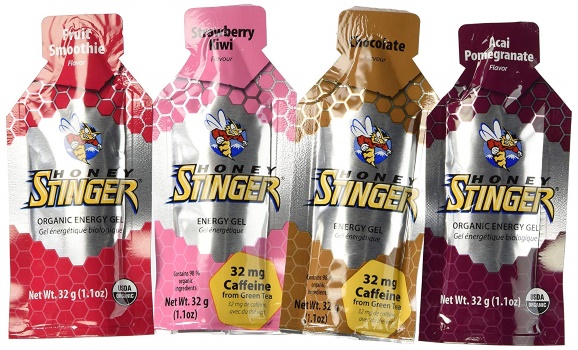 Flavors: Honey Stinger is very effective in the long runs for they are natural and organic. They are available in distinct natural flavors such as pink lemonade, pomegranate, passion, and cherry blossom.
Contents: The Gels have the natural occurrence of fiber and proteins. This Gel contains 2 packs of each flavor and is USDA-certified organic with 60 mg of Vitamin C and 39 grams of carbohydrates per pack. Its 3 main ingredients are organic evaporated cane juice, organic tapioca syrup, and some organic honey. The low glycemic properties in honey are proven to aid and boost athlete performance by sustaining the energy at an optimum level. This keeps the blood sugar levels constant and avoids high insulin spikes and crashes
Pros:
It has a great texture which is perfect for long runners
It is a great honey-based alternative for other types of gels
It provides long lasting energy because of its sugar
Cons:
It contains the organic ingredients that cause stomach upsets
It doesn't have caffeine which some runners like
Science in Sport (Sis) Go Isotonic Energy Gel Lemon And Lime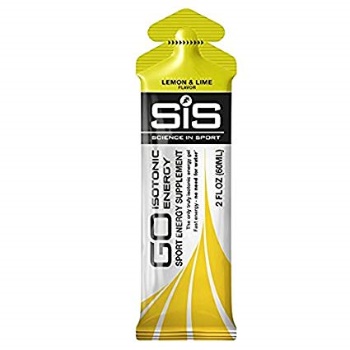 Flavor: This is one of the most popular and bestselling gels on the market. It has an enjoyable and pleasant taste of lime and lemon. The science in the spot is available in other flavors like pineapple, tropical, grapefruit, blackcurrant, and orange.
Content: This gel is a solid choice for marathon athletes who do not have water on hand because water is not needed upon consumption. It has 0.01 grams of sodium, 19 grams of carbohydrates. This gel will replenish and refresh you on the long run and make you celebrate in the finishing line as a champion during a marathon race.
Pros:
It is cheaper when bought in bulk
It has a suitable package which is easy to open
It provides a great energy boost
Cons:
Its packaging is a bit bulky hence not easily portable
It doesn't have caffeine which is liked by some runners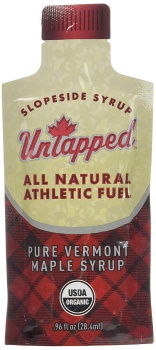 Flavor: The best way to describe the coffee untapped combines with maple syrup is an edible cappuccino. You can also miss the taste of vanilla in the maple syrup packets which also increases the tasty supplement to the run. Once you have a taste of this gel you cannot stop wishing for more.
Contents: This gel is made up of pure coffee which is infused in Vermont maple syrup which contains sodium and potassium. It is a great source of energy near the finishing line because of its caffeine content. This is an excellent option especially because it's a USDA – certified organic gel
Pros:
It contains caffeine as its ingredient
It is great to a runner in colder places or seasons
It is very sweet while keeping a runner very active
Cons:
It may be not appealing to some runners because of maple syrup
It is moderately expensive to some runners
TORQ Energy Gel Apple Crumble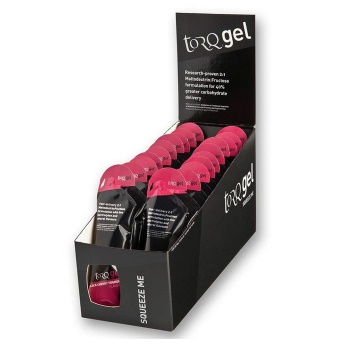 Flavor: This is a gel that is loved by the athletic community, because of its natural flavors. TORQ is available in various flavors like banana, raspberry ripple, black cherry yogurt, strawberry, rhubarb, and custard. Besides, it comes with other flavors in a mixture of guarana which contains 89 mg of caffeine for an extra stimulus that is forest fruits and banoffee.
Contents: The energy features of this Gel include maltodextrin and fructose in a ratio of 2:1 respectively. In addition to its components, it also has some content of sodium and carbohydrates. TORQ comes having 115 calories per gel in a 45 g sachet. This Gel provides the energy that you need while running and it is consumed happily because of its good taste.
Pros:
It has a very great taste that many runners enjoy
It has a sachet wrapper to put rubbish for conserving the environment
It is very easy to swallow especially when mixed with water
Cons:
It doesn't have fiber which is a main source of energy
It doesn't contain caffeine
MuleBar Kick Fast Natural Energy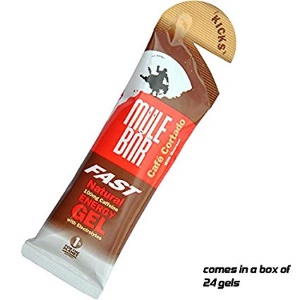 Flavor: Kicks energy gel features a mixture or blends of barley syrup, guarana, and brown rice syrup. The presence of caffeine and guarana makes it a good stimulus for an athlete. It is supposed to be used with some water in order to swallow it easily. This gel packs the goodness of "Himalayan crystal salts" to restore your electrolytes. Mule bar kicks are available in various flavors such as salted caramel, lemon zinger, cherry bomb, and apple strudel flavors.
Contents: Its content includes 27 grams of carbohydrates, 0.6 grams of proteins, 100 mg of caffeine and 0.1 grams of sodium. This gel offers natural and rapid digestible carbohydrates. It has apples that help in maintaining effective blood flow throughout the training. They are also a good source of antioxidant quercetin. It has cinnamon which will help in regulating blood-glucose levels.
Pros:
It's designed, approved and made for super-performance
It contains caffeine that boosts energy
It is great in restoring electrolytes lost while running
Cons:
It may cause stomach clamps due to caffeine
It is relatively expensive compared to other gels
Factors To Consider Before Purchasing Energy Gels
In our millennial generation where most runners want to grab that gold, silver or bronze, the market is as well flooded with many types of gels both genuine and counterfeit. That's why no matter the reason for your running, you should know the factors to consider before choosing the best energy gel.
Nutritional contents –  Always remember the most optimal fuel should always work the best for you. The ingredients are always written on the pack. Anything with bad nutritional content is not going to help your run.
Electrolyte amounts – As a runner, you lose a lot of electrolytes in your running depending on the duration of the exercise. The longer the run the more the electrolytes you need to replace the lost ones.
Gel's taste – While this is not the most important, you can't take what you don't like. It is great if the gel tastes good as well.
Price/value – Most of the sports nutrition tends to be expensive. Don't see this as a bad thing per say, since anything that is of good quality to put into our body should have somewhat of a price, as long as it's not overboard.
Running type – If you're running for fun or to keep fit you may not need the amount of energy that a marathon runner requires. Therefore, consider your type of running before making any purchase so that you find the right product fit for you.
Final Thoughts              
The entire list of gels above are great for an athlete who wants to be outstanding in their performance. However, the most important factor to consider when choosing any gel is the ingredients. Do some trial and error by trying some gels out and stick to the one that stands out for you in both performance and taste. It is advisable for pregnant women to seek medical advice from a doctors on caffeine consumption.