Best Trail Running Headlamp
This page contains affiliate links. As an Amazon Associate I earn from qualifying purchases.
Running at night is a great way for runners to keep up their exercise, especially if they don't have enough time to spare during the day. Some runners just love the quietness and the serene atmosphere that makes up the night. But running at night can be very dangerous, especially if you run in an area that is far from street lights.
To be safe, people running during poorly lit hours – evening, night and early morning – must always have their headlamps on. This helps by enhancing your visibility and making sure you are noticed by others. Visibility and security are two of the major reasons why runners need headlamps. There are many headlamps to choose from and they all differ in features.
Quick Look at Our Top Picks for Best Trail Running Headlamp
IMAGE
PRODUCT
DETAILS

BEST OVERALL

BEST OVERALL

User-friendly
Versatile
Water-resistant

View on Amazon →

BEST AFFORDABLE

BEST AFFORDABLE

Long lasting batteries
The light is very bright
Very safe for chemical operations

View on Amazon →

BEST LIGHTWEIGHT RUNNING HEADLAMP

BEST LIGHTWEIGHT RUNNING HEADLAMP

Great value at an affordable price
Secure and easy to open/close battery box
Light in weight

View on Amazon →

BEST FOR ULTRA TRAIL RUNNING

BEST FOR ULTRA TRAIL RUNNING

Fits very well
The tilt on the pivot is stable
The battery door has a waterproof seal

View on Amazon →

BEST RECHARGEABLE HEADLAMP FOR RUNNING

BEST RECHARGEABLE HEADLAMP FOR RUNNING

Has seven good light modes
The headband is very secure
It is affordable

View on Amazon →
Best Rated Running Headlamp Reviewed
Headlamps make your outdoor activities such as running in the dark safer and easier. The best running headlamp is reliable, stable, light in weight, waterproof, and gives out bright beams that reach far. We have carefully chosen some of the best headlamps to enable you to pick one that best suits your needs.
Petzl Pixa 3 Pro Rechargeable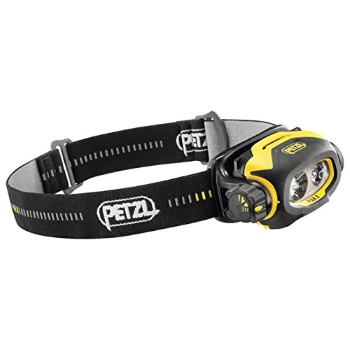 This running headlamp is durable and made to suit any setting. It resists water and can also resist falls, crushing and impacts quite well. It has a CONSTANT LIGHTING technology that means the brightness does not decrease as the batteries drain. Moreover, this versatile headlamp can be placed on the head, on a helmet or on the ground and has multi-beam features for close-range, movement and long-range lighting.
In addition, it is also resistant to chemicals and can function effectively when there is an explosion. Unlike most headlamps, the knob of this unique headlamp is very easy to use. Its headband, made of elastic, can be washed and is very comfortable.
Pros:
User-friendly
Versatile
Water-resistant
Comfortable
Switches to reserve mode by itself to save batteries
Nightstick XPP-5456G Dual-Light Multi-Function Headlamp
Yalumi LED Headlamp Spark 105-lumen 90-meter spotlight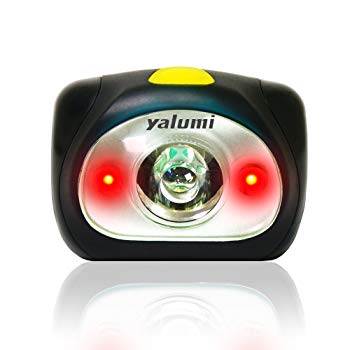 This running headlamp is designed to make night running easy. It makes use of an optical lens to give an enhanced beam. There are five modes namely economic, maximum, strobe (white mode), constant and strobe (red mode). This headlamp is resistant to water. It has a unique lock mode to avoid battery wastage and the light switching on by accident.
Additionally, this headlamp is for all ages and comes with an adjustable headband. Moreover, it is also very light in weight and compact. Based on the brand and life of the battery you use, it can last for about 187 hours on economic mode and 95 hours on maximum mode. Also, you get three free AAA batteries when you buy this headlamp.
Pros:
Great value at an affordable price
Secure and easy to open/close battery box
Light in weight
Good light beam
Comes with three free AAA batteries
Cons:
The power button has little resistance and causes the battery to drain faster
Made with cheap material and is quite fragile
Olympia EX550 Water Resistant LED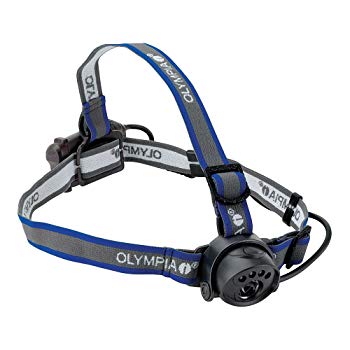 This headlamp is ideal for runners running at the crack of dawn or late in the evening. It does not bounce while running and fits perfectly even when worn on a hat. This light in weight headlamp gives you 550 lumens. It has a beam output of up to 135 meters and a beam intensity of 4680 candelas. Moreover, it has an aluminum body that is both waterproof and corrosion-proof.
In addition, the pivoting head gives it a stable tilt that does not bounce while running. The five light settings of this headlamp include max, high, medium, low and strobe. All these settings are bright enough for trail runners and are powered by two CR123A lithium batteries. This unique headlamp also has motion activation and one-meter impact resistance, making it an all-time favorite with runners.
Pros:
Fits very well
The tilt on the pivot is stable
The battery door has a waterproof seal
Very comfortable head strap
Great beam shape, clarity, and distance
Cons:
Drains battery too quickly
Quite pricey
Black Diamond Spot Headlamp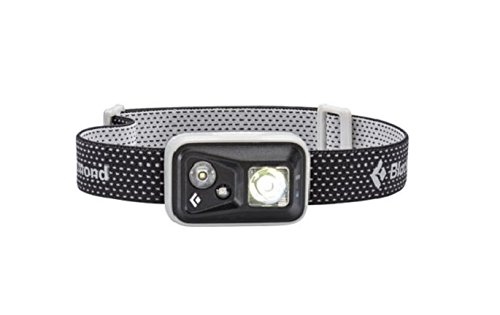 This running headlamp has a sturdy and waterproof built and can run on seven light modes. So, you can get perfect lighting for your trail and enjoy the 300 lumens that it emits. The PowerTap technology of this headlamp lets you adjust the brightness levels with just a tap at the side of the headlamp.
Also, this headlamp can remember your last brightness setting through its Brightness Memory feature. The beam is precise and powerful. Moreover, the floodlight mode has a beam with a wide angle. In addition, one of its features is also a one Quad Power LED and one Double Power white LED.
Pros:
Has seven good light modes
The headband is very secure
It is affordable
Waterproof
Has a very good beam angle
Cons:
Usage can be a bit cumbersome
Lacks padding behind the headlamp
Aennon LED Headlamp Flashlight with Red Lights for Running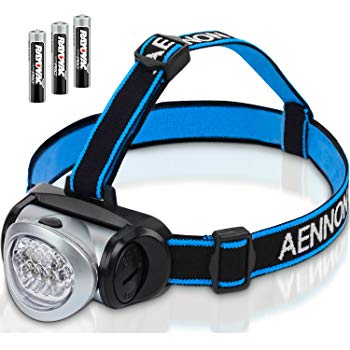 This running headlamp is one of the best gadgets for night runners. It improves visibility with its strong beam that shines up to 164 feet while using the 8 LED Ultra Bright feature. This multi-purpose headlamp is sturdy and shock resistant. Also, it can tilt up to 90 degrees to focus the light where you want. Its headband is elastic and easy to adjust for your head, bike or helmet.
Furthermore, you can enjoy your long runs with this headlamp's sixteen hours of battery life while using Power Save mode. Moreover, the lamp has a total of 20,000 hours LED lifetime. Also, its glass lens is very strong and resists shock. In addition, you can use the red LED light if you want to read without disturbing others. If for any reason, you do not like the headlamp, you get a hundred percent refund.
Pros:
Very comfortable
Has 4 light modes for different situations
Fits children and adults
It is adjustable
Has a hundred percent money-back guarantee
Cons:
The battery box is quite hard to close and batteries are hard to insert
Quite bulky and heavy
The light does not last too long and requires frequent battery replacement
Vitchelo V800 Headlamp with White and Red LED Lights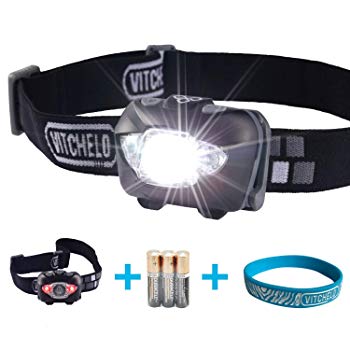 This running headlamp provides hands-free illumination driven by three AAA Duracell batteries. Moreover, it gives a light output of 168 lumens for as far as 360 feet and can last up to 120 hours. The headband is soft, stretches easily and can be adjusted to fit any head size. Also, it has reflective accents for added security and is tight so it will not fall off while you run.
Furthermore, the plastic material used to make this headlamp ensures that it does not get hot and burn your head. Your forehead will be padded and protected well by the inner rubber lining of the headlamp. Also, this waterproof headlamp is suitable for running in any weather and comes with a sixty-day money-back guarantee.
Pros:
Made from lightweight plastic
Good light output
Very easy to adjust
Easy to use buttons
Great customer service
Cons:
Neither durable nor sturdy
Not waterproof as claimed
Battery drains even when the headlamp is not in use
ELMCHEE Rechargeable headlamp
This running headlamp is sleek and very light in weight. It weighs about 3.2oz, making it great for running. Moreover, this headlamp will give you a light output that reaches about a hundred feet. Energy Star, RoHS, and CE certify it to be waterproof. I
Furthermore, it has a good strobe light feature for emergency and security. This reliable headlight has a headband that is fully adjustable, sturdy and fits any head size very comfortably. While running, you can dim the white light and trust the battery life powered by three AAA Energizer batteries to last for several miles. In addition, you also get a money-back guarantee and a lifetime warranty on this lamp.
Pros:
White light can be dimmed
Very light in weight
Light is very bright
Batteries last long
The headband is comfortable and fits securely
Cons:
Takes time to adjust to the cycling mode
Batteries are quite difficult to change, and the box is not very secure
The power button is easily bumped
Foxelli Headlamp Flashlight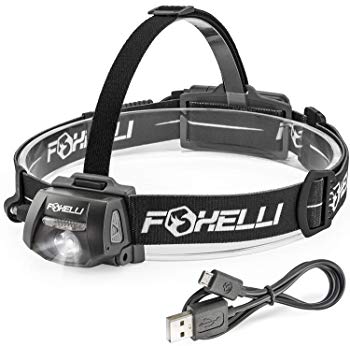 This running headlamp offers some of the best high-tech features. It is made from very sturdy and high in quality materials to ensure it is durable and reliable. It can resist cold, impact and water. Moreover, its four light modes include ultra bright, bright, average and minimum. The top strap can be detached, and it has a built-in battery life indicator. In addition, this 4.4-ounce headlamp has an elastic headband that is ergonomic and adjustable. Finally, avid runners will love its 90-degree tilt and 100 hours battery life. Also, this headlamp can be recharged through USB.
Pros:
The USB charging is a nice feature
Waterproof
Does not bobble
You do not have to buy batteries for it
Great company service
Cons:
The headband is too large for small heads.
Recharge port on the lamp is too narrow for most cables
Takes too long to charge fully
Princeton Tec Remix LED Headlamp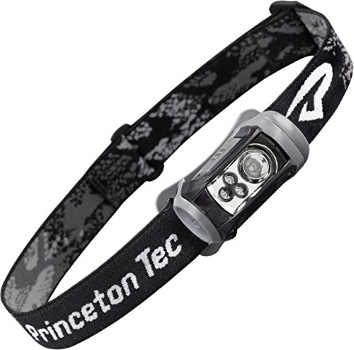 This running headlamp has a design that is versatile, compact and light in weight. Moreover, it is also water-resistant. The lamp has one Maxbright and three Ultrabright LEDs. Furthermore, these come in different colors you can choose from upon buying. Overall, this is an unobtrusive product to buy.
Pros:
Very bright light
Works well with different hats
Batteries last long
It is quite unobtrusive
Great for night vision
Cons:
Fragile battery door hinge
Bad customer service
Key Considerations When Buying a Running Headlamp
There are many factors to consider before you buy a headlamp. This is because one headlamp may not give you all the features that you want. So, you need to prioritize your needs. Below, we list some of the most important features to look for before making your purchase.
Balance: Your headlamp should not be wobbly, to ensure a steady beam. A stable headlamp also means that you focus more on your terrain than on a wobbly headlamp.
Battery Run Time: You should use batteries that are of high quality and have a longer battery life. You don't want your headlamp to go out and leave you panicky in the dark. Your batteries should last for at least twenty-four hours. Also, you need to avoid headlights that drain the batteries very fast or ones that use up batteries even when turned off.
Battery Type: The battery type is another thing to look out for. Some headlamps are rechargeable while some are alkaline-based and need constant swapping of batteries. You should always try to get a headlamp that is rechargeable and lasts long when charged. For headlamps that use alkaline batteries, you should always have spare ones.
Durability: Your headlamp should be sturdy and able to withstand impact and shock. It must also resist water. It should not be fragile to become useless because of impact, shock or moisture. Every part of the headlamp, including the battery box, must be durable.
Fit: The fitting of the headlamp mostly comes from the headband or strap. Headbands that can be adjusted are much preferred. This is because you can adjust them to fit your head or whatever else you will wear it on. This ensures comfort while running.
Light Output: Your best running headlamp should have a very bright light with several brightness levels. This is so that you can adjust it for the terrain and season. You can either choose a widespread beam or have a focused beam. Many headlamps offer both options. You may even select from the colored light options for terrains infested with insects.
Price: You should consider your budget when buying a headlamp. There are affordable headlamps that will fit right into your budget while giving you the basic features. However, if you can afford a headlamp that is durable but pricey, go for it.
User-Friendliness: Your headlamp should also be easy to use. You should not have to refer to the manual over and over. The design should be simple, easy to understand and to get familiar with.
Weight: Weight is another important factor to consider while getting a good running headlamp. It should be compact and light in weight instead of being bulky. Lightweight headlamps will help you run without focusing on the weight that it would otherwise put on your head.
Final Thoughts
In summary, running is great but can be quite risky when done in the dark, more so during the winter. Headlamps are made to light the path and to keep you safe. They are also hands-free and give you different levels of brightness for more effective and safer night runs. We hope that the products reviewed by us will make your selection process much easier and faster.