Best Budget & Affordable Running Shoes
This page contains affiliate links. As an Amazon Associate I earn from qualifying purchases.
All you need for a good run is a pair of good shoes. The importance of a good pair of running shoes cannot be better emphasized.
That's because there are several high quality, yet affordable shoes to pick from.
There is absolutely no need to get a pair of expensive running shoes while you can get the similar quality and style from the numerous affordable products available in the stores.
Quick Look at Our Top Picks:
IMAGE
PRODUCT
DETAILS

Has breathable mesh

Excellent gel cushioning

Can accommodate medical orthotics because of it removable sock liner

View on Amazon →

BEST CHEAP NEUTRAL RUNNING SHOES

BEST CHEAP NEUTRAL RUNNING SHOES

Booty construction

Stylish

ACTEVA midsole

View on Amazon →

BEST CHEAP MEN'S RUNNING SHOES

BEST CHEAP MEN'S RUNNING SHOES

Its upper has a very breathable mesh

Affordable and durable

Stylish for every day use

View on Amazon →

BEST BUDGET TRAIL RUNNING SHOES

BEST BUDGET TRAIL RUNNING SHOES

Has a soft-layered ventilated mesh

Enables exceptional takeoffs

Affordable

View on Amazon →

BEST CHEAP RUNNING SHOES FOR WOMEN

BEST CHEAP RUNNING SHOES FOR WOMEN

Midfoot adjustable saddle

Very light and sleek

Offers great stability

View on Amazon →
Best Budget & Affordable Running Shoes Reviewed
As an individual on a budget, the price of a shoe should be one of the foremost factors that you must look out for.
Being a runner on a budget does not mean you should get terrible shoes just because they come cheap.
You just have to intensify your search for items that offer great comfort, cushioning, height and durability, all at an affordable price.
There are certainly many such products out there, but not all of them offer quality.
We have therefore reviewed some of the best affordable running shoes below so that you can sift through them before making your purchase.
This budget and affordable running shoe is made from synthetic. Its rear foot gel features great cushioning and its sole is trail-specific. Also for maximum comfort and traction, it has reversed traction lugs. These features ensure durability, shock absorbance, ventilation and comfort. Above all, the removable sock liner of this shoe has enough room for medical orthotics.
Pros:
Has breathable mesh
Excellent gel cushioning
Can accommodate medical orthotics because of it removable sock liner
Cons:
Uncomfortable when worn for long
Laces untie quite often
Not durable
New Balance Women's FuelCore Nergize V1 Cross Trainer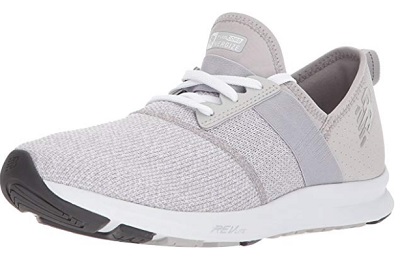 | | |
| --- | --- |
| Lightweight | |
| Comfort | |
| Breathable | |
| Value | |
These budget and affordable running shoes are made from textile. Its midsole has ACTEVA, which is one of the lightest foam compounds. Also this shoe has a good rubber sole, good bootie construction, removable insert and an EVA console that has rubber pods. Therefore, this shoe offers good ground contact. The shaft of this shoe measures about low-top from the arch. Given these points, for beauty and quality with an 8mm drop, get the New Balance Fuelcore Coast v3.
Pros:
Booty construction
Stylish
Very lightweight
Has removable insert
Makes very good ground contact
ACTEVA midsole
Cons:
Tongue crumples-up on the top of the foot
More of a slipper than a shoe
The Reebok Hexaffect Run 5.0 is made from textile and synthetic. Also it is very stylish with its hexagonal-shaped heel pillars and full foot rubber outsole.
So, this shoe provides great traction and shock absorbance as it is quite impressive and has an abrasion rubber sole and thermoplastic urethane. As a matter of fact, the shoe is made of lighter materials in order to keep it lightweight, while its breathable mesh keeps the feet dry and cool. Further, the flex grooves provide flexibility and its memory tech massage sock liner massages the feet. So if you want durable, comfortable and affordable shoes, Reebok Hexaffect Run 5.0 is the best of its kind.
Pros:
Its upper has a very breathable mesh
Affordable and durable
Stylish for every day use
Cons:
Too much padding around the ankle
Flat tongue that does not give much support
Quite tight
Made from rubber and synthetic with an Adidas brand mark label woven on its tongue, this budget and affordable running shoe is all that you need. On either sides, there are stylishly stitched leather signature 3-stripe synthetic overlays. Its outsole and midsole are injected with EVA and offers stability, while its insole has a FitFoam for great cushioning and support. Moreover, its lightweight well-ventilated mesh upper ensures that your feet are cool and dry. Finally, its nubuck overlays are synthetic and the sole is made of rubber.
Pros:
Very comfortable
Well-ventilated mesh
It is lightweight
Offers great stability
Cons:
Slippery in rainy or in damp conditions
Poor quality soles and toe area
This affordable budget running shoe is made from lightweight mesh. The sturdy and lightweight Phylon EVA foam used in its upper and midsole, offers dryness to your foot during cool and dry temperatures. That also gives great cushioning, responsive shock absorbance and impact absorption. Also the mesh overlay is no-sew and breathable, while the rubber outsole is great for traction.
Pros:
Its rubber sole provides great traction
Phylon EVA foam upper offers excellent breathability
Has responsive shock and impact absorption
Cons:
Laces get untied too often
Too narrow
Not quite durable
Made from textile with a synthetic sole, this is an excellent pair of affordable budget runnning shoes. It is sturdy enough for long distances, flexible, durable and also very comfortable. Some of the special features that this shoe offers includes a HydraMAX lining that manages moisture excellently, a FlexFilm toetip with ventilated mesh to keep the toes dry and cool, a Pro-Lock system of lacing that keeps the midfoot well locked, an interior lined by RunDry to prevent abrasion, a PowerGrid midsole and fabric for very responsive and lightweight cushioning, and an iBR+ rubber perfectly placed to add to the cushioning and durability.
Pros:
Offers very responsive and lightweight cushioning
Pro-lock lacing system locks the midfoot
Has a FlexFilm toe tip
Cons:
Improper sizing
Not comfortable to wear all day
Not durable
ASICS Gel-Kayano 24
This ASICS model is unbelievably plush and soft and incorporates ASICS' proprietary technologies to make it fit for running long-distances on concrete. The mesh upper gives greater flexibility by hugging the foot safely as it is backed by the ASICS' FluidFit technology.
It comes with the Heel Clutching System, an external structure that holds the heel in place to provide stability and keep the heel to the back of the shoe.
Kayano is known for its bouncy, springy feel empowered by the FlyteFoam midsole and its Ortholite X-40 Sock liner keeps the underfoot well cushioned. It comes with a DuraSponge that gives extra cushioning and minimizes supination and Rear Foot Crash Pad that shields the heel from harsh impact.
Pros:
Generous amount of cushioning
Perfect for narrow feet and heels
Exceptional foot support
Available in amazing style and colors
Provides super comfort
Cons:
Expensive
Quality control issues
Made from textile and synthetic, this budget and affordable pair of running shoes is a great pick. It is very stylish with colorful rubber soles and zigzag patterns on either side. The support, stability, and comfort of this high-quality pair of shoes is matchless. It is highly breathable with its mesh and synthetic upper and its TrailProtect pad are good for protecting the sole of the foot from the unfavorable landscapes. It has a removable footbed and reflects in low light. The Hyperwrap 360 Degree Fit System offers outstanding stability and a perfect fit. If you love comfortable shoes, then this pair is the one for you.
Pros:
TrailProtect pad technology to protect the sole
Has breathable mesh and synthetic upper
Reflective in low light for better visibility
Removable foot bed
Cons:
Not durable
Arch is too high
Under Armour Men's Micro G Assert 6 Running Shoe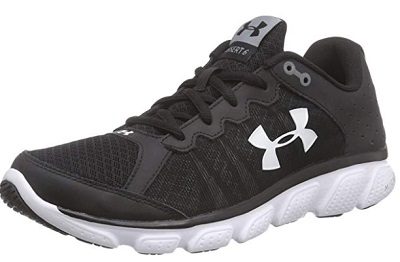 | | |
| --- | --- |
| Lightweight | |
| Comfort | |
| Breathable | |
| Value | |
This budget and affordable running shoe is made from textile and synthetic. It has very durable overlays made from leather to provide the required stability to keep your midfoot locked-in. The soft-layered ventilated mesh lies on a light foam to provide support and to absorb shock. With a full-length Eva sock liner and Micro G foam, your foot gains additional comfort, great fit, properly cushioned landings and great takeoffs. For the most part, the rubber sole and traction shield the high impact zones and ensure lightness. So this is your best bet if you are on a budget but love good quality shoes.
Pros:
Has a soft-layered ventilated mesh
Enables exceptional takeoffs
Affordable
Cons:
Quite small, short and narrow;
Not a good fit
Brooks Men's Adrenaline GTS 18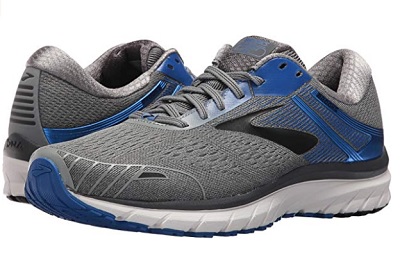 | | |
| --- | --- |
| Lightweight | |
| Comfort | |
| Breathable | |
| Value | |
The Brooks Adrenaline GTS 18 is made from synthetic and has a well-ventilated mesh, rubber sole, luxurious tongue, collar, adjustable saddle at the midfoot and a tri-density midsole. These features combine to give you a wonderful alignment and a great running experience. Despite its great cushioning and stability, this shoe is very lustrous and light.
Pros:
Midfoot adjustable saddle
Well-ventilated mesh to keep your feet cool and dry
Very light and sleek
Cons:
Uncomfortable to wear all day
Quite narrow toe box
Rubber detaches from the bottom
Key Considerations When Purchasing the Best Cheap, Budget & Affordable Running Shoes
There is a lot to keep in mind while purchasing affordable running shoes. Some of the below-listed features are worth looking for.
Cushioning – Shoe cushioning is very essential in giving the runner a lot of support. That is to say that if the cushioning is too hard or too soft, it gets very uncomfortable for the runner. So the best affordable running shoes should offer support and stability to the runner.
Flexibility – Your feet need space to stretch and your muscles will need to flex while running. So you need to get the right running shoes that fit your feet type or shape while you are running or walking. The use of rigid running shoes will limit your motion, speed, and overall performance and even strain your tendons.
Breathability and moisture absorbance – A well-ventilated shoe ensures that the runner's feet remain cool and dry for optimum performance. Therefore, the significance of getting running shoes with a good mesh system cannot be denied.
Lightweight – The lighter the running shoe, the easier your motion will be. Heavy running shoes limit performance and slow down the runner. On the other hand, ultra lightweight shoes are made from high-quality, expensive materials, so durability should be the least of your worries. Given these points, at times these shoes turn out to be quite expensive but are well worth the price.
Durability – The best affordable running shoes do not come cheap and so these must last for a while before showing signs of wearing out. Every material in the shoe, that is the outsole to the midsole, and also the insole should be made of durable materials. As a matter of fact, getting running shoes with replaceable insoles is always better. Above all, getting yourself a pair of durable shoes also saves your money. That's because you have to go shopping for a new pair of running shoes, every now and then.
Advanced technology – There are new improvements that come up every day in the technology used to manufacture running shoes. So it is always better to keep a track of new products by going through reviews to ensure they have some of the latest features that will let you enjoy your favorite sport. These technological advancements in your prospective affordable running shoes should include improvements in cushioning, flexibility, support, traction, lightweight, breathability, and durability.
Your foot type – It is important to get the right affordable running shoes for your feet type in order to get maximum support. Some feet require low-arched shoes, while some require high-arched shoes. Some feet are wide, while others are narrow. Also, for the most part, getting the wrong running shoes may cause injuries or lower your performance. To avoid that, it is also important to test these shoes before you buy them.
Design – You will be cheating yourself by buying unattractive shoes just because they are cheap. The design of the shoe should match your foot type, the kind of race you are taking part in, the kind of landscape you expect to encounter, your general requirements and your taste. You really can get good running shoes at an affordable price.
Final Thoughts
As shown above, regular running is a great exercise to stay fit in the long run. Moreover, it is an economic fitness activity that only requires a good pair of running shoes. However, you do not have to spend all of your money on a pair of running shoes, neither do you have to settle in for a pair of terrible shoes because you are on a tight budget. That's because there are several great affordable shoes out there that have a lot to offer in terms of performance and support.