Best Shirts For Running Reviewed
From losing weight to keeping you mentally sharp, running provides a wide range of benefits. Running, however, requires a lot of your mental and physical strength.
Therefore, in order to enjoy running properly, you need all the help that you can get.
So, having the best running shirt will not only motivate you to continue with your daily routine but also enhance your performance.
Quick Look at Our Top Picks for Best Shirts For Running
IMAGE
PRODUCT
DETAILS

Very good in moisture absorption

It's a loose-fit

Of lightweight material

View on Amazon →

Good compression to the body

Stylish neckline design

Comes in wide variety of colors

View on Amazon →

Has a perfect fit

Very stylish

Quick drying

View on Amazon →

Has a reflective logo

Offers protection from ultraviolet rays

Perfect to absorb moisture

View on Amazon →

Odor-resistant

Offers perfect mobility

Allows good breathability

View on Amazon →
How to Choose the Perfect Running Shirt
There are so many varieties of running shirts that are available in the market today.
That makes it all the more challenging for consumers to differentiate between good and bad. Below, we list some essential characteristics that a running shirt must have.
You can use them as yardsticks to find yourself a good running shirt.
Comfort – You need to figure out a shirt that you are comfortable in. If you feel comfortable in a loose shirt then there is no need to buy a high-compression shirt. However, it does no harm to try out some new options though.
Moisture absorption – A running shirt must be capable of absorbing the moisture because it's extremely uncomfortable to run with sweat trickling down your body. That's why you require a shirt that will keep you dry and comfortable.
Body compression – As much as this is a matter of preference, it is important to understand why a shirt with compression capability is the best one for you. A shirt that offers good compression is ideal because it enhances your performance. Therefore, if you are serious runner such a shirt will help you conserve energy and improve your endurance.
Breathability – As a runner, you need a shirt that will allow better air circulation. Without this, you will use more energy and at the same time lose a lot of body liquid through sweat. The material of the shirt must support good ventilation to qualify for a running shirt.
The weight of the shirt – The weight of the shirt is yet another important factor which can reduce or improve your performance. We no longer have to worry about running in heavy shirts. Therefore, pick a brand that offers a very light shirt without compromising the quality.
Quality – Some people take this point as the most important one. With so many options in the market, you cannot afford to spend your money on a shirt that is of low quality. Look out for warning signs such as poor workmanship or customer care. All these are signs pointing to a poor quality shirt.
Our Top Recommended Shirts For Running
You will come across many different types of running shirts in the market. However, you are unlikely to find better options than the ones we recommend below.
DRI-EQUIP Long Sleeve Moisture Wicking Athletic Shirts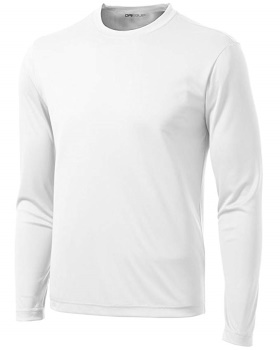 This is the best running shirt and has everything that an athlete would want in a shirt.
First of all, the shirt is a loose-fit giving extra room for better air circulation. Being a loose-fit, the shirt also allows you to carry out various workouts without the feeling of stiffness.
The shirt is made of winking material which comes in handy for sweat absorption. If your worry is having a shirt that sticks to your back, you can relax because with this product your problems are no more.
To top it all, this shirt is light-weight and perfectly designed for running. The only downside of this shirt is that it can run too big in size especially for those with small shoulders.
Pros:
Very good in moisture absorption
It's a loose-fit
Of lightweight material
Cons:
Does not fit to size for some
It is not a compression shirt
It is long-sleeved
NIKE Legend Short Sleeve Tee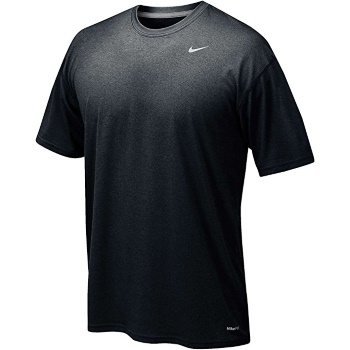 This is one of the best running shirts from a polyester material that gives good compression to the muscles. It also enhances your performance.
Furthermore, the shirt has perfect seaming, thus protecting your body from sores that come from constant chafing.
The shirt gives you a stylish look. The neckline design also makes it more stylish. Lastly, the shirt has perfect moisture capability.
Pros:
Good compression to the body
Stylish neckline design
Comes in wide variety of colors
Cons:
Some users complained that its too tight
The material is very thin
The shirt is very long
Baleaf Men's Short Sleeve Running Fitness Workout Compression Base Layer Shirt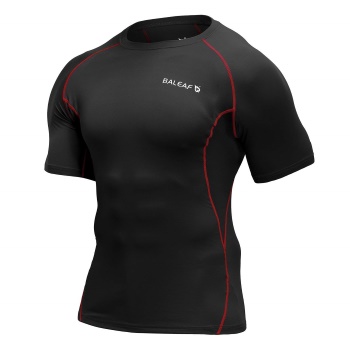 This is the best running shirt for compression to the muscles.
At the same time, it also contours your body for a well-defined look. Fortunately, the compression of the shirt does not adversely affect its breathability.
To top it off, the shirt is long-lasting, so you can be sure that this is a good investment. Try ordering a size bigger than yours just to be on the safer side.
Pros:
Has a perfect fit
Very stylish
Quick drying
Cons:
Users complain of it being too small
Has quality issues
Neleus Men's Dry Fit Mesh Athletic Shirts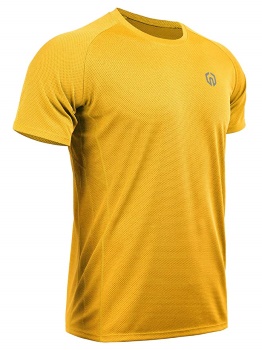 This is the best running shirt to run in poorly lit regions as the logo is made of reflective material. For that reason, motorists will spot you from a far-off distance.
The shirt is ideal for extremely high temperatures since it helps protect your skin from ultraviolet rays. Furthermore, even if you are prone to over-perspiration,  this shirt will work just fine.
Not only will it absorb the moisture but it will also dry-up quickly. As a result, it will keep you comfortable. Don't be afraid to mix this shirt with other laundries as it is 100% suitable for machine wash.
Pros:
Has a reflective logo
Offers protection from ultraviolet rays
Perfect to absorb moisture
Cons:
Doesn't fit perfectly
Some say it has poor workmanship
The neckline is too big
A4 Men's Cooling Performance Crew Long Sleeve Tee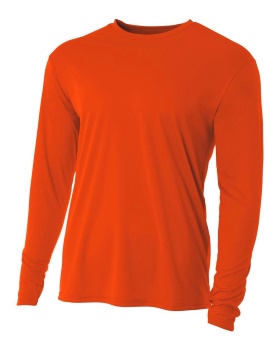 This is the best running shirt that guarantees mobility. The shirt is neither too tight to leave you feeling uncomfortable nor too loose to affect your performance.
Moreover, the shirt also keeps stains away,  which is a common problem with most brands. With just one wash you can be sure of a clean, good-as-new shirt.
It is also odor-resistant and you do not have to worry about making others uncomfortable. The shirt will also serve you for a long time as it's extremely tough.
It will also not wear down easily. Be aware of size issues while buying this shirt because you might end up getting a size bigger or smaller than the one you ordered.
Pros:
Odor-resistant
Offers perfect mobility
Allows good breathability
Cons:
Size misrepresentation
Heavier than usual
Users complained of poor dye quality
Under Armour Women's Tech V-Neck Twist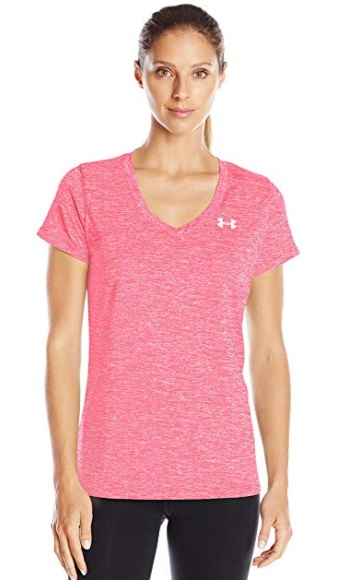 This is the best running shirt when it comes to adding a feminine touch to your workout outfits.
Its super soft texture gives a very comfortable running experience. The shirt also has a deep V-neck which makes the shirt very stylish.
The V-neck, however, will not affect your mobility as it fits onto your neckline. A very big plus is that this shirt does not become transparent even when wet.
Hence, this is perfect for women. The shirt, however, is quite loose. Thus, this isn't ideal for those who prefer compression shirts.
Pros:
It is not transparent
Very soft
Stylish neck design
Cons:
It is loose
The fabric is too thin
Colors provided are not natural
Under Armour Men's HeatGearArmour Sleeveless Compression Shirt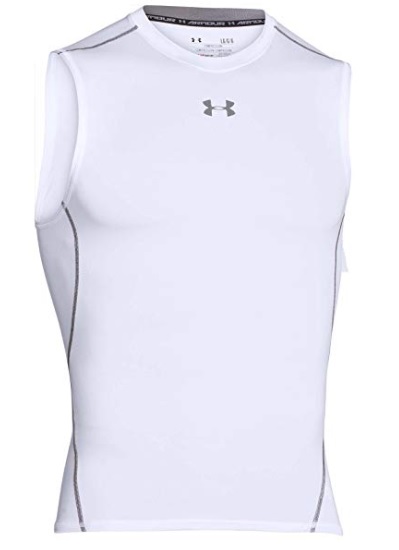 This is one of the best sleeveless running shirts designed to keep your arms free.
The shirt also offers very good compression to the body. If you have well-built muscles then this shirt is likely to fit you. It is as if it was tailor-made just for you.
Moreover, the stretch mesh under the arm strategically allows excellent ventilation. This consequently drives away bad odor.
The shirt also uses the UPF 30+ technology, which helps to protect your skin from ultraviolet rays.
Pros:
Allows for perfect movement
Great ventilation
Dries-up pretty fast
Cons:
It's of poor quality material
Users complained of a tight neck
ASICS Women's Ready-Set Tank Top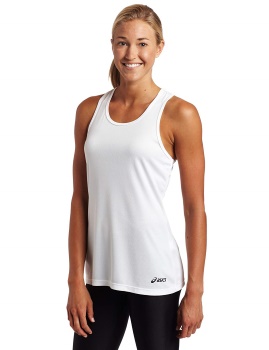 This is the best running shirt and is perfect for ladies who want more air movement while running.
This shirt will not leave you feeling naked. But, at the same time, you will not feel like you are dressed for winter. The shirt is a little loose and so it won't stick to the back once you begin to sweat.
Also, the shirt is long enough to keep your hips covered. This shirt is definitely not the best option for those who prefer shirts that are mid-sized.
Furthermore, the shirt exposes the underarms a lot more than you would want to. This is especially the case if you pick larger sizes.
Pros:
The length is ideal to keep your hips covered
Provides adequate air movement
Perfect moisture absorption
Cons:
The underarm exposes too much skin
It's very tight on the waist
Different colors come with different size options
Tesla Mens Short Sleeve T-Shirt Cool Dry Compression Baselayer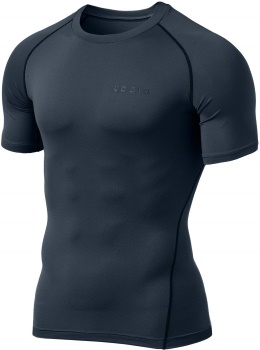 This is the best running shirt for those with perfect muscles.
It offers much more compression than most other brands. However, the tightness will not make you feel uncomfortable. On the contrary, it's quite the opposite.
The material is relatively soft. For that reason, it is quite comfortable on the body. Also, this shirt is very good at absorbing moisture.
Moreover, the shirt reaches just below the waist and so will not fly while you run. This shirt is for a tight fit. Thus, don't be surprised to find your order to be a bit smaller than what you expected.
Pros:
Offers best compression
Keeps you dry
Does not fly while you run
Cons:
Most people found their orders too small to fit
Can be uncomfortable for those who prefer loose shirts
Opna Women's Short Sleeve Moisture Wicking Athletic Shirts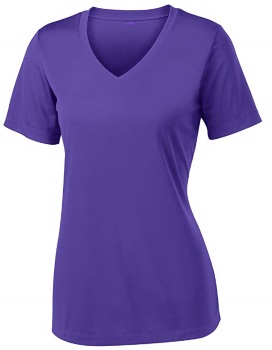 This is the best running outfit for women that combines performance with style.
This shirt ensures that you no longer need to go for your morning run looking dull. Furthermore, the shirt will, without a doubt, boost your confidence.
It is a pre-shrunk outfit which allows you to perfectly adjust it to the shape of your body. Moreover, the material is super soft and provides perfect comfort.
The shirt also helps you perform better by keeping you dry at the same time. The shirt is breathable and is not wrinkle-free, meaning you will have to iron it after every wash.
Pros:
Perfectly fits to the size of the body
Very beautiful with perfect design
Super soft material
Cons:
Gets wrinkled after every wash
Users complained that the shirt was very thin
People complained that the material looked cheap
Taking Care of Your Running Shirt
We often end-up blaming the manufacturer for creating a 'cheap' product if our clothes get worn out.
However, while they can carry a part of the blame, it is also our responsibility to take care of our clothes. Therefore, there are a few tips on how to maintain your running shirt.
Wear the right size – By choosing to wear a shirt smaller than your body you risk ruining its fabric. Also, your shirt might stretch more than its maximum limit thereby reducing its compression ability.
Use the right washing – Normally running shirts come with manufacturer guidelines on how to wash them. If you choose to ignore these instructions you might ruin your shirt even before you get to enjoy it.
Avoid sharp objects – Running shirts are lightweight and because of this feature, most of them can easily tear if touched with sharp objects. So, avoid having long nails. You do not want to rip your shit just from scratching yourself.
Have several shirts, rather than one – The more frequently you wear your shirt, the more you are going to wash it. Regular washing will eventually reduce the shirt's quality. Thus, we recommend that you buy several shirts that you can use interchangeably. This will help to increase the durability of your shirts.
Final Thoughts
In summary, choosing the right running shirt will boost your confidence and even help you save energy.
At the end of the day, a good running shirt will leave you feeling proud of your efforts.
It will also take away distractions in your workout. So, take the time to try one or more of the above-listed shirts. We promise you that your money will be well spent.