Best Weighted Vest for Running
Keeping their body fit and healthy can be hard to achieve for most people. With the little time they have in a day, allotting time to train, exercise, or run can be hard. This is why using your time efficiently is necessary. You can do your exercise routines in a short time and still achieve the body that you want to have. The only thing you have to do is to find the best gear. A weighted vest running gear is one of the best items that you can have to help you use your time efficiently.
Quick Look at Our Top Picks for Best Weighted Vest for Running
IMAGE
PRODUCT
DETAILS

Intraskeletal webbing

Secure Velcro straps for a custom fit

Very durable

View on Amazon →

Lightweight and durable

Velcro side straps

Comfortable fit

View on Amazon →

Made from soft and lightweight material

Rugged and durable

Has a designated pouch for MP3 or cell phone

View on Amazon →

It is odor resistant and sweat resistant

Lightweight, stretch fabric

Unisex design

View on Amazon →

It comes in a compact design

The item has a camouflage color that looks unique

It is equipped with Velcro locking system

View on Amazon →
Best Rated Weighted Vest for Running Reviewed
There are a wide variety of brands to choose from when it comes to purchasing weighted vest. Every vest caters to everyone's specific needs. We list some of the best below.
VForce Weighted Training Vest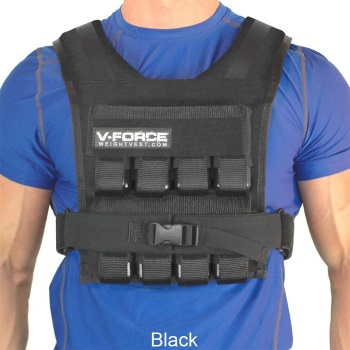 Standing as one of the best-weighted vest found in the market, VForce Weighted Training Vest is durable, heavy duty, and is made out of high quality materials. It suits gym players, fitness freaks, and athletes best. It comes with a lot of great features. Furthermore, it has a dual layered nylon that reinforces its fit in your body. Topped with reflection straps, it also has a hydration shoulder. Moreover, the VForce Weighted Training Vest can also help you work your abdominal muscles while keeping the weights off your stomach.
Pros:
Intraskeletal webbing
Secure Velcro straps for a custom fit
Very durable
Cons:
Can be a little uncomfortable to use when running
Some customers feel that the Velcro belt is a bit too long
CAP Barbell Adjustable Weighted Vest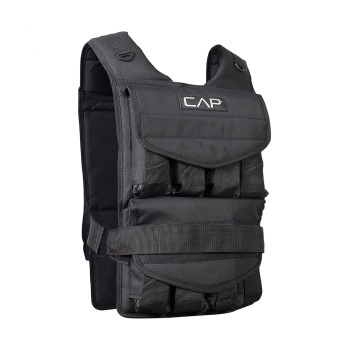 This weighted vest by CAP Barbell is one of the most comfortable weighted vest that you can have. It comes in a breathable mesh and has adjustable clips that can help you get a good fit according to your body type. You can also adjust the weights of the vest, with the steel shot packets that you can add or lessen before you go for a run.
This vest is ideal for pull-ups and dips. It remains secure while you exercise while providing full upper body coverage. Moreover, it can add 40 pounds of resistance to any workout you might be doing. This jacket sits securely on your torso making it surprisingly comfortable.
Pros:
Lightweight and durable
Velcro side straps
Comfortable fit
Cons:
Some people claim that it is slightly bulky
It can be very hot and sweaty when used for an extended period
Tone Fitness Weighted Running Vest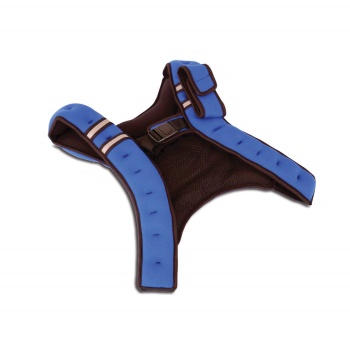 This vest is made out of lightweight high quality material. It helps you boost your strength as you are carrying weights while ensuring comfort. This vest is designed to control temperature, which makes it ideal and comfortable to use in hot weather. Furthermore, it will not leave you worrying about sweat and odor build up. Despite this vest being tremendously lightweight, it is rugged and very durable. You can use this for a long period of time as you train.
Pros:
Made from soft and lightweight material
Rugged and durable
Has a designated pouch for MP3 or cell phone
Cons:
Can cause some strain on the lower back
Some customers complain about poor fitting
Hyperwear Hyper Vest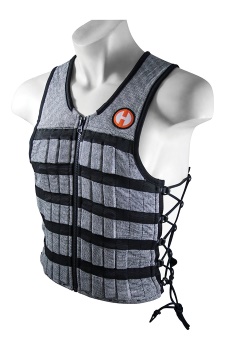 This weighted vest by Hyperwear is one of the best gear that you can add into your body weight training, endurance workouts, and weight lifting routines. It comes in a patented design that allows you to easily add weight as you progress with your training. You can also customize it according to your needs.
Aside form this, it is very flexible and adjustable. The features will keep you from worrying about the gear distracting you as you run. It does not interfere in your movements, unlike other weighted vests.
Furthermore, it is made from a unique stretch fabric that draws off sweat as it provides a ventilated, lightweight material. Its thin profile and laced sides allow the user to move freely while exercising. This jacket offers 10 pounds of evenly distributed weight.
Pros:
It is odor resistant and sweat resistant
Lightweight, stretch fabric
Unisex design
Cons:
Some users report that weights break through the jacket after several months
Some customers complains about its durability
Cross 101 Adjustable Weighted Vest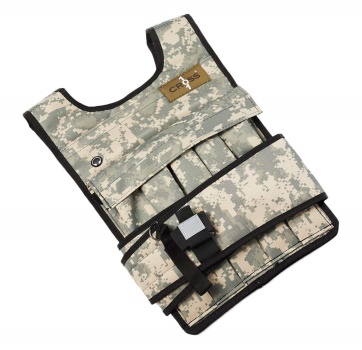 This Cross 101 running gear comes in an impressively compact weighted vest with a cool camo design. It features numerous pockets to give you place to snug in your keys and a space that can add resistance. From the collarbone down, this vest measures 15 inches in length and 13 inches in width. It comes with 10 pieces of 4-pound iron weight. Moreover, this allows the user to use progressive resistance necessary to build up your weighted jacket's strength. In addition, it sports a one-piece design with an attached belt featuring the Velcro locking system. This makes putting on the jacket easier with a customizable fit.
Pros:
It comes in a compact design
The item has a camouflage color that looks unique
It is equipped with Velcro locking system
Cons:
Can get very hot when used for an extended period
Some customers complain about its quality and durability
Best For Women: Empower Women's Weighted Fitness Vest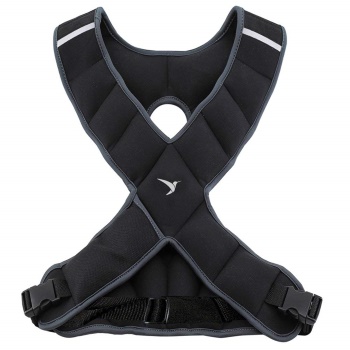 This weighted fitness vest by Empower Women comes in a very light and form fitting X shaped jacket. It has a design that is meant to fit comfortably on a woman's body.  This vest is constructed from soft, ultra-flexible neoprene fabric. It provides evenly distributed weights that challenge any lady's workout routine without causing any discomfort on the lower back. Moreover, the Empower Fitness Vest features a designated pouch to hold your mobile devices while you're in the middle of your fitness routine.
Pros:
Neoprene fabric construction
Even weight distribution
Designated pocket for iPod or cell phone
Cons:
No option to increase resistance
Some customer complained that the buckle broke after few use
ZFOsports Weighted Vest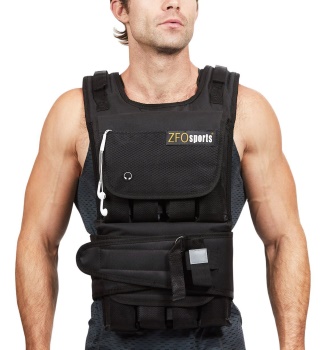 This ZFOsports Weighted Vest provides a huge range of adjustable resistance so your options are somewhat infinite. This jacket is designed to fit on your body securely with its Velcro strap. Moreover, the ZFOsports weighted vest is secured by a Velcro strap that makes the design a one-size fit all vest. The user won't find it uncomfortable at all while working out. This is because it is breathable and lightweight, in addition to its top-quality stitching.
Pros:
Extremely adjustable resistance
Adjustable resistance from 4 to 60 pounds
One size fits all
Cons:
Total body coverage gets very hot
Some customers complain about its durability
Everlast Weighted Vest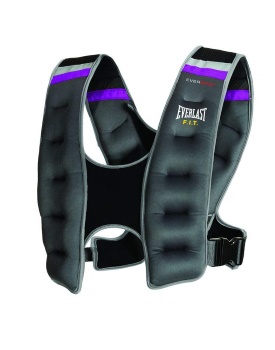 This vest is ideal for running due to its material that makes it very breathable and comfortable to wear. It also takes advantage of the Evergrip technology to secure the shoulder straps in place. The textured panels on the underside of the vest hug the jacket to the wearer's frame, which minimizes any lateral movement while working out. Additionally, the Everlast weighted jacket is slim enough where others won't notice you wearing it. It uses weighted beads and sand for added resistance while the Neoprene fabric does a good job of absorbing sweat.
Pros:
Made from Neoprene fabric
Adjustable shoulder straps
Sweat absorbent
Cons:
Women may not find it comfortable when running
There are some complaints that the item ripped easily after a few use
Zeyu Sports Walking Fitness Weighted Vest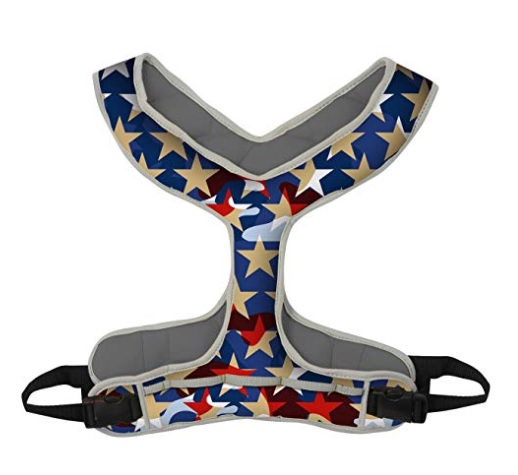 This Weighted Vest by Zeyu Sporst comes in an X shaped vest. The design is specifically for women. It has a minimalist design. The jacket is also constructed from synthetic rubber for a durable yet lightweight fabric. It is very ideal for walking and gym exercising. Furthermore, the Zeyu Sports Walking Fitness weighted vest offers an evenly distributed 8 pounds of resistance around the jacket to allow balanced mobility. Moreover, it is fully adjustable to fit everyone of all sizes. It also comes with a quick release buckle in case of an emergency. This vest will not strain the lower back or pull the user's shoulders forward.
Pros:
Evenly distributed resistance
Comes with a quick release buckle
Made from synthetic rubber
Cons:
Some customers complained that it hurts their shoulders when using
Bounces around a little when running
HumanX Weight Vest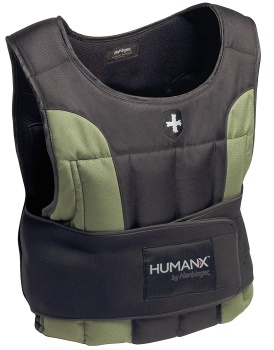 HumanX Weight Vest is a Velcro strap jacket that gives full torso coverage. Its design contours your body as you work out. It is snug, which means there is little bounce.
The fit of this weighted vest is very comfortable. You can insert weights on the side of the vest through the neoprene pockets. It provides internal padding. Furthermore, the shoulder straps add comfort. They additionally have a soft lining. All of the seams at the edges of the vest are low profile and does not rub your skin.
Moreover, the HumanX weight vest offers a resistance of 1 pound. This is so you can increase the weight as you progress on your workout. This jacket sports a one size fits all thick belt strap to secure on your body.
Pros:
Patent pending
20 pounds of incremental resistance
Flex contour fit design
Very little bounce when running
Cons:
No padding on shoulder straps
Some customers complain that it causes stain in their shirt.
What Is A Weighted Vest?
A weighted vest is one of many types of equipment used alongside exercising. It is technically a vest made from heavy material. It is equipped with small pockets that you can fill with other weighted objects. This is done so that when you are doing your fitness routine you can feel the noticeable addition of extra weight.
It is a tool for a specific kind of fitness workout that focuses on intense burning out of calories, which is called a "power workout." Due to the nature of adding more weight to your fitness program, research shows that having this extra load during your workout requires the body to generate more force. This is basically your body reacting to the stimulus. It leads to improvements in strength and power. Not only that, it also contributes to burning more calories and intense fat loss.
The idea behind the weighted vest is that it carries the concept of resistance. Resistance is the impeding, slowing, or stopping effect exerted by one material thing to another. A person who's sporting the weighted vest is challenged by a great amount of resistance because of the additional weight.
Due to this, you'd naturally have to exert more effort until your muscles adjust to the strain or resisting force. This is what most people like about the weighted vest, as it really helps in shedding off those extra weights. With that knowledge, step up your work out game and get in shape.
Benefits Of Using A Weighted Vest
Boost fat burn – It is a dream for most of us to be able to burn those unwanted fats.  Walking or jogging on a treadmill might seem like the best way to lose weight. But, studies have shown that it is actually one of the least effective way —that is unless you're wearing a weighted vest.
Increase muscle and bone strength – We are not getting any younger, so we have to face the reality that our bones and muscles are starting to weaken as years go by. This can lead to degenerative diseases such as osteoporosis. This may be normal as we age but we can still prevent this.
Adding a weighted vest to your frame is a way of pushing your muscles to grow to your "new" weight. But it doesn't stop there! Your bones respond to the strain brought by the increased weight, which helps increase bone mass. This makes an overall stronger muscular and skeletal system.
Boost cardiovascular benefits and overall breathing – Lifting weights, aside from running and skipping, is another form of cardiovascular exercise. When you lift weights, your heart rate tends to increase significantly and may cause your breathing to fall short. This is because adding more weight increases energy cost. In this situation, this increased need for energy sends the cardiovascular system into a gearshift, making the heart and lungs stronger.
Boost core strength – This is one of the most common reasons why men and women workout: to have abs. In order to get one, you need to know the proper core training to achieve a jaw-dropping abdomen.
Using a weighted vest while doing your core routine might seem difficult, but it is in some ways easier than it looks. The additional weight will wake up your abdominal muscles as it feels pressure. This will, therefore allow your abdomen to carry and balance the increased weight of the load.
Factors To Consider When Buying A Weighted Vest
Whenever you feel like stepping up your workout routines, it is always a good time to invest in new equipment that will most likely offer you significant improvements. Here are the things to consider when buying weighted vests:
Quality & Material – Everyone wants the best out of everything. So, quality should be the number one priority. You don't want to have buyer's remorse afterward. You should check what the outside is made of and if the material is sweat and tear resistant. Sweat builds up on fabric. This can cause bacteria growth, which is highly transferable to the skin upon contact. Learn which fabrics are anti-bacterial or anti-microbial. Also, you must make sure the weights are made of coated metal. In that case, buying trusted brands is highly recommended.
Price – Let's face it, price, if not the most, is one of the very first things we check when we buy a certain product. Practicality is sexy. However, we can't have the best of both worlds. If you want to have the best, you have to pay the right price.
Adjustability & Accessories – Another thing to consider when purchasing a weighted vest is if it is adjustable and if it comes with accessories. An adjustable weight vest is very practical. This is because you'd need to reduce and add the amount of weight while working out. You have to think about whether or not it's going to be easy when adjusting weights. This is a big factor in working out.
Furthermore, you should consider the types of accessories that can be added to the weighted vest. If you are someone who uses your phone often, then you might want to check whether it comes with a pocket. If you still want to look fashionable while working out, check if the weighted vest comes in various colors or have reflective strips for late night runs.
Fit & Comfort – This is a very important thing to keep in mind. Despite how much money you spend for a weighted vest, if it doesn't feel comfortable and doesn't fit you well, is it even worth it? If your equipment doesn't feel good, then it could affect your focus, therefore, making you less productive.
If you're purchasing the item online, then trying out the weighted vest is nearly impossible. Try finding pictures of people sporting it. You're the only one who knows your body best.
Weight – Lastly, you need to know how heavy the weighted vest is by itself and how much weight comes alongside it. Most people tend to estimate how much they weigh. The weights in the vest must be evenly distributed. They must allow you to put them in a different position. This is in case you need to adjust them once you deem them uncomfortable.
You also have to use the vest in the long run. As you progress, you'd definitely grow stronger so make sure that you get a vest that is perfect for your current physique. A weighted vest that is too light is no good. Also, if too heavy, it will likely cause you injury.
Final Thoughts
When working out, there are various gear available to aid people to achieve their desired physique. People with interest in this field want to be more productive. They can greatly benefit from using these weighted vests. They can amp up their fitness routines by using a weighted vest and can use their time efficiently.
If you're the type of person who enjoys exercise, undergoes a fitness training program or merely likes to jog on a daily basis, these products are for you. It will help you achieve the physique that you want, but also help you make the most out of your time.