Best Insoles for Running
Insoles have come a long way in recent years. Which is the best insoles for running?
Continue below as we discuss the newest and best insoles for running on the market today.
Quick Look at Our Top Picks for Best Insoles for Running
IMAGE
PRODUCT
DETAILS

Affordable

Offer excellent comfort

Have honeycomb design for absorbing stress and impact

View on Amazon →

The most versatile micro-sized orthotics

Great for overpronation, Plantar Fasciitis and fallen arches

Washable and reusable (Gets sticky again after washing)

View on Amazon →

Have great odor control

Very lightweight

Comfortable

View on Amazon →

BEST TRAIL RUNNING INSOLES

BEST TRAIL RUNNING INSOLES

Customizable

Quite affordable

Protect the feet and legs from shock

View on Amazon →

BEST SHOCK ABSORBING INSOLES

BEST SHOCK ABSORBING INSOLES

Quite affordable

Great for relieving stress

Very comfortable

View on Amazon →
Best Rated Insoles for Running Reviewed
Insoles, sometimes called footbeds or inner soles, are usually bought separately and inserted into a shoe to provide better fit, comfort, and warmth. Therefore, using the best gel insoles for your running shoes will be one of the best decisions you can make as a runner. For greater assistance, here are some of the best gel insoles to insert into your running shoes.
Envelop Gel Insoles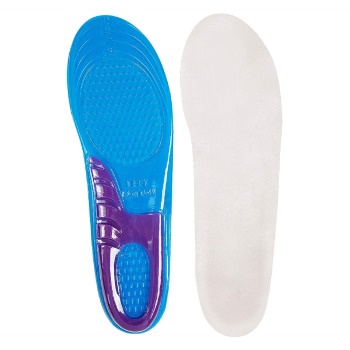 Envelop Gel Insoles are full length and are a honeycomb design for impact absorption and stress reduction. Your arches receive much-needed support and stability with the firm gel. They also have an antimicrobial construction that is lightweight, breathable, durable and very good at eliminating odor.
As a result, it prevents the growth of microbes. These affordable insoles are great for relieving pain. Moreover, they provide 24-hour comfort for people of all fitness levels, especially runners.
Pros:
Affordable
Offer excellent comfort
Have honeycomb design for absorbing stress and impact
Have antimicrobial construction for eliminating odor
Lightweight
Cons:
Have limited options for shoe sizes
SOUL Insole – Shoe Bubble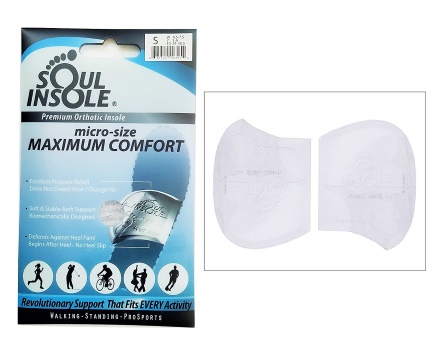 These gel insoles are micro-sized and are bubble and polyurethane gel. They will give you incomparable comfort, support, and balance while relieving pressure and pain. The shoe's orthotics are also very versatile and will fit into most shoe types.
Furthermore, they will mold to your feet in a custom-like manner and give your arch the perfect alignment for a great running experience. The squeezable foam and sturdy plastic are also made with the right amount of support and provide additional balance and comfort. Consequently, customers love how the adhesive gets 100% sticky again after rinsing.
Pros:
The most versatile micro-sized orthotics
Great for overpronation, Plantar Fasciitis and fallen arches
Washable and reusable (Gets sticky again after washing)
Very comfortable
Offers great arch support
Cons:
They start getting flat after a short while
Takes time trying to figure out the right placement in individual shoes
Gel Shoe Insoles by ViveSole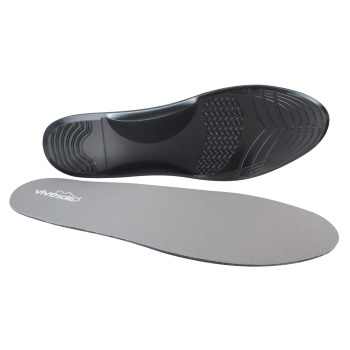 These gel insoles run full length and are lightweight silicone gel. Well-cushioned, flexible, easily removable and washable, these insoles will ensure you enjoy comfort as long as you are wearing them. They are easily trimmed for a better fit and can also be worn easily in many shoe styles.
Moreover, they are well cushioned enough to relieve pain, pressure and reduce fatigue. With their antimicrobial top material, they are totally breathable and easily get rid of odors. Additionally, they are ergonomically designed to absorb shock, support any foot arch type. The shoes also provide stability and durability. As a result, any runner can have an effective run.
Pros:
Have great odor control
Very lightweight
Comfortable
Washable
Durable
Cons:
May not be very suitable for tight running shoes
Cuttable Gel Insoles by HLYOON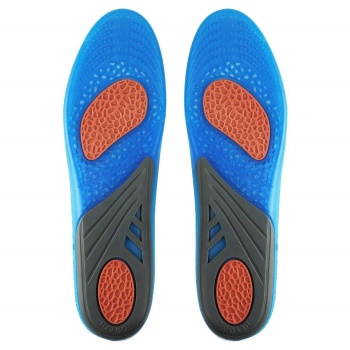 Cuttable Gel Insoles by HLYOON run full length and have reinforced heels to treat heel pain and spur symptoms, plantar fasciitis, and foot callus and corn. They also protect the feet from sport-related injuries. Furthermore, they are suitable for everyday use. Highly durable and protective, these gel insoles also protect the feet and legs from wear/tear, shock reduction and pressures. These insoles are also quite easy to customize and fit into different shoe types.
Pros:
Customizable
Quite affordable
Protect the feet and legs from shock
Provide relief from different foot conditions
Very comfortable
Spenco Gel Comfort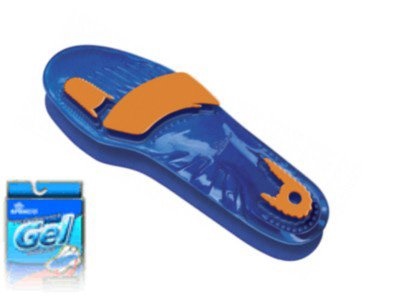 Spenco Gel Comfort run full length and are rubber and thermoplastic gel. They are typically anti-fatigue mats with antimicrobial construction that helps to get rid of odors. Certainly, this is the best choice for people who spend most of their time on their feet or long-distance runners.
The shoes also provide contoured support and are very comfortable. Most of the comfort and pain relief comes from the extra padding at the heel of the shoe. When the heel strikes, you can be sure that these insoles will keep you secured and protected from shock and ball foot pain.
Pros:
Quite affordable
Great for relieving stress
Very comfortable
Have good antimicrobial construction
They protect from shock and ball foot pain
Cons:
Not very durable
They are quite thin
Dr. Scholl's Active Series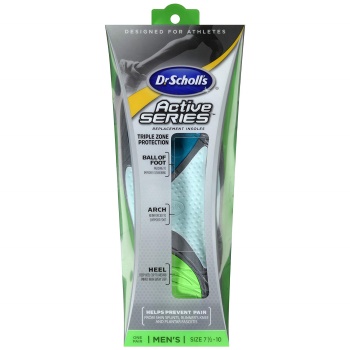 These gel insoles run full length and are for runners with various foot conditions or ailments. They provide relief for people with shin splints, plantar fasciitis, and other running-related injuries. Moreover, they provide triple-zone protection to the ball of the feet, arches, and heels.
The ball of the feet is also well padded to provide comfort, balance and excellent cushioning. Additionally, the arches are reinforced to offer support no matter the arch type you might have. The heel cup is deep enough to protect your feet and legs from shock. Furthermore, the odor is efficiently reduced. As a result, your feet will be left smelling fresh and cool with the unique SweatMas technology.
Pros:
You can trim to get a perfect fit
Very comfortable
They get dry quickly
Fights odor effectively
Provides relief for different foot ailments
Cons:
Some customers wish the arch support could be higher
They are noisy
Bringsine Massaging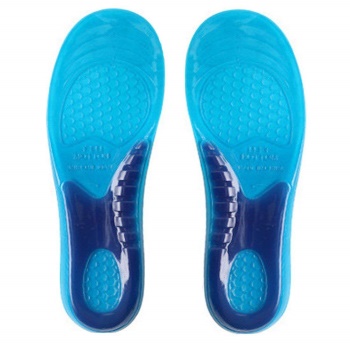 Bringsine Massaging run full length and are high quality non-toxic, crystal-clear silicone material. They offer full-length arch support, are customizable and have soft memory foam. You can be sure of shock absorption, improved strength and good balance. Furthermore, the insoles will alleviate the pain at the forefoot and heel .
These insoles are also antiperspirant, anti-bacterial, anti-slip and washable. As a result, your feet will stay fresh, dry and well-balanced. The rebound these insoles give are also instant and the cushioning is an added advantage.
Pros:
Can be trimmed to size
Antiperspirant
Made of anti-slip material
Antibacterial
Washable
Cons:
The insoles need to be cut, or they will push up into your shoe
The cushioning at the toe base is not sufficient for some customers
Too thick and make your shoes too tight
Sof Sole Neutral Arch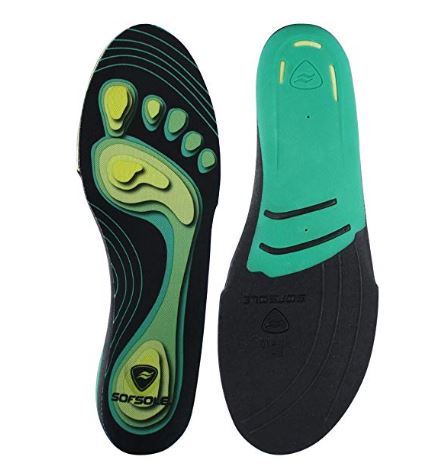 These gel insoles run full length and have dual-gel pads in the heel and toe areas. They have gel and foam hybrid construction that help to protect the feet from impact while running. They fit all foot structures and arch support requirements, as well as provide comfort and stability.
Furthermore, these shoes are great for all weather conditions. These gel insoles have been treated with Hydrologix for drying up moisture speedily. As a result, your feet won't become unstable and wet. Though quite expensive, these customizable insoles will give you maximum comfort and support for an efficient run.
Pros:
Great arch support
Very comfortable
Customizable
Has hydrologix technology for quick drying
Equipped with dual gel pads
Cons:
Not very durable
Expensive
May be too thick for some shoes
Speedfeet Sport
These gel insoles run full length and are medical silicone and velvet. They are great at relieving stress, pressure on the foot, and pain. They also offer very good rebound, comfort and moisture absorbance to keep your feet very healthy. Additionally, the toughness of the silicone material used in manufacturing these insoles will ensure long-term usage without blisters.
These inexpensive insoles also have massaging divots for relief and more comfort. Moreover, these insoles are very good for runners with foot conditions like plantar fasciitis. They are also quite flexible and suitable for different indoor and outdoor activities for the young and old.
Pros:
Fights blisters effectively
Very affordable
These are good at keeping the foot stabilized
Very good for foot conditions like Plantar fasciitis
They absorb moisture well
Cons:
They are hard and rigid
The arch could be higher
Too big – require too much trimming to fit
Powerstep Pinnacle Shoe Insoles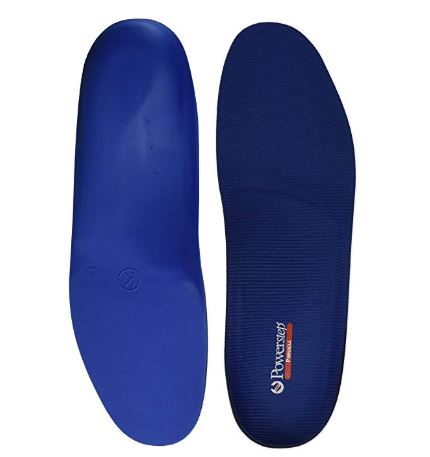 These gel insoles run full length and have a pinnacle style. They will keep your feet odor-free, heat-free, blister-free and pain-free with the semi-rigid support given by the arch and the anti-microbial material used for the top. Furthermore, they have a EVA foam base, EVA top layer and Variable Cushioning Technology. This will ensure enhanced comfort, balance, and shock absorption.
Your feet will also enjoy flexibility, stability and good motion control from the deep heel cradle of these versatile insoles. In addition, these insoles do not require trimming and are also the best orthotics for many foot conditions as they provide instant relief.
Pros:
Very comfortable
Well-made insoles
They provide comfort for Planar fasciitis and other feet conditions
It keeps feet odor-free
Cons:
Too plush for some shoes – makes them tight
Arch support may be too high for some arches
Not returnable – bad customer service
Types of Insoles
There are different types of insoles available for different specific purposes. Some of them are:
Orthotic insoles
Arch support insoles
Athletic or trainer insoles
Comfort or Gel insoles
Heel support insoles
Diabetic or arthritic insoles
Corrective insoles
Custom-made insoles
Benefits of Wearing Insoles
As a runner, it is very important to wear shoes with insoles in them. This could help you have a more interesting running experience. Therefore, refer to some of the benefits of wearing an insole, as this may greatly increase performance.
Helps Reduce Shoe Size – When you order shoes online, shoe sizes may differ. If you happen to get running shoes that are too wide, an insole will help fill up the shoe. It will also give you a better fit.
Provides More Comfort – Insoles provide extra cushioning for your running shoes. This consequently makes them more comfortable, especially when you have to go on long runs. When you use the best insoles, you will also be able to run faster, longer and without stress.
Provides Arch Support – Insoles provide you with arch support, especially if your arch is too high. This helps in cases where the runner has Achilles tendonitis and Plantar fasciitis.
Keeps your Foot Better Aligned – Insoles help with feet alignment. They will help keep your feet stable and minimize slippage while giving you better strides. When your feet are better aligned, stress and fatigue will be reduced, while your running stride and comfort will be greatly increased.
Keeps Your Feet Warmer – Insoles will pad up your feet and protect them from cold weather. They will also increase the body warmth. Since most of them are removable and dry faster, they are washable and do not let your feet get too wet or too hot. As a result, they keep your feet very cool.
Reduces Injury Risk – Using insoles could reduce the risk of having blisters and other injuries by putting an end to the friction between your skin and shoes. They also help in distribution of weight across the feet thereby reducing the pressure on some particular areas. Therefore, you can greatly reduce injuries like bunions, shin splints, back pain.
Helps in Treatment of Foot Conditions – Insoles help in treating problems such as flat feet, high arches, heel pain, arch pain and pain in the ball of the foot. As a result, using the right insoles for these conditions will bring about instant relief and comfort.
Improves Running Performance – When you are comfortable, stable, and well-protected, you are in the best shape to run. Furthermore, when warm and have perfect feet alignment, your running performance will be nothing short of excellent.
Final Thoughts
Insoles play very important roles in providing runners with comfort and stability. So, the insole material will determine how functional and durable it will be. Gel Insoles are great for providing utmost support and comfort. Therefore, getting the best gel insole for your running shoe is tantamount to achieving excellence while running.