Best Running Shoes for Flat Feet
This page contains affiliate links. As an Amazon Associate I earn from qualifying purchases.
Flat feet can be challenging, but if managed properly, it should not get you off the track. Flat foot is a condition in which there are no or low arches under a person's feet.
The flat feet or low arches are not a problem on their own. In fact, the real issue is the overpronation that results from it. There are various ways to deal with flat feet and absence of arches.
Some of them are wearing compression sleeves, doing exercises and shedding weight.
The best way to manage it is by using arch support insoles or shoes. This article deals with buying shoes with arch support and will help you make a good choice. In the end, we will first list some factors that you must consider when choosing the best shoes to manage overpronation.
Quick Look at Our Top Picks for Best Running Shoes for Flat Feet
IMAGE
PRODUCT
DETAILS

Feels light

A great shoe at a reasonable price

Stable and great for long distance runs

View on Amazon →

Great arch support

Great comfort and stability

Good motion control

View on Amazon →

BEST FOR FLAT FEET AND OVERPRONATION

BEST FOR FLAT FEET AND OVERPRONATION

Combines both cushioning and support

Light in weight and breathable

Quick delivery

View on Amazon →

BEST FOR WOMEN WITH FLAT FEET

BEST FOR WOMEN WITH FLAT FEET

Gives great arch support

Helps relieve foot pain

Affordable

View on Amazon →

BEST FOR MEN WITH FLAT FEET

BEST FOR MEN WITH FLAT FEET

Helps prevents heel pain

Great overall foot support

Light in weight and breathable

View on Amazon →
Best Rated Running Shoes for Flat Feet Reviewed
There are many running shoes that claim to have all the features to fulfill the needs of runners with flat feet.
Although, few deliver what they promise. The running shoes we suggest in this section are some very good options to choose from.
1. Brooks Adrenaline GTS 18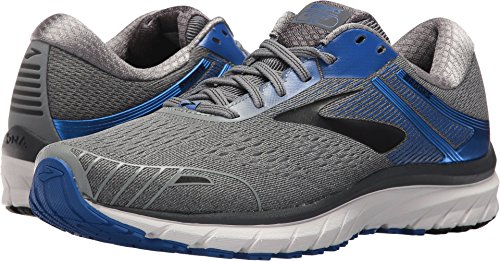 Brooks has designed the Adrenaline GTS 18 to give proper support, good cushioning and great stability to runners with flat feet. This latest edition from Brooks continues to be a best seller. This due to it being highly responsive and light in weight. It is deemed to be great for long distance runs because it is very comfortable.
Its BioMoGo midsole cushioning gives maximum arch support. It also sports the Diagonal Roll Bar that allows a natural stride of the foot. Hence it gives it more stability and this often helps prevent overpronation.
Furthermore, its HPR Plus makes the shoe very durable in the areas of the outsole that wear out the most easily.  Also, the design of the full-length Crash Pad allows smooth transitions. It has a molded foam insole that can be removed. This gives plush underfoot cushioning and also allows orthotics. The Brooks Adrenaline GTS 18 comes with a breathable, flexible padded tongue and collar. Its Flextra rubber outsole gives a varied level of support matching with weight and gender of the wearer. This improves flexibility.
Pros:
Very springy and comfortable
Feels light
A great shoe at a reasonable price
Stable and great for long distance runs
Cons:
Inconsistent size
Poor quality control
2. ASICS GT 2000 5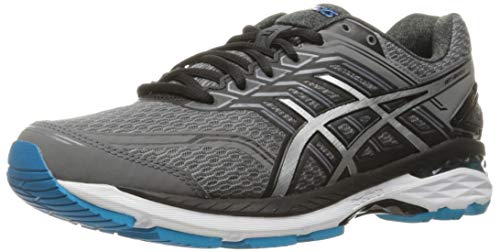 The ASICS GT 2000 5 gives great support and stability to runners. It comes in various shades, styles and colors that you can choose from. ASICS uses the Impact Guidance System technology in this shoe's design. This improves the natural gait of the foot from heel strike to toe-off. The Dynamic DuoMax Support System is also used to reduce weight and increase platform support. This gives great stability and support.
Furthermore, the rear-foot and forefoot gel cushioning systems are used to lessen the impact during toe-off phases. It also allows movement in multiple terrains as the foot moves through the gait cycle. Its FluidRide midsole gives the best balance of spring and cushioning features.
This also makes it very durable and light in weight. ASICS GT 2000 also comes with Guidance Trusstic System Technology, which uses the Guidance Line design to improve the gait.
Pros:
Stylish
Great arch support
Great comfort and stability
Good motion control
Cons:
Lower quality than the previous versions
Runs too narrow, you might need to order one size up
3. Saucony Omni 16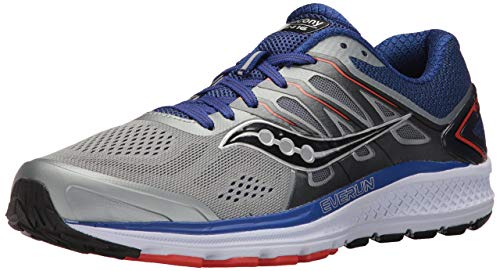 Saucony has worked upon the Omni 16 to make it weigh less than the Omni 15. It is one of the lightest shoes for runners with flat feet, with the best amount of support and padding. It comes with 8mm offset and its heel stack is 27 while the forefoot stack is 19.
The 8mm offset is used to even out the cushioning between the forefoot and the heel areas in the shoe. FlexFilm, a sturdy, light in weight material is blended with the shoe's upper. This allows fewer layers in the shoe to give a flexible, seamless feel.
Furthermore, it also comes with Tri-Flex technology that improves the spreading of force over a larger surface area. At the same time, it gives maximum grip and flexibility. The SAUC-FIT technology is also used to make the midsole. It makes it more adaptable and thus gives great arch support.
Omni 16 sports an external heel that gives added comfort and support in the shoe's rear. It weighs about 10.1 oz and comes in wide sizes for men. Women can have it in the regular size as well as wide and narrow sizes.
Pros:
Gives an arch lock that is great for runners who overpronate
Combines both cushioning and support
Comfortable
Quick delivery
Light in weight and breathable
Cons:
Takes time before it breaks in
Seems inferior than the previous versions
4. Brooks Ravenna 8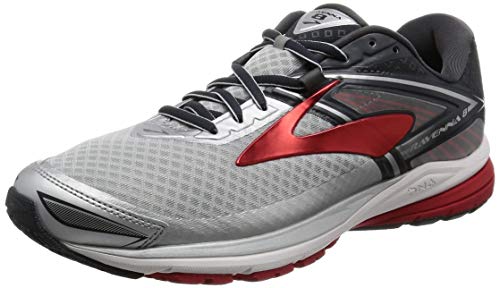 Brooks has designed the Ravenna 8 to give smooth transition and traction for both plantar fasciitis and flat feet. It features an Air mesh upper that makes it very breathable and manages moisture. You can adjust its synthetic saddle, which draws from the heel to wrap around the foot for a secure fit. It also has a padded interior and wraparound heel collar for comfort. Ravenna 8 has a Soft Element fabric lining and a sockliner that can be removed. Its full-length S-257 Cushsole midsole design uses an insole bed for enhanced flexibility.
Furthermore, it also features the BioMoGo DNA midsole to give durable cushioning. This has an eco-friendly design that breaks down fifty times faster than similar midsole materials in the landfill. The Diagonal Rollbar medial post gives support and allows smoother transitions. The DRB Accel thermoplastic shank gives torsional rigidity in the midfoot for added support without cutting down on forefoot and heel independence. The heel's segmented Crash Pad and Midfoot Transition Zone work together for the faster heel-to-toe transition.
Pros:
Gives great arch support
Super comfortable
Great shoe for long distance runs
Affordable
Cons:
It runs too small and narrow
Poor quality control
5. Brooks Beast 16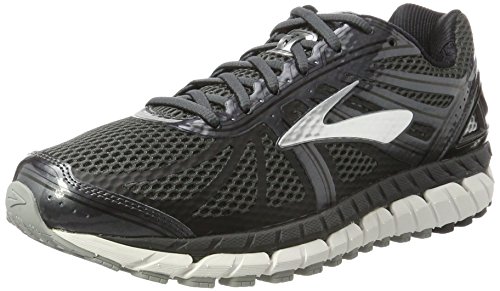 Brooks has designed the Beast 16 as an upgrade over the Beast 14. It is built for runners who pronate and need that added cushioning. Its Extended Progressive Diagonal Rollbar gives great motion control. The Moisture-managing Element mesh upper gives protection from many different elements while keeping the foot cool and dry.
It has an external, structured saddle that can be adjusted. The External heel counter aids foot stabilization. Beast 16 features the Super DNA midsole that gives enhanced energy return, maximum cushioning and support.
The full-length S-257 unit allows torsional rigidity in the midfoot while promoting the forefoot and heel to function independently of each other. Its full-length Segmented Crash Pad allows a smooth heel-to-toe transition with each stride. The durable HPR Green outsole is made of eco-friendly silica for quality wet-dry grip and skid resistance.
Pros:
Gives great arch support
Super comfortable
Makes running or walking painless for runners who overpronate
It supports orthotics
Sturdy but light in weight
Cons:
Runs narrow, you may have to order a half to one size up
Way too costly
6. ASICS GEL Kayano 24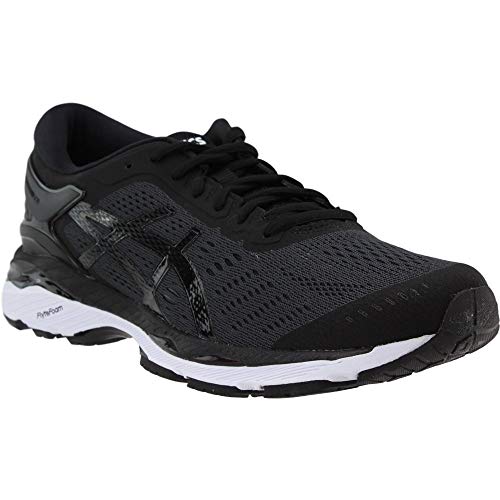 ASICS has improved the Kayano 24 hugely. It is now lighter in weight than the previous versions and gives a great fit. It uses the Impact Guidance System technology that improves the natural gait of the foot from heel strike to toe-off. Also, the FlyteFoam Midsole technology is also used to give a great amount of cushioning. This reduces the risk of any injuries that may occur on hard terrains.
Furthermore, the FluidRide Midsole gives a balance of cushioning and spring. It also reduces weight and makes the shoe very durable. Its FluidFit Upper combines stretch support with multi-directional stretch mesh that adapts to runners' foot. Thus, it creates a truly natural glove-like fit. ASICS also uses the Heel Clutching System Technology, an exoskeleton heel counter to give enhanced support and create better heel fitting. Moreover, it comes with a sockliner that absorbs moisture easily and makes the shoe more breathable.
Pros:
Helps prevents heel pain
Great overall foot support
Excellent stability
Great comfort and cushioning
Light in weight and breathable
Cons:
Seems too pricey
Seems shorter and narrower than the previous versions
7. Saucony Guide 10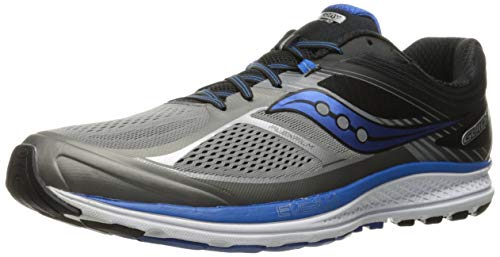 Saucony has built the Guide 10 is to upgrade the earlier versions in terms of style and looks. This has made it more appealing to runners. It also gives a great run with a mesh upper, tri-flex outsole and a good midsole design. In addition, the Tri-Flex outsole design gives more ground contact and improved flexibility. It also enhances the spreading of force over a greater surface area and at the same time gives optimal traction.
Furthermore, the FlexFilm, which is a sturdy, light in weight material, is blended with the upper. This is to give room to fewer layers in the shoe to give that flexible, seamless feel. Moreover, Saucony uses the Everun cushioning technology to give the shoe more spring with smoother landings and stronger take-offs. The 8mm offset also allows cushioning to be more evenly spread between the heel and forefoot in the shoe. This often gives a more balanced and comfortable body position with every stride.
Pros:
Very affordable and with great quality
Awesome fashion and style
Gives stability and great arch support
Very light in weight cushioning
Cons:
Fit is a bit too tight in the width
Narrow toe box
8. New Balance 870v4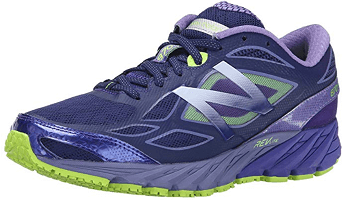 The New Balance 870v4 is a stability running shoe to help overpronated runners solve their foot issues. This running shoe features Abzorb Crash Pad technology, which gives added cushioning in the forefront and heel of the shoe. It also helps decrease the force of impact during running. In addition, the soft inner lining combines well with the padded tongue and collar to give further comfort as you run.
Furthermore, its REVlite midsole gives this shoe a high level of spring. It also comes with a blown rubber outsole made from Ndurance rubber to make the shoe very durable. Moreover, the New Balance 870v4 has a breathable mesh upper that controls moisture and keeps the foot cool and dry. Finally, its lace-up fronts let you adjust the shoe as tight or as loose as needed to give extra stability.
Pros:
Gives good arch support
Very cute and comfy
Helps relieve foot pain
Helps with pronating gait
Stylish and light-weight
Cons:
A few shoes have inconsistent size
Runs too small
9. Books Transcend 4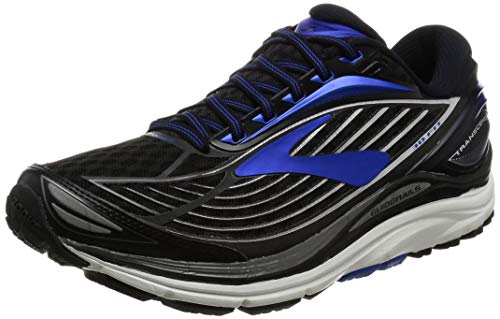 Brooks has designed the Transcend 4 as a great stability running shoe to help runners with various foot problems. This running shoe has a DNA midsole made for both men and women to give added support and cushioning. Moreover, it is made in the USA. The shoe also has a special guide rail in the midsole that gives you extra support. Hence, it helps you to move about in a more natural way.
Furthermore, this shoe also comes with an insole board to give more comfort and flexibility. An extra level of comfort comes from its heavily padded tongue and collar. In addition, the foam footbed also works well with the soft fabric lining of the shoe. It also comes with a breathable mesh upper that contains moisture-wicking materials. The outsole has some extra rubber. Finally, the HPR plus technology has been used here to place it in areas that are prone to more wear and tear. This makes the shoe more durable.
Pros:
Gives great cushioning and comfort
More ankle flexibility
Orthotics fit better in this shoe
Great shoe to correct pronating gait
A lot of support and stability
Cons:
A few shoes have quality control issues
Seems to have narrow toe box
10. Mizuno Wave Inspire 13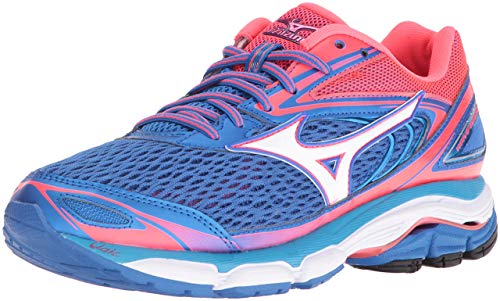 Mizuno has designed the Wave Inspire 13 to bring relief to runners with flat feet. It is built for both men and women to solve foot issues that might hinder their running career. Moreover, it comes with the U4iC technology that helps in absorbing the shock that the body and feet feel while running. The technology also makes the shoe more durable without adding any extra weight. Also, double fan wave technology gives you more cushioning.
Furthermore, this added cushioning reduces the wear and tear on both your shoe and foot. Its insole can be removed. In addition, this will allow you to add orthotics or remove it when you don't need it. It also comes with a wider toe box than most running shoes and is available in many colors and styles to suit all tastes. Lastly, the rubber in the forefront of the shoe also improves its softness and makes it more durable.
Pros:
Gives a great deal of stability
Great for overpronation
A better heel support
Great cushioning and support
Needs no break-in period
Cons:
Some shoes run too tight
A few people say poor delivery service
Key Considerations When Buying the Best Running Shoes for Flat Feet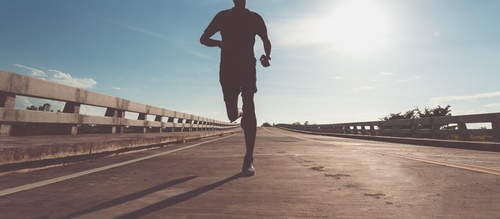 There are certain factors that make a running shoe great for runners with flat feet. In the end, you must give these things proper thought before the buying choice is made.
Motion Control – Running shoes with good motion control give a great level of stability. They often come with an added upper design that locks the foot and gives extra support. Also, hard materials often give shoes more stability and great support for the arch to keep it in the proper position. Shoes with extra support are often the best for flat feet. They can keep your feet in place while making a stride. Always check the shock absorbing capacity of the shoe.
Stability and Support – Great support, stability and motion control are basic features that make a running shoe ideal for runners with flat feet. Stability shoes often have a sturdy base to reinforce the arch part of each midsole. The arch is linked to the high impact when a runner overpronates. As a matter of fact, stability is a feature that a running shoe for those with flat feet must have. Hence, when you are out to get a shoe to help you with overpronation, don't forget to look out for stability as well as support.
Grip – You should be able to take part in any sport without the fear of your shoe slipping off. Hence, a shoe must have a proper amount of traction. The amount of grip needed by your shoe is based on the climate and the type of terrain. For instance, if you want to run on roads or pave areas, you must make sure your running shoes have a good grip.
Breathability – This is also a very key factor that you must take note of. No runner wants to go on a long run wearing a shoe that is all cramped up with no or little air flow. Also, you don't want to run in a shoe laden with moisture. It will always be too uncomfortable to bear. Also, a running shoe without proper ventilation and design for dealing with moisture can cause problems for the feet. The feet being moist with sweat can lead to bacterial infections. The chance of this can be greatly reduced by making the shoe breathable. It is hence vital for runners to keep their feet dry by wearing breathable shoes that allow air flow.
Flexibility – Flexibility is yet another key feature in a running shoe. For a runner with flat feet, it is always advised to go for shoes with extra support. But it is just as much needed for the shoe to be flexible enough to give proper comfort. Flexibility in a shoe will let your feet move in as natural a way as possible.
Enough Sole – It is also vital to take note of the fact that fallen arches need proper protection and shock absorption. They need these to cushion from the impact that they feel as you run. Your choice should be a shoe that gives proper cushioning without being too heavy. Wearing a bulky shoe will hamper your running. Due to this, there are tons of light in weight options in the market these days.
Durability – There are many things that play a part in making a running shoe durable. As a rule, a pair that is made from quality materials will last for a long time. It is awful to watch your new shoes wear down just after running a few miles. Some features can go a long way in making a shoe more durable. These include mesh upper design, high abrasion rubber compound and supportive overlays.
Types of Flat Feet
There are three major types of flat fleet, and these are:
Flexible Flat Feet – This is the most common type of flat feet. The arch in the foot is only visible when the foot is lifted. The sole of the foot rests flat on the ground when placed on it.
Short Achilles Tendon – It is your Achilles tendon that links your heel bone to the calf muscle. So, if this part of your foot is too short, you may feel pain while running or walking.
Posterior Tibia Tendon Dysfunction – This is the type of flat foot that often affects adults. In this, the tendon that links the calf muscle from the inside of the ankle generally gets swollen, injured or torn.
Causes of Flat Feet
Flat feet or fallen arches can occur owing to a few factors. Some of them are:
Overstretched or torn tendons
Nerve problems
Dislocated or broken bones
Some health problems like rheumatoid arthritis
Abnormality from birth
Damage to or inflammation of, the posterior tibial tendon. This links the lower leg to the ankle from the middle of the arch
Other factors can be:
Diabetes
Pregnancy
Aging
Obesity
Simple Test to Know if You Have Flat Feet
You can easily detect whether you have fallen arches or flat feet by these three steps:
Get your feet wet with some liquid (water is best).
Stand on a flat, dry surface where your footprint can be seen, such as on a pavement.
Then step aside and take a look at your footprints. If you can see the full imprint of your feet, then you are likely to have flat feet.
Symptoms of Fallen Arches and Flat Feet
There are some runners who may not really know they have flat feet. But if you have any of these symptoms, there are chances that you suffer from it:
Leg and back pain
Moving your feet or standing on your toes gets hard
Your feet get tired easily
Pain or ache around the arches or heels
The sole of the foot gets swollen
Solutions to Flat Feet
Having flat feet does not mean that you must refrain from taking part in things that you enjoy.
There are some things that can be done to deal with fallen arches and flat feet. Let's consider some of them.
Arch Support Insoles – It may be that your flat feet were caused by bone deformity, obesity or tight tendons. The best thing that can give relief to your back, foot and leg pain is a pair of shoes with arch support insoles.  So, you can either go for just the insoles or for the whole shoe. But what is key is that you choose ones with a flexible sole, proper space for your feet and maximum arch support. The tension in your Achilles' tendons and posterior tibia lessens when your arches are properly supported.
Compression Foot Sleeves – A great pair of compression foot sleeves will give you the needed extra support and relief. They function like arch support insoles and relieve the painful symptoms of flat feet by putting pressure around your heel and underside. They are very affordable and effective. Also, they can be worn hidden under your socks.
Exercise – There are certain exercises that are meant for runners who overpronate and have flat feet. Foot exercises are one of the best ways to deal with flat feet. You can also spend some time walking barefoot. Try jogging in the park or walking your dog barefoot.  You can also try tiptoeing and toe running. These exercises will help your feet re-grow the damaged areas. There are also other exercises that can help improve your feet. These include:
Side Walking – Walking sideways will help you involve other parts of the feet that have been ignored while walking straight ahead. It is a helpful exercise to remedy flat feet.
Toe Spreads – This means spreading out the toes as wide as you can.  You can hold this posture for about thirty seconds. Repeat this over and over, and your arches can improve a lot.
Walking in the Sand – Since sand shifts your body's weight and is not smooth and flat, walking on it will train your feet. They will get used to absorbing shock and hence get stronger.
Losing Weight – Excess weight can put a lot of stress on your arches, so shedding some of it at the gym will do wonders.  The more weight you have, the more the force of impact on your feet all the way to your arches. If not taken care of, this can consequently lead to the collapsing of the tendons and ligaments on the sole. Therefore, this in turn, will result in flat feet. Shedding some weight is one of the best ways to get your feet back in shape.
Final Thoughts
To summarize, flat foot is a condition that should not in any way hinder your running career. Getting your hands on the right pair of running shoes is key. Buying shoes with proper arch support, good cushioning, and sturdy outsole can give relief from pains linked to flat feet.
Therefore, we believe that the running shoes we've recommended here will help you figure out the one that's just right for you.