Best New Balance Running Shoes
This page contains affiliate links. As an Amazon Associate I earn from qualifying purchases.
New Balance is a name in the competitive shoe industry. It prides itself in constantly improving on its various brands to bring the best experience and top performance to its customers. New Balance running shoes are breathable, lightweight, supportive, have excellent grip, and are stable. Its line of brands ranges from minimalist running shoes, motion control to trail running shoes.
It also has a variety of patented technologies that are put to good use to fashion top quality, durable and supportive shoes. We shall, however, consider some pertinent factors to look out for when choosing a pair of New Balance shoes and some top models are recommended to make your choice easier.
Quick Look at Our Top Picks for Best New Balance Running Shoes
IMAGE
PRODUCT
DETAILS

Extremely comfortable shoe

Has a roomy toe box

Perfect amount of ruggedness and lightweight

View on Amazon →

Excellent running shoes at reasonable price

Fit well and can handle orthotics

Offers amazing comfort to handle sore feet

View on Amazon →

BEST MOTION CONTROL RUNNING SHOES

BEST MOTION CONTROL RUNNING SHOES

This shoe fits just right and feel great

Excellent trail shoe

Comfortable for long distances

View on Amazon →

BEST FOR PLANTAR FASCIITIS

BEST FOR PLANTAR FASCIITIS

Offers super support for sensitive knees

Also gives awesome lateral, roll and ankle support

Perfect cushion and support to stand all day

View on Amazon →

Perfect for long distance run with zero pain

Well recommended by fitness expert to people with foot issues

Very comfortable

View on Amazon →
Best Rated New Balance Running Shoes Reviewed
There are so many New Balance Running shoes available on the market today. Knowing and getting the one that suits your style and type of foot can be a sort of a burden. The following top recommendations will definitely help you make the right choice.
New Balance X608v4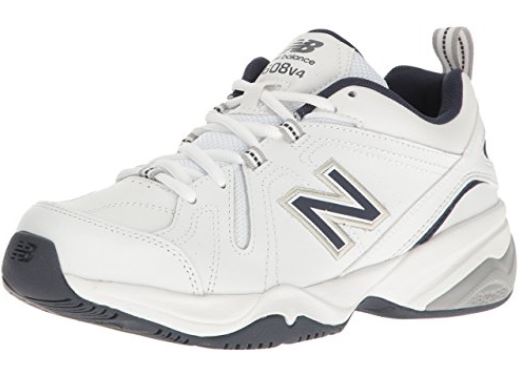 This model is designed to meet the needs of all sorts of athletes. Its EVA cushioned insole and the textile lining will ensure your comfort as you embark on that training for long distance hurl. Your foot stability is guaranteed by its dual-density padded collar and tongue. X608v4 has its sole well designed especially with Abzorb padding to absorb extra shock. Also, by the power of New Balance's proprietary midsole feature, extra cushioning is added while ensuring compression is resisted when making a stride. Above all, EVA footbed is placed on top of the well-cushioned midsole to give that running on the cloud feel.
Pros:
Extremely comfortable shoe
Has a roomy toe box
Perfect amount of ruggedness and lightweight
Perfect for folks with wide feet and high arches
Cons:
Lesser heel notch padding than previous version
Poor quality assurance and warranty support
New Balance 990v3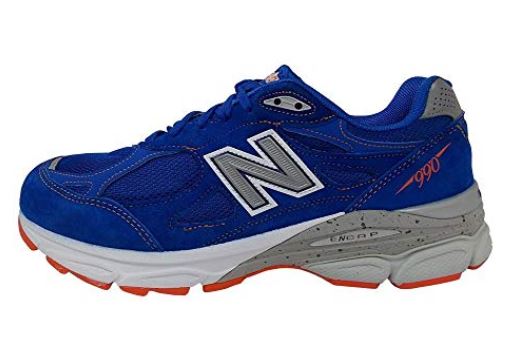 The New Balance 990v3 is a model of many years of research and development. This particular version has got NB to embellish it with almost all their proprietary technology features. Some of these features include the Ndurance rubber sole, Lightweight Abzorb midsole, and Encap midsole cores. Furthermore, this shoe encourages running at night as its design is quite reflective. Its upper sole is built with the mixture of fabric and pig skin which make it breathable. It also features a midsole core fills a sturdy polyurethane frame padded with soft EVA cushioning.
Pros:
Excellent running shoes at reasonable price
Fit well and can handle orthotics
Offers amazing comfort to handle sore feet
Offers good support for wide foot
Cons:
Issues with quality control
May give off awful smell when it gets wet
New Balance T410v4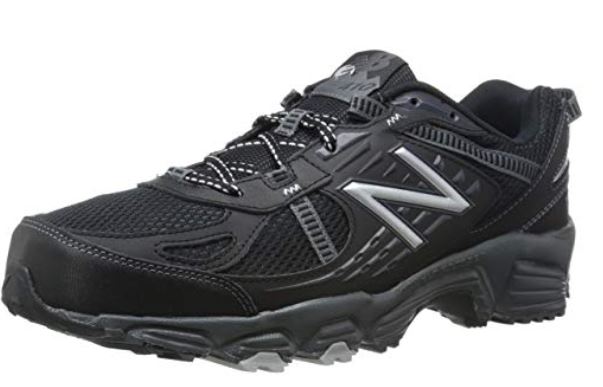 This running shoe maintains a balance between protection and comfort. It comes with a lacing system that helps prevent the shoe from slipping off your feet. The AT Tread will also keep your feet from falling off under you. Furthermore, the mesh and leather are strategically positioned to cool off your feet and protect them from dangers. Its XLT Footbed and foam insole will also give you a comfortable feeling around your feet. The T410v4 is built from strips of sturdy leather that ensures its durability. Moreover, it comes with an all-terrain outsole that makes it wearable on any terrain. It is additionally coupled with deep lugs which gives excellent traction on any surface.
Pros:
This shoe fits just right and feel great
Excellent trail shoe
Comfortable for long distances
Lightweight and awesome air circulation
Cons:
Toe box is too narrow
The quality does not seem equal to price
New Balance 990v4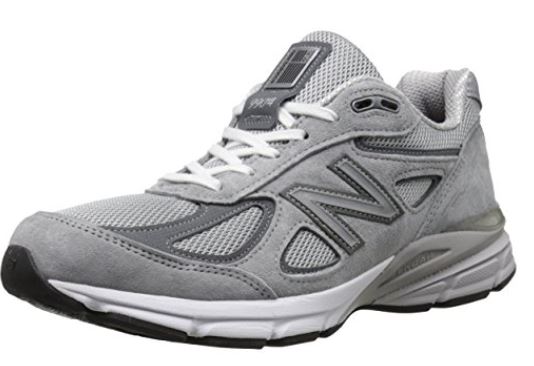 This New Balance model is designed with the best of its technology to provide support and stability for road running and mild-pronators. The 990v4 is available in a variety of colors such as light green, royal blue, black, gray and beige to red. It is also well sculpted with various features like a blown rubber outsole, ENCAP and EVA core heel. Furthermore, the shoe has a dual-density foam collar which combine well to offer comfort and support to its wearers. It also comes with a breathable mesh upper that minimizes blisters wet, sweaty feet while allowing proper aeration around the feet. For the sake of being firm and sturdy, the shoe also comes with a leather strip overlay which enables the upper to give more support. As a result, it is an awesome combo of stability, comfort, and support.
Pros:
Offers super support for sensitive knees
Also gives awesome lateral, roll and ankle support
Perfect cushion and support to stand all day
Prevents blisters around the heel
Cons:
Not good enough for serious training
Reported cases of inconsistent sizing
New Balance Fresh Foam 1080v7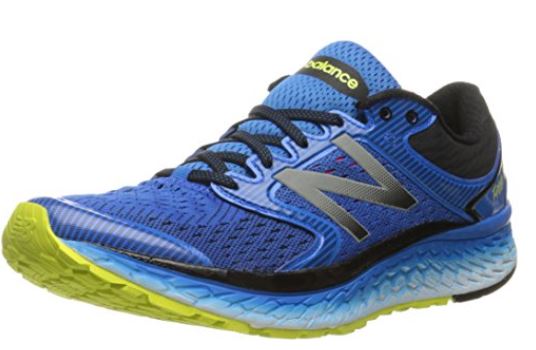 This model from New Balance is one of its highly rated running trainers. It comes with an extremely breathable mesh upper that keeps the feet dry and cool weather on a medium or long run. Most users report that the shoe's OrthoLite sockliner, together with the padded tongue and collar, offer a great deal of comfort. It also features an Abzorb shock-absorbing heel. Moreover, there is a dual comfort insole, IMEVA foam midsole and a rubber wrap to ensure stability. Its rubber outsole also gives optimum traction while running. Although it is made of Fresh Foam cushion – a lightweight cushioning material – it does not cut on users' comfort.
Pros:
Perfect for long distance run with zero pain
Well recommended by fitness expert to people with foot issues
Very comfortable
Well balanced with good heel support
Cons:
Not enough cushioning
A few people say there is some issues with quality control
New Balance Leadvillev3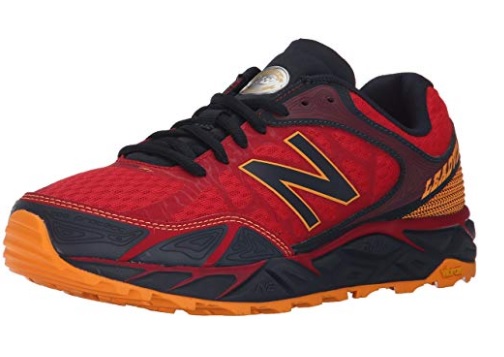 This Leadville version serves as an awesome running trail shoe. New Balance combines the best of its technologies to create this great running trainer. It is particularly custom-made for runners who place a premium on stability and great arch support to withstand tough terrains. You can definitely be on the trail for a longer time in this shoe because of its durability and strength. Furthermore, it comes with a gusseted tongue which prevents rocks, dirt and other debris from making their way into the shoe. Its Vibram outsole is also optimally durable, lightweight and flexible.
Pros:
Perfect shoe for a great trail experience
It is slip resistant in a variety of trail conditions
Awesome color scheme
Well-built comfortable shoe
Cons:
There is an issue with heel slippage
Runs larger than expected
No arch support
New Balance 1540v2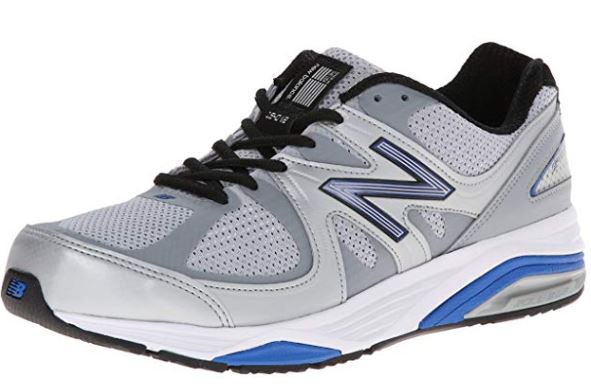 This running shoe is often seen as the best solid shoe for starters. The shoe possesses a motion control running system led by a double layer of padding in the midsole. It also has roll bar support system in the heel. Furthermore, with a no-sew design together, it is breathable. The padded tongue and collar also offer you the best in comfort. It is specifically built to minimize the movement of the rear of your foot when in a stride. In addition, with the motion control system, this shoe will prevent your feet from rolling too far while running. As a result, overpronators can sigh with relief.
Pros:
Good for spinal pain, foot aches, and knee arthritis
Great shoe for wide feet
Allows insertion of orthotics
Good support and stability
Cons:
Lower quality than previous version
Inadequate cushioning and comfort
New Balance 1269v7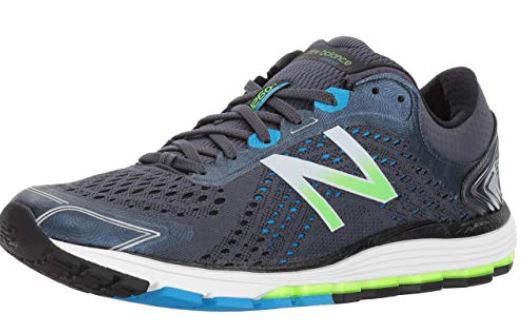 This running trainer is a great improvement on the New Balance 1269v5. It offers a great deal of support and comfort to runners who focuses on durability. It comes in a sleek and beautiful style. Furthermore, with New Balance 1269v7, you can embark on long distance runs without feeling heavy laden and tired. It is also lightweight which makes it to be able to provide runners with maximum comfort. Moreover, its sumptuous cushioning maximizes comfort during runs. The glove-like design also fits perfectly to the foot thereby giving it the needed stability.
Pros:
Very comfortable for medium pace runs
Excellent arch and heel support
Great shoe for heavy runners with flat feet
Fantastic and beautiful running shoe
Cons:
Poor quality control
It is way too tight for some users
New Balance 481v2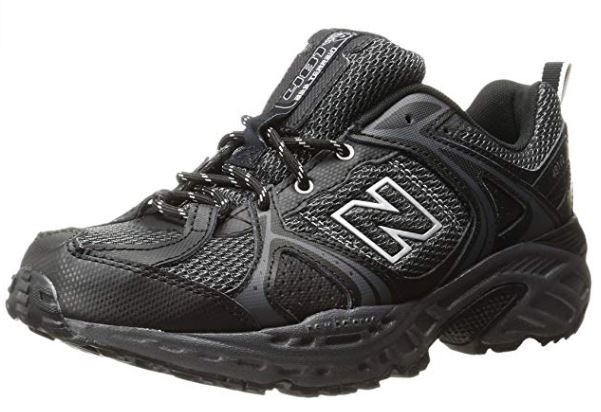 This New Balance model has an edge over its predecessors in terms of durability. Its high wear areas are of Ndurance rubber making this shoe hold strong for longer. The New Balance 481v2 also comes with a foot bed and midsole that is well padded for optimal cushion to your feet. Furthermore, this trainer is perfect for the trail or around town because its AT Tread. Its EVA foot bed and midsole have extreme padding to provide extra protection for your feet from getting sore while on a long distance run. Above all, the soles of your shoes are well shielded from quick abrasion no matter how hard or long you train, therefore creating a comfortable experience.
Pros:
Comfortable and springy
Offers good traction on and off pavement
Provides great support and balance
Always a good price and fit
Cons:
Not a good choice for wide feet
Runs narrower and smaller than previous version
New Balance T610v5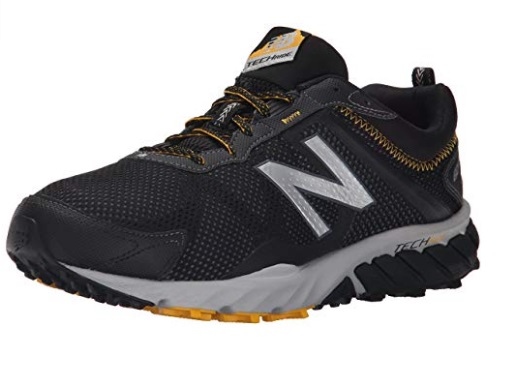 This shoe is one of the great New Balance trail running shoes. It comes with a strong design that keeps your foot cool and dry while offering you the best of comfort. Furthermore, it provides maximum traction on and off the pavement. New Balance's unique AT Tread design's enables this feature. New Balance T610v5 also guarantees your movement on any terrain by leveraging on the sensibilities of a road running shoe and the strong traction of a trail shoe's lugs. As a result, the breathable material on the sides ensure proper ventilation in and around your feet.
Pros:
This shoe is assembled in the USA
Supremely comfortable and a great delight to wear
Great grip both on and off pavement
Looks stylishly beautiful and very lightweight
Cons:
Offers zero arch support
It seems not true to size as reported by some users
Poor quality control
What Set New Balance Running Shoes Apart
There are certain commonalities that often distinguish best performing New Balance running shoes from the rest.
Craftsmanship – New Balance is a major running shoe manufacturer in the industry. Their topmost focus is usually on bringing out the best quality in a shoe. Through their effective research and development unit, they keep providing a better version of each of their models. With New Balance you will never have a better previous version of a model.
Performance-Based Popularity – Recently brands from New Balance line continue to soar in terms of popularity. Customers' reviews of most models we recommend in this article are increasingly awesome. These reviews usually indicate that these shoes are meeting the needs of users and bringing out quality performance.
Raw Materials – From reviews from users and base on our own findings, New Balance often uses a combination of suede, synthetic material and mesh to provide extra support and comfort to runners.
Adequate Cushioning – New Balance uses its proprietary N-ergy cushioning system to make every single pair of trainers come from their factory. Most of their top performing brands carry top of the line shock absorption to minimize the impact on runner's body.
Key Considerations When Choosing New Balance Shoes
Before you take that step of faith in picking a pair of New Balance's shoes, it is quite important that you give proper consideration to the following factors.
Cushioning – It is very important that you always look out for the cushioning system of each pair of shoes that pick your interest. A good quality shoe should be able to absorb the shock that emanates from the impact your foot makes when it hits the ground while you run. New Balance, however, has a special cushioning technology to ensure proper shock absorption in all its shoes.
Breathability – Although New Balance does not have patented technology for breathability, many of its other technologies to help with proper aeration. The makers of these shoes use lightweight and breathable materials to design most of the shoes. It is always essential that you look out for shoes that have these lightweight materials such as breathable synthetics, mesh, and any other fabrics. This is because it will enable proper air ventilation around the feet. This is to avoid the uncomfortable consequences of a sweaty, odor-filled foot.
Durability – No one wants a shoe that will come apart in a couple of months. Most NB shoes are an excellent pick when you consider durability. As an athlete, you wouldn't want to be replacing your shoes every month. This may stretch your budget beyond the limit. Besides, it will be too strenuous for you jumping from one store to another. Durability is a metric people use to know the quality of a shoe and top quality does not come cheap. Therefore, every cent you spend on a good quality shoe will be worth the price.
Protection – Your footwear should be able to shield your foot from pesky rocks, and other debris that may cause bodily injury. New Balance offers a lot of protective features such as Gusseted tongue, reflective detailing, leather strip overlay and more. This gives runners the ability to engage in activities outside of running, from jumping, climbing, squatting and jogging. It is necessary that their feet be well protected for all of these activities. Shoes with the sturdy and durable outsole like New Balance models are good enough to offer this service.
Support – Keeping your feet adequately supported is something you must always ensure you do before hitting the road running. It is very important you ensure you are wearing the correct trainers that will help you nurture and maintain strong and healthy feet. Therefore, your shoes should be able to offer the right, adequate support to your ankles, heels, and feet. Good footwear for sporting should also be able to give you optimum shock absorption and adequate heel stability as the situation demands.
Final Thoughts
Today, New Balance running shoes are now available in large variety of colors, styles, and prices, ranging from motion control, minimal running shoes to stability trainers. Many people know New Balance running shoes for being lightweight, comfortable, breathable, stylish and supportive. There is a major focus on comfort, durability, and fit. With over 80 models available on the market, choosing the perfect NB shoe for you may be quite daunting. To help you overcome this challenge, we discuss some pertinent factors that you must consider before making your choice. Therefore, refer to some of the New Balance top brands we recommend above.