Best Running Shoes For Concrete
According to expert advice, runners should always look out for shoes with extra support and plush cushioning.
That's because it helps withstand the harsh impact of rigid surfaces, especially of concrete. This is necessary to avoid and prevent potential injuries and pains.
Quick Look at Our Top Picks:
Usually, running shoes are well-cushioned with quality materials, but at times these can turn out to be very expensive.
Nevertheless, it is better to have expensive shoes than having a painful foot.
Our list of running trainers can certainly help you pick one that can effectively withstand and absorb shock from hard surfaces.
The below-mentioned list will help you find one that's great in terms of quality, and well within your budget.
Best Rated Running Shoes on Concrete Reviewed
Several shoe brands offer different types of running shoes that are ideal for running on solid surfaces like concrete.
However, getting one that best suits you in terms of flexibility, durability, traction, and comfort can be a daunting task.
Ten of the best-known products that make running a great experience are listed below:
1. Hoka One One Bondi 5
This model is specially designed for hard, artificial terrains like concrete. Also the Bondi 5 offers excellent comfort and great traction to get you off to a good start. It is probably a shoe with the highest amount of cushioning  among all the the Hoka One One shoes. The shoe also features optimum support, breathability and compression.
So, its EVA midsole, ComfortFrame upper, and a padded tongue work together with the curved sole under the metal, to provide unparalleled comfort. Also, this shoe has a creatively constructed upper with a breathable mesh and allows proper air ventilation, and that keeps the foot cool and dry all day.
It also comes with an ortholite molded insole to provide a snug feel under the foot, extra support and cushioning. The Zonal Rubber outsole of the shoe shields it from wearing-down too easily.
Pros:
Comfortable cushioning
Eases foot pains
Provides excellent support and comfort
Perfect shoe for Limited Joint Motion
Comfortable fit
Cons:
Some issues with quality control
Not that stylish
2. ASICS Gel-Kayano 24
This ASICS model is unbelievably plush and soft and incorporates ASICS' proprietary technologies to make it fit for running long-distances on concrete. The mesh upper gives greater flexibility by hugging the foot safely as it is backed by the ASICS' FluidFit technology.
It comes with the Heel Clutching System, an external structure that holds the heel in place to provide stability and keep the heel to the back of the shoe.
Kayano is known for its bouncy, springy feel empowered by the FlyteFoam midsole and its Ortholite X-40 Sock liner keeps the underfoot well cushioned. It comes with a DuraSponge that gives extra cushioning and minimizes supination and Rear Foot Crash Pad that shields the heel from harsh impact.
Pros:
Generous amount of cushioning
Perfect for narrow feet and heels
Exceptional foot support
Available in amazing style and colors
Provides super comfort
Cons:
Expensive
Quality control issues
3. Hoka One One Clifton 4
This lightweight trainer is made to be more durable than Clifton's older models. So it gives extra cushioning to relieve the pain caused from walking and running on concrete and other hard terrains. Also its upper is made of a thin mesh for comfort, softness, and breathability.
Above all, the toe box is spacious and allows the toes to spread comfortably. It features a mid-sole made of a single CMEVA foam. Finally, this shoe is springy and soft despite being stronger than the older models and protects the feet from the harsh impact of concrete.
Pros:
Energetic rebound
More durable than older versions
Ideal lightweight trainer
Great fit for wider feet and orthotics
Often recommended by foot doctors
Cons:
Very expensive
It may run narrow and small
4. Mizuno Wave Creation 19
This masterpiece is a well-crafted, comfortable and responsive shoe designed to withstand the harsh impact of concrete. Also, this model is loaded with additional cushioning coupled with a sock liner that hugs the foot perfectly.
Above all, the AirMesh upper is quite breathable and keeps the foot cool and dry all day.
Likewise, its DynaMotion technology gives a perfect fit by reducing pressure from running on concrete and also minimizes the probability of contortion, making it durable.
It features a mid-sole that has assorted densities of EVA foam which makes it comfortable and responsive.
Mizuno Wave Creation 19 is definitely made for a smooth ride and has additional cushioning that runs along the bottom and all through the length of the shoe.
Pros:
Provides great arch support
Exceptional grip
Plush cushioning
Offers unmatched comfort
Cons:
Durability is questionable
It has a narrow toe box
5. Brooks Addiction 13
Overpronators get to greatly benefit from this running shoe, which is specifically designed to meet their exclusive needs.
Also, this shoe is great at protecting the feet of the runners. The midsole contains the Brooks' gel cushioning that shields it from the stress that comes from the impact on concrete.
Above all, this shoe keeps the foot cool and dry, while preventing friction caused by its breathable mesh upper.
To prevent blisters, this shoe's interior lining is engineered with moisture-wicking technology, well-cushioned tongue and a collar.
Also this shoe effectively handles overpronation, as it has an Extended Progressive Diagonal Rollbar. Above all, the midsole of this shoe is made with a responsive fluid gel in its BioMoGo DNA midsole.
Pros:
Offers excellent stability for motion control
Suitable for overpronators
Provides great arch and heel support
Beautiful and spacious toe box
Offers a great deal of comfort to the wearers
Cons:
Some reviewers reported that it is not durable
A bit heavier than the previous model
6. Hoka One One Gaviota
First of all, the underfoot foam cushioning of this beautiful trainer sets it apart from the rest. Plus, it is useful for runners running on hard surfaces and seems to be designed for that.
It also offers a great amount of support and stability while still being optimally soft. The upper is made of breathable, lightweight material to keep the foot cool and dry.
Also its breathable lining gives the wearer a snug fit.
Its midsole is quite stable because of the Arch-Lock Wings, and the extra layers connected to the laces.
It also has a well-cushioned tongue and collar coupled with the heel. While the heel has a pull tab to help with buckling and taking off the shoe.
Finally, to prevent overpronation and to maintain stability while running, the Gaviota is empowered with the RMAT J-Frame, a J-shaped EVA, and a rubber outline.
Pros:
Provides awesome stability
Helps manage Plantar Fasciitis
Richly-cushioned running shoe
Supportive and responsive
Cons:
Its durability is being questioned by some reviewers
7. Altra Paradigm 3.0
First of all, a great deal of cushioning has gone into this Altra shoe in order to protect the runners from the harshness of running or walking on concrete. Also, it comes with a wide toe box that allows the toes to spread naturally, and with a zero drop design. Since there is a zero transition between toe and heel, it makes the running stride more natural.
The upper is made of a lightweight, breathable quick-dry mesh which keeps the wearer's feet comfortable. Finally, the Altra Paradigm 3.0 features a 32mm cushioning that has no heel-to-toe drop. It uses Altra's GuardRail technology to give additional support where the upper and sole meet, in order to address overpronation.
Pros:
Has thick cushion but is lightweight
Provides a natural fit for wide feet
Offers a great deal of comfort
Suitable for overpronators
Cons:
Wears down within a few months
Has shallow upper design
8. Saucony Echelon 6
Saucony has designed this trainer to meet the requirements of runners running on concrete.
Also it comes with many shock absorption layers, flexible design and comfy underfoot cushioning. So you can definitely count on this shoe for an ideal fit and to run or walk on hard terrains.
All of that combined together, this is a responsive, cushy and comfortable shoe from Saucony.
The lightweight fabric with tiny holes in its upper, is  designed to keep the foot cool and dry. It also has a support frame around the heel area that guides against slippage and instability.
Echelon 6 allows orthotics insertion to help runners with foot issues.
It also comes with Saucony's SuperLite Foam that runs through its length. This part is responsive, lightweight and soft enabling the shoe to be responsive. Its 3mm EVERUN top sole provides durability and bounce to the trainer.
Pros:
Has a roomy toe box
Provides top-of-the-line cushioning
Highly flexible outsole
Very lightweight
Offers a great amount of comfort
Cons:
It has an inflexible upper
Rigid seams
9. Saucony Triumph ISO 4
This Saucony model is a running shoe that comes with lots of cushioning. The thick cushioning makes it a perfect fit for all types of runners running on roads for long distances on concrete. Saucony's upper has the ISOFIT lacing system that molds itself around the runner's foot and allows him a great deal of flexibility while running.
There is a balance between comfort and breathability ensuring proper ventilation around the feet. Also, Saucony's EVERUN foam offers optimum cushioning that covers-up the entire length of the sole.
Pros:
Provides plush cushioning
Comfortable
Air ventilation keeps the feet cool and dry
It absorbs shock
Cons:
Offers less traction
It may run too heavy
10. Nike LunarTempo
This Nike model offers unparalleled functionalities because it comes with Lunarlon cushioning system, creatively engineered mesh and Flywire cable that provides support for breathability and flexibility.
Also, its Lunarlon foam gives adequate comfort and a high level of responsiveness.
It also makes the shoe more lightweight as compared to the thickly cushioned trainers commonly available in the stores.
Above all, it comes with a thin rubber sole that provides extra traction and makes it durable. Its waffle pistons also offer great shock absorption from the impact felt on concrete.
Pros:
Beautiful and stylish
Good delivery service
Lightweight
Breathable mesh upper
Cons:
It may run small, you will need to order ½ size up
It is way too expensive
Safety Tips for Running on Concrete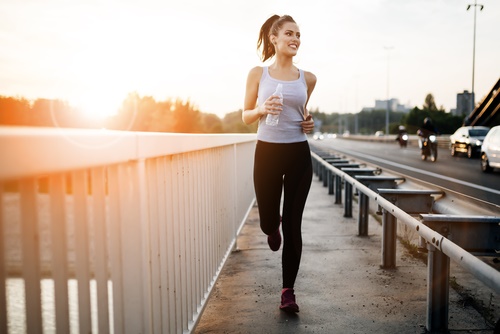 Experts often advise that some runners with certain conditions should totally avoid running on concrete such as those having plantar fasciitis, patellofemoral pain and shin splints.
The following tips may help alleviate the conditions:
Run More Gently – First of all, try as much as possible by avoiding the harsh impact from concrete by running on it gently. Also, it is always better to shift impact to the forefoot by running in a style similar to tiptoeing. The basic advice however is, run slowly.
Use Springy, Bouncy Shoes – It is also advisable that those with the above-mentioned foot conditions should always run with trainers that have great, thick cushioning. So, try picking one that comes with EVA foam mid-sole as that can help absorb a great deal of shock.
Final Thoughts
Although running or walking on hard surfaces, more so on concrete is never advisable, but has also become unavoidable.
For runners stuck in such a situation, the best defense is a pair of trainers with adequate stability and cushioning.
The shoe models reviewed in this article provide you with reasonable options to help you finalize on what best suits your needs.