Best Sandals For Running
Running is highly recommended as part of our daily routine.
Doctors will tell you that running will help prevent diseases such as heart attack and high blood pressure. Many people are struggling with weight issues in the current era.
Weight loss has become a very important topic in our society. While you can try many methods in a bid to lose weight nothing beats running.
Therefore, if you are wondering why you would need to have a pair of running sandals then you have your answer.
Quick Look at Our Top Picks:
Best Rated Sandals For Running Reviewed
Are you still confused on the best running sandals for you? Do not worry as you are in the right place. We have reviewed some great running sandals on the market.
From the options below we have reduced your work when choosing the best running sandals to suit your needs.
Xero Shoes Barefoot-Inspired Sport Sandals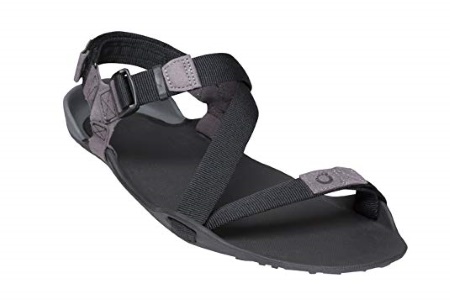 These best running sandals are very light to maximize your advantage while running. The sandals also come with a 5,000-mile warranty just in case you get quality issues.
The sandal will make you feel like you are barefoot but with maximum protection and comfort. The sole is 5.5 mm thick making the shoes flexible enough to fold and put in the pocket.
Pros:
Super light. 70% lighter than other sandals
Comes with a 5,000 miles warranty
Simple design that is pleasing to the eyes
Cons:
Strap system restricts toe movement
ATIKA Men's Sport Sandals Maya Trail Outdoor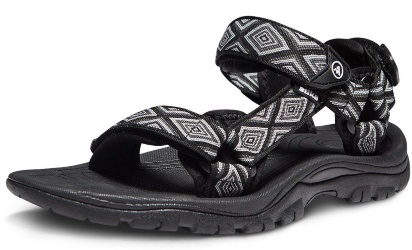 These running scandals come in color- black and grey.
Both colors are unisex making the sandals ideal for both men and women. The sandals also have a cushioned insole which makes the shoe foot friendly.
On top of that, the sandals have adjustable straps that are strong and durable. The sandal comes with an attached Velcro strap for security purposes.
Pros:
Very comfortable even after long distance running
Waterproof thus helps to protect the foot in wet conditions
True to size and well fitting
Quality but cheap
Cons:
Not durable when worn on a daily basis
Very heavy for running sandals
The design is not pleasing to the eyes
Chaco Men's Z1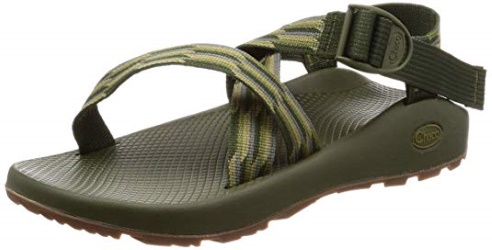 This best running sandal has a rubber sole which not only brings comfort but also good traction. The sandals have polyester made straps that allows for easy fit even on big feet.
The heel risers are adjustable thus improving comfort. The sandals also have an inject-molded ladder lock buckle that does not break easily.
Pros:
Good traction even on wet surfaces
Straps are elastic hence easy to fit
Very strong and durable
Cons:
Narrow width which restricts foot movement
They do not fit true to size
The strap causes friction
Teva Men's Katavi Outdoor Sandal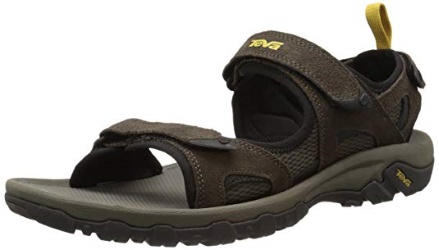 These best running sandals have a rugged appearance that is meant to encourage the user to venture outdoors. They have a zero-drop heel that is ideal for a barefoot runner.
The sandals also have a nylon shank that offers more stability, especially on an even terrain. On top of that, the sandals have three adjustable hooks straps that offer a better fit.
Pros:
Have a zero-drop heel
Good grip
Inner sole is very soft and comfortable
Good arch support
Cons:
The straps are not durable
Sandal straps collects moisture overtime
Quite expensive
Teva Men's Hurricane XLT Sandal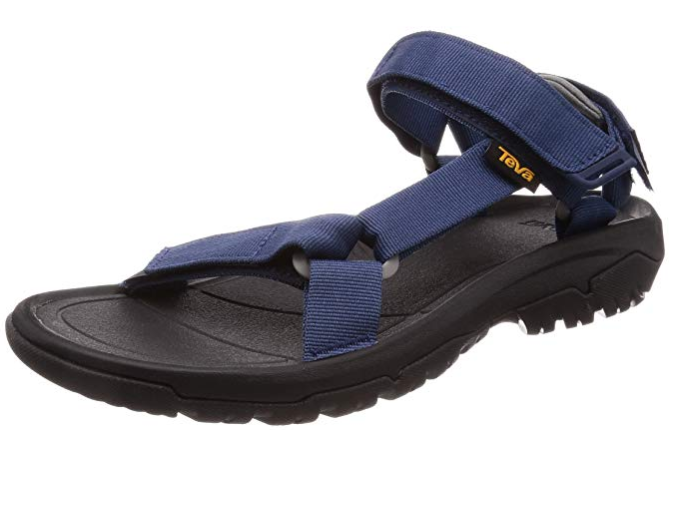 These best running sandals have an outsole that offers great traction. The sole is also very durable even when worn regularly.
The heel is approximately 1.5 inches and integrates very well with mid-foot strapping. Because the sole is made of rubber the sandals are perfect for running in wet conditions.
Pros:
Easy to adjust
Treads are very durable
Comfortable and not too heavy
Cons:
They can get smelly
The sole can disintegrate from the tread
Can produce blisters when worn wet
Xero Shoes Z-Trail Lightweight Sandal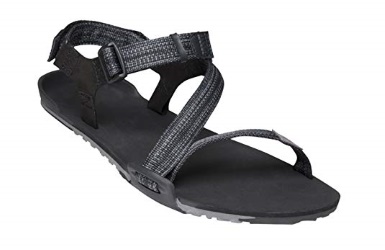 These best running sandals have been made with weight in mind. They offer excellent service to the feet while adding no weight at all.
The sandals can come in handy for people with wide shoes due to their expanding ability. On top that they got nice looks therefore ideal for people who are stylish.
Pros:
Very comfortable
Very light. Ideal for barefoot-inspired running
Ideal for wide feet
Cons:
They do not work well on a muddy surface
Warranty only covers the sole and not the whole sandal
The straps keep on getting loose
ATIKA Men's Sports Sandals Trail Outdoor Water Shoes 3Layer Toecap M108/M107/M106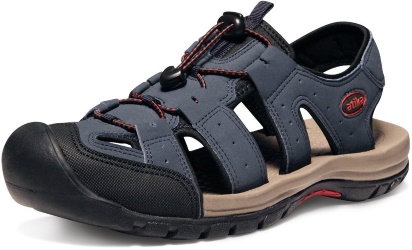 These best running sandals are the best solution for people who run in wet conditions. While offering excellent water resistance qualities they are made of moisture absorbing materials hence keep your feet dry.
The insole is a double anti-slip that massages the foot and also acts as a shock absorbent. The sandals design helps to prevent toe injury.
Pros:
Water resistance
Affordable
Stylish design
Cons:
Not true to size
Back strap cannot be adjusted
No cushion
Chaco Women's Zong X Ecotread Athletic Sandal

These best running sandals are made especially for women. The design has a feminine touch thus mixing style with performance.
The sandals are also available in wide range of colors that appeal to women. The double strap polyester wraps are designed to pass through the midsole for a perfect fit.
Pros:
True to size
Very light
Has a perfect fit
Cons:
The toe strap tightens more than necessary.
The sandals have a hard texture because of the thin sole
Do not absorb shock
ATIKA Women's Maya Trail Outdoor Water Shoes Sport Sandals W111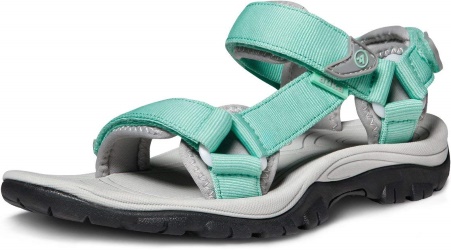 These best running sandals are made to suit the needs of women. They are light for long-term comfort. They also come with a wide range of feminine inspired colors.
The sandals have an ankle strap that can be adjusted to one's preference. On top of that, the sandals have an anatomic foot-bed which helps in shock absorption.
Pros:
Beautiful design
Good support for the feet
Durable
Cons:
Straps are very thin
Not true to size
Zicoope Summer Breathable Closed-Toe Strap Sandals For Boys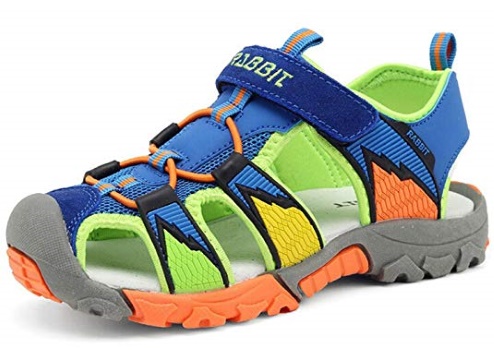 These best running sandals are the ideal shoe for kids. The sandals have bright colors that are attractive to the children. They have a closed-toe to protect the child from toe injuries, which are very common.
The sandals are also very light thus will not tire the kid. The upper part of the sandal is water friendly hence can be worn in wet conditions.
Pros:
Very attractive to children
Closed-toe design is very helpful
Customized fitting
Cons:
Uppercase is not durable
Velcro patches are a bit odd
Why Barefoot Running
Barefoot running is the most recommended type of running because it triggers most of the muscles and nerves in your body.
Running barefoot, however, can lead to injuries from sharp objects and knocks.
To minimize these risks, experts advise using running sandals which are light to retain the barefoot-feeling.
Running sandals comes in different varieties, which makes it hard to choose the right one. In order to make the right decision, there are certain factors that you will need to consider.
The most important question that many have is why you would need sandals and not closed shoes for running.
Also Read: Best Minimalist Running Shoes
Advantages of Running Sandals over Closed Shoes
Running with sandals, especially the recommended quality helps to strengthen your feet muscles. Weak muscles are more prone to tendon and ligaments injuries, which can disrupt your exercise.
If you intend to be a professional runner, the last thing you need is constant injuries. Such setbacks will not only strain you mentally, but they can also end up ruining your career.
Running sandals also come in handy if you want to train landing on your forefoot rather than your heel. Extensive research has concluded that the best running technique involves landing on the forefoot.
Heel landing causes braking which translates to more spent energy. For a professional runner, you also save a lot of time, which is an advantage to your competitors.
The arches will also act as the natural shock absorber if you land on your forefoot.
Also Read: Best Barefoot Running Shoes
Running Sandals on the Body
You are more likely to fall while running if you use closed shoes. Running sandals allows barefoot running experiences, which activates the small muscles in your body.
Coordination is therefore improved allowing your body to attain better balance.
When it comes to the children, running sandals are more user-friendly than closed shoes. Most children develop a phobia for shoes due to their weight and uncomfortable feeling.
In this regard, they will learn to appreciate running sandals as they are very light shoe and have plenty of air circulation. Running sandals are also very simple to put on thus; your children will learn to act independently.
Lastly running sandals allows for better air circulation in your feet. It, therefore, means you do not have to deal with smelly feet after a long hiking trip with your dog.
On top of that, your feet will not suffer from constant sweating which can cause sourness.
Also Read: Best Trail Running Shoes
Problems with Heel Lifted Shoes
The heel lift that is common in most shoes is the worst enemy of any runner.
The Achilles tendon and the calf muscle are the most affected when running with a heel lifted shoes.
The two elements receive a lot of strain because the foot is not in its natural positions.
To prevent injuries in these parts you should adopt running sandals that have a minimal heel lift.
Also Read: Best Running Shoes For Shin Splints
Important Factors To Consider When Choosing Running Sandals
Buying Sandals is an investment thus you do not want to lose your money. Before you select your preferred sandals, please consider the following factors.
Zero Drop – This is probably the most important factor when selecting your running sandals. Your sandals should have the same elevation from front to back. Anything less and you risk buying sandals that have the same characteristics as the shoes you are trying to lose. Zero drop is also essential when training forefeet landing rather than heel landing.
Weight – The weight of the sandals should influence your choice. The idea here is to have sandals that will add as less weight as possible. Since you need to feel like you are running barefoot, you cannot afford to wear heavy sandals.
Size – Again, the size of the sole should not exceed 12mm. The smaller the sole the better barefoot experience. A thin sole will also allow the arches to act as the natural shock absorbers hence reducing the risk of injuries.
Quality – Check the quality of the strap to ensure that they are strong enough to support your weight. Most people have straps related issues in sandals hence this is an important area. The material of the straps should also be considered poor quality may cause a lot of friction.
Simplicity – This is also a key issue when selecting running sandals. You want sandals that will not be troublesome to put on or remove. The simplest design is probably the best when it comes to running sandals.
Design – When selecting running sandals for your kids the closed –toe design should take precedent. Children have a habit of getting toe injuries due to knocks hence you want sandals that will reduce this risk. Children are also fond of bright colors so go for the most attractive. Click here to read more about the best running shoes for kids
Warranty – Check the warranty in your running sandals to ensure you can return them if they are not to the required standard. Durability and defects issues should be included in the warranty to protect your investment.
Feet Size – Another important factor to consider is the size of your feet. While this should come automatically, many people still end up ordering sandals that are either small or bigger than their feet. Make sure you know the right size of your feet. Consult an expert if you have to, as the right size is essential for maximum comfort.
Price – The price of the running sandals can also guide you on the best quality. Very high price in comparison to the average market price should be a cause for concern. Similarly, if the price is too low then chances are you will lose on another end.
Durability – Lastly, choose running sandals that have durable treads. Treads are very important as they prevent you from slipping. For the sandals to function properly you will need treads that are well designed and long lasting.
Final Thoughts
Running with Sandals is the current trend and rightly so. Not only will you enjoy maximum comfort, but you also gain other benefits in regard to your health.
Now is your best opportunity to try some of the best running sandals on the market. Pick one of the ten choices provided and join the bandwagon of the smart runners.