Best Saucony Running Shoes
Saucony is a big name in the running shoe industry with an ever-increasing line of brands under its flagship. Also this brand's products come in various styles, colors, and sizes that one can choose from.
For all the runners eager to get their hands on a pair of Saucony, we have compiled a list of top ten Saucony running shoes.
We believe that this list will save you the time and other hassles involved in making an excellent choice. So do read through the below-listed options to clear the fog about which model to pick.
Quick Look at Our Top Picks:
What to Know Before Buying a Saucony Shoe
First of all, before parting with your hard-earned money for a pair of Saucony, it is important that you know how the foot works.
There are two main things that a foot does while running, it either pronates or supinates. When it pronates, your arch flattens, and at the same time your foot rolls in.
Likewise, when it supinates, your arch rises and your foot rolls out. This knowledge will save you a great deal of time and enable you to make a perfect choice.
Key Considerations:
There is a lot to consider when purchasing affordable running shoes. Some of the aspects below are worth looking into.
Cushioning – Shoe cushioning is very good for giving the runner a lot of support. If thae cushioning is too hard or too soft, it will be very uncomfortable for the runner. The best affordable running shoes should have the qualities of support and stability to offer the runner.
Flexibility – Your feet need space to stretch and your muscles will need to flex while running. You will need to get the right running shoes to fit your feet type/shape while you are running or walking. Using rigid running shoes will limit your motion, speed, and overall performance and even strain your tendons.
Breathability and moisture absorbance – A well-ventilated shoe will ensure the runner's feet remain cool and dry for optimum performance. The essence of getting running shoes with good mesh system cannot be overemphasized.
Lightweight – The lighter the running shoe, the easier your motion will be. Heavy running shoes limit performance and slow down the runner. However, that is to be the least of your worries as this ultra-lightweight running shoes are made with high-quality and more expensive materials, thereby making them quite expensive but well worth it.
Durability – The best affordable running shoes should also be able to last a while before showing signs of wearing out. Every material in the shoe, from the outsole to the midsole, and the insole should be made of sturdy material. It will also be good to get running shoes with replaceable insoles. Durable shoes will also reduce the number of times you have to go shopping for a new pair of running shoes, as well as save your money.
Advanced technology – There are new improvements to running shoes every day. It is very good to keep track of new products and get reviews on them to ensure they have some of the latest features that will ensure you enjoy your favorite sport. Technological advancements of your best affordable running shoes should basically have improvements in cushioning, flexibility, support, traction, lightweight, breathability, and durability.
Your foot type – It is equally important to get the right kind of affordable running shoes for your kind of feet for maximum support. Some feet require low-arched shoes, while some require high-arched shoes. Some feet are wide, while others are narrow/small. Getting the wrong running shoes for your foot type may cause injuries or low performance. It is also important to test the shoes before buying if your foot type is quite unique.
Design – You will be cheating yourself by buying unattractive shoes just because they are cheap. The design of the shoe should match your foot type, the kind of race you are taking part in, the kind of landscape you expect to encounter, your general and your taste. You really can get a well packaged running shoe as an affordable price.
Our Top Recommended Products
Saucony is a household name when it comes to exceptional running shoes amongst pro runners. Also there are several brands of running shoes under Saucony's flagship that you can choose from.
However, finding one that best fits you can be tiresome. So to guide you, we have listed below some of the best products from Saucony.
Saucony Kinvara 6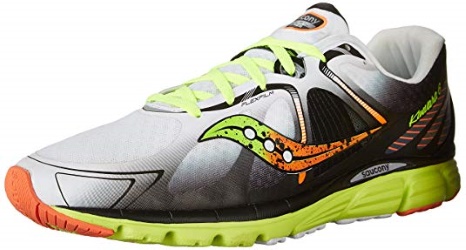 This running shoe is one of the best from Saucony and is perfectly designed to run long distances. Its lightweight design makes running marathons easier.
Also, its triangular lug ensures proper cushioning and traction. That's very useful for any marathoner who wants to be on the top.
The full-length PowerGrid cushioning in this unique shoe gives it a responsive rise and helps to distribute pressure evenly.
Its FlexFilm is responsible for that lightweight and snug feel that you have while you put on the Kinvara 6.
Pros:
Comfortable for long distances
It is reasonably priced
Provides a smooth, quick transition with great cushioning
The upper material creates great comfort and flexibility
Cons:
This running shoe seems too narrow for some runners
Saucony Grid Excursion TR 10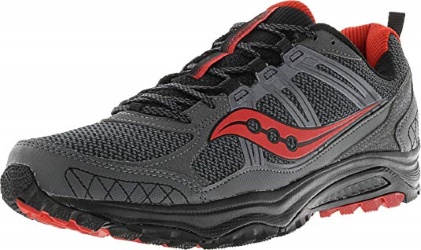 This version from Saucony is specifically designed for trail running. It gives awesome traction ensuring a great grip on all grounds and terrains.
Also, it relies on its mesh material's efficiency to keep out all the debris such as pebbles and dirt. Hence it provides a smooth running experience on the trail.
It comes with XT-600 carbon rubber outsole which creates traction and support. It also enables runners to have a good run in the woods.
Pros:
Reasonably priced
Comes with XT-600 carbon rubber outsole that provides great traction and support
Offers a great deal of comfort
Has 8mm heel-to-toe offset
It comes with a mesh design that keeps debris out
Cons:
It is not waterproof
Makes a lot of noise
Many customers complained that it is too small
Saucony Ride 10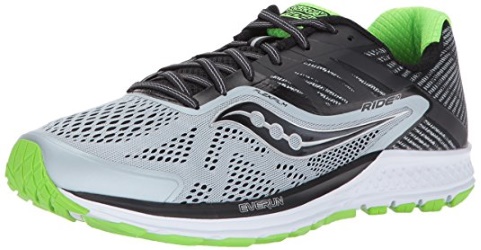 To meet the training needs, this product developed by Saucony boasts of the EVERUN topsole technology that provides high-quality energy return.
It also comes with an 8mm offset which gives total cushioning and support. Also its 8mm offset evenly distributes pressure enabling the body to soak-up impact and to reduce the stress on it.
Above all, its new TRI-FLEX outsole allows feet movement with additional flexibility. So if you are looking for a great shoe with high-end responsiveness, then this could be your best bet.
This Saucony Ride 10 moves with the runner and offers superb cushioning with every stride.
Pros:
Offers a high degree of comfort
Best for training purposes
It offers stability and balance
Provides a superb responsive ride
Cons:
Too expensive
It has narrow toe box
Smaller than other Saucony Ride models
Saucony Omni 15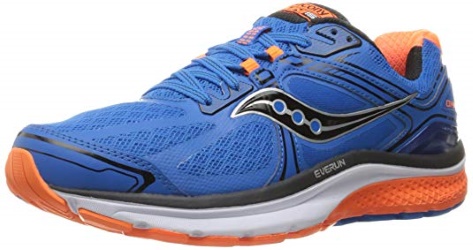 This Saucony model is an ideal running shoe for pronators.
More so because this product features the EVERUN topsole along with the FlexFilm to provide maximum flexibility coupled with a snug and lightweight feel.
The EVERUN technology also ensures comfort and takes the pressure off your forefoot by giving you a smoother ride. Above all, the TRI-FLEX feature disperses pressure and delivers good flexibility and traction.
Pros:
Highly recommended for pronators
Spreads pressure
Keeps the body balanced and comfortable with each stride
Comes with a padded tongue and collar
Cons:
There is a quality control issue
It can be very heavy
Saucony Redeemer ISO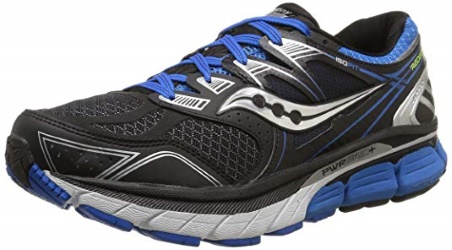 This design is made to accommodate orthotics and severe pronation.
With its POWERGRID midsole and IPR+ outsole, your comfort is given top-priority. It also comes with the ISOFIT upper that offers a new line-up which lets your feet fit-in snugly.
This ISOFIT technology provides a unique comfort that encourages you to run almost all the time. Also, its TPU Pillar design technology gives you the required structure and comfort, without additional bulkiness.
Pros:
Accommodates both orthotics and severe pronators
Great support
Offers comfort without additional bulkiness
It uses the ISOFIT technology for comfort and sock-like feel
Cons:
There is a quality control issue
Sizing issues
Saucony Triumph ISO 3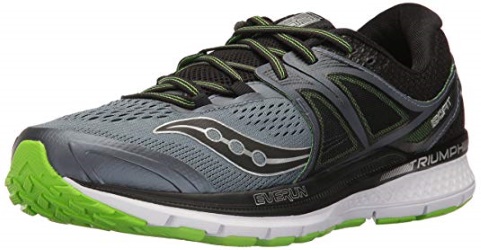 This Saucony model is an improved version of the previous one.
It features a new segment of the renown EVERUN material to give extra support by ensuring smoother landings and stronger takeoffs.
Also this shoe is designed to increase your energy level and to provide great cushioning for your feet.
The ISOFIT technology in this shoe lets it mold to the shape of your feet, in order to give an exceptional fit and form.
Its 8mm offset allows the cushioning to be more evenly distributed between the heel and the forefront of the shoe. With its Tri-Flex technology, it delivers maximum flexibility and traction.
Pros:
Offers optimum cushioning
Its Tri-Flex technology spreads force
Provides body balance and comfort
Cons:
Some runners reported that it runs really small
The toe box and forefront seems too tight
Saucony Grid Caliber TR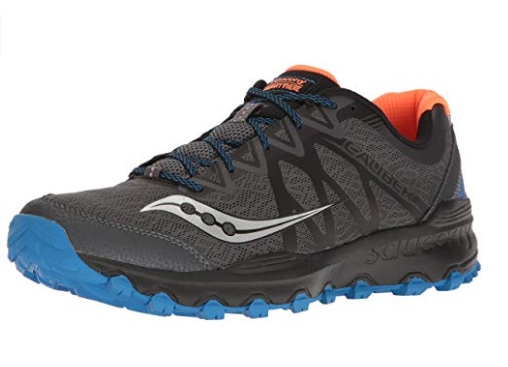 For both trail and off trail runs, you can count on this Saucony shoe that's designed to fit perfectly.
One of the distinct features of this shoe is that it is sturdy and long-lasting, so you don't have to worry about any debris lying on your running track or route.
With Saucony Grid Caliber TR, you can now embark on those hikes that have seemed quite intimidating. While doing that, you are only assured of one thing, and that's a smooth ride.
This shoe is made with an all-encompassing aggressive outsole that gives you a smooth ride on any open terrain. It also comes with the new REACT2U technology that gives a snug feel.
Above all, it offers the best value for money since it is an all-terrain shoe.
Pros:
An all-terrain shoe
Keeps pesky pebbles out of the way
Provides smooth ride on and off the trail
It comes with REACT2U technology that enables super comfort
Cons:
There is a notable inconsistency in the sizes
It has the tendency to run narrow
Saucony Zealot ISO 2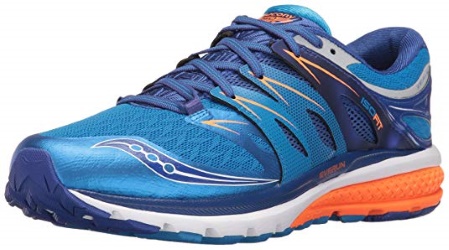 Designed to give that amazing wrap-around feel, the Zealot ISO 2 comes with a 4mm drop to give you an awesome performance. It also uses FlexFilm technology which adds more energy throughout.
One of its prominent features is the SRC landing zone that helps absorb shocks and pressures, that too in no small measure.
While running, you get to feel the natural cushioning on your feet. Above all, the fabric on this shoe's tongue is made of a unique material to provide more comfort.
Pros:
Fashionable and sleek design
Uses FlexFilm technology
It has SRC landing zone to absorb shocks
The rubber outsole is reliable and durable
The tongue's fabric is made for greater flexibility
Cons:
Narrow toe box
It seems heavier than the previous version
Saucony Breakthru 4
This running shoe is the successor of the Saucony Breakthru 3. It comes with an engineered mesh upper that provides a lightweight, breathable, and comfortable fit.
There is another feature, iBR+ technology, which is an optimum lightweight and durable rubber outsole that gives great support and cushioning.
Its molded heel support presents an additional supporting structure for your heel while running. Also, it has a firm underfoot feel coupled with EVERUN to meet all your training needs.
Above all, it features the Tri-Flex fit which provides exceptional flexibility and traction and also distributes the force evenly.
Pros:
Fashionable and sleek design
Uses FlexFilm technology
Has SRC landing zone to help absorb shock
Reliable and durable rubber outsole
The tongue's fabric is made for greater flexibility
Cons:
Narrow toe box
It seems heavier than the previous version
Saucony Cohesion 10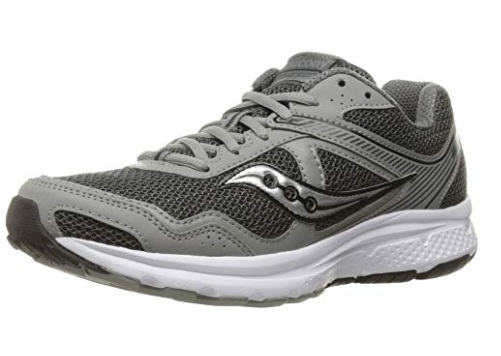 This masterpiece from Saucony is stylish and flexible enough to be worn during any event. Also, its well-designed cushioning provides support in all the right places.
Everyday runners will surely fall in love with this shoe, as its lightweight and gives you the comfort that you crave for. Above all, the exceptional features of this shoe keeps the feet breathable.
As a result of all of that, your feet remains cool and dry throughout in this shoe, no matter how long the journey is.
Pros:
Enhanced breathability
Has shock absorbing power
Built for every event
Excellent flexibility, comfort and cushioning
Cons:
It fits small and narrow, as complained by some customers
The sole seems to be too stiff
Final Thoughts
We all know running is a great exercise that keeps the body fit and in shape.
However, it is important to get your hands on that excellent pair of running shoes, that perfectly fit the body.
That's because these go a long way in preventing damage to the feet and other lower parts of the body while running.
Therefore, the Saucony line of brands offer that perfect fit, flexibility, comfort and breathability that a runner craves for.