Best Women's Underwear for Running Reviewed
This page contains affiliate links. As an Amazon Associate I earn from qualifying purchases.
If you are a lady preparing for a marathon, you may already have the perfect running shoes or the best running shorts for the big day.
However, do not forget to get one of the most essential pieces of running clothing, and that's your underwear.
One sure way of being left behind in a race is by wearing an uncomfortable underwear. You will keep pulling them up or will end up with chaffed things.
Despite the importance of a comfortable underwear in running, most women runners are not too keen on getting the right one. One reason is that women panties come in many designs.
However, below-mentioned are a few recommended designs that you can use for running.
Quick Look at Our Top Picks for Best Women's Underwear for Running
Our Top Recommended Women's Underwear for Running
Now that you will find it easy to choose the right running underwear for yourself, you might be very eager to purchase the right pair.
In the below list you will find ten of the best running underwear for women. Check them out and see if there is something that you find suitable in it.
Types of Popular Women Underwear Designs for Running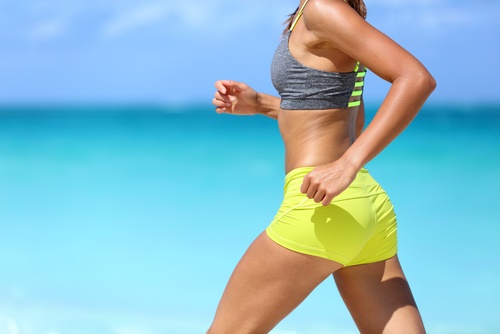 Women panties come in different designs ranging from classic briefs, boy shorts to thongs.
Do you know there are designs that are recommended for running?
We are listing a few of them to help you find the right running underwear.
Briefs – Commonly referred to as granny panties are one of the most recommended underwear designs for running. These panties will fully cover the private region and offer high waistbands. Furthermore, they might not be the sexiest but they are great for running. This is because they fully cover the necessary parts and are also of a comfortable and breathable material.
Bikini running underwear –  This is slim on the sides but has a high-cut leg line. These panties also cover the back and the waistline rests on the waist. If you do not like the look of the briefs but still prefer something that fully covers then these are the best. They will fully cover your personals and also have an attractive design.
Boy's shorts – An underwear that is modeled after men's briefs. These panties have a rectangular shape and are more modest. They have a thong style base but will also cover your sides and front. Moreover, they are also made from breathable material that will keep you dry while running.
Hipster panties – These have a low-rise waistline like the boy shorts but the leg openings are above the thigh. They are very comfortable and will not ride up. These are considered to fully cover from all sides. Thus, you can choose to run with them without the need for running shorts or tights.
Why Wearing the Right Women's Underwear is Important
Now that you know which design to choose for your running underwear, let's look at why you need these panties. Women's running underwear is designed to be more comfortable and offers better running performance.
The best women running underwear is not a luxury but a must-have if you are to compete successfully.
Keeps you dry – It is very uncomfortable to run while wet and all sweaty inside your clothes. The best women's running underwear has sweat-absorbing features and cooling details such as mesh panels that allow breathability and keeps you cool.
Protects your body from chaffing– Chaffing is an unpleasant problem caused by friction due to a repeated motion. Badly fitting underwear is a major cause of chaffing. The awful burning sensation and the red sore skin caused by chaffing can take weeks to heal. The right underwear can protect you from this problem since such panties are seamless and tagless. They are also designed with the right material to protect you from chaffing.
Protects you from infections – Wearing breathable shorts and underwear is a must when you are running. Moisture can be trapped in the wrong underwear and this can increase your risk of getting a yeast infection. Women are also more likely to get urinary tract infections as the wrong underwear can lead to bacteria in the rear being moved to the front. The best running underwear is made from a material that is breathable and will offer the perfect fit to protect you from infections.
A comfortable layer of insulation – During cold months a nice pair of running socks as well as underwear that is insulated will give you extra warmth. This is very important when you are running in cold weather as running tights and pants might not have in-built liners that many shorts have.
Provide extra comfort – The best running underwear will stay in place without flying up. It will be well fitting, light-weight and comfortable allowing you to give your best performance in any race.
Factors to Consider When Buying the Best Running Underwear for Women
Most women runners will admit that finding the perfect running underwear can be difficult. This is one of the reasons why most runners prefer to stick to their old underwear or even go commando.
Knowing what features to look out for while shopping sure does help. Below are a few important pointers to consider while shopping for your running underwear.
The fabric material – There are different fabrics that are used to make women running panties. However, the best fabric is one that is comfortable and one that has sweat-absorbing ability to prevent chaffing and skin infections. The material should also offer a perfect fit, be comfortable and durable. The material should also be breathable and quick drying. A running underwear made from nylon or polyester materials paired with elastic or spandex offers great comfort.
Consider Underwear silhouettes– The major types of women's running underwears are briefs, thongs, boy briefs, hipster panties and bikinis among others. The underwear silhouettes that you choose will depend on your style and comfort. Some women running underwear brands come in different varieties, so you can choose the one that you like the best.
Breathability is important– When it comes to choosing the right running underwear, breathability is the key. The underwear should have sweat-absorbing abilities and optimum air circulation. Even better if you can find one with features like odor-preventing abilities.
Perfect fit – The right fit is very important when you are running. The underwear should never be too tight as this will restrict blood circulation or cause chaffing. It should also not be too loose as such running panties can be very uncomfortable. Check that you have the right measurements to help you pick the right size for a perfect fit.
Reminders for Running Underwear
Before we look at some of the best running underwear for women runners, there are a few important points that we would like to remind our women runners when it comes to their running underwear.
Avoid wearing thongs while running – While thongs might seem sexy and are great for avoiding the all common panty lines, they are not ideal for running. They are tight-fitting and will slide back and forth while you are running. This friction and sliding can lead to a urinary tract infection or bacterial infections.
Having running underwear can improve hygiene – Running panties are a personal preference. Some women runners prefer to go commando. Although this is accepted while running, there are some compelling reasons why you should consider a running underwear. Bacteria and yeast love a damp environment. The most effective solution is to wear underwear under your running gear to absorb any moisture and prevent infection.
Do not wear satin or race underwear while running – These two fabrics are not breathable. They also rub you the wrong way and can cause irritation and chafing. The best material for running underwear is one that is breathable and has moisture absorbing properties. Underwear with flat seams is also the best to prevent chafing.
Consider the crotch area for that time of the month – You do not have to miss a race just because it is that time of the month. You can look for a running underwear that has enough crotch area to hold a pad. Most women running underwear brands have designed their underwear with enough crotch space and with the right material to ensure that you are comfortable during your time of the month.
Final Thoughts
In summary, getting the best running underwear will definitely give you comfort during your training sessions.
They will also keep you dry, cool and protect you from infections. Therefore, we hope this article provides the right direction to help you choose the best running underwear for your needs.